Happening Now
NARP to Honor Metra Commuter Rail Senior Manager with Burch Memorial Safety Award
April 13, 2016
Release #16-07
For Immediate Release (#16-07)
Contact:
Robert Brady – (202) 680-4951
Shamonda Jones Demonstrates Commitment to Safety for passengers with 1,300 Daily Trains Traveling through Chicago
Washington, D.C. – The National Association of Railroad Passengers (NARP) honored Shamonda Jones, senior manager of Metra Commuter Rail in Chicago, with the Dr. Gary Burch Memorial Award during NARP's April 12th congressional reception. Jones was nominated by Metra's leadership for her dedication to fostering a culture of safety among the 40 dispatchers who ensure the safety of the 300,000-plus passengers who ride Metra every day.
"Getting America's rail passengers to and from their destinations safely should be a top priority for any commuter organization, and Shamonda Jones has shown a professional dedication to this ideal that has helped Chicago do so effectively for nearly 1,300 Metra, Amtrak and freights trains each day," said Jim Mathews, president and CEO of NARP. "Ms. Jones' commitment to safety and her desire to continue to improve the operations of commuter rail truly reflects the significance of the Burch Memorial Safety Award."
Metra leadership nominated Jones not only for her commitment to safety, but also for an initiative she led to audit and overhaul the Train Dispatcher Control Operators manual. Jones recognized the advantages of developing and implementing a universal set of instructions for dispatchers in Chicago that would keep all dispatchers following the same guidelines, and reduce the chances of miscommunication between trains. Along with the award, Jones will receive $1,000 from the Burch Family.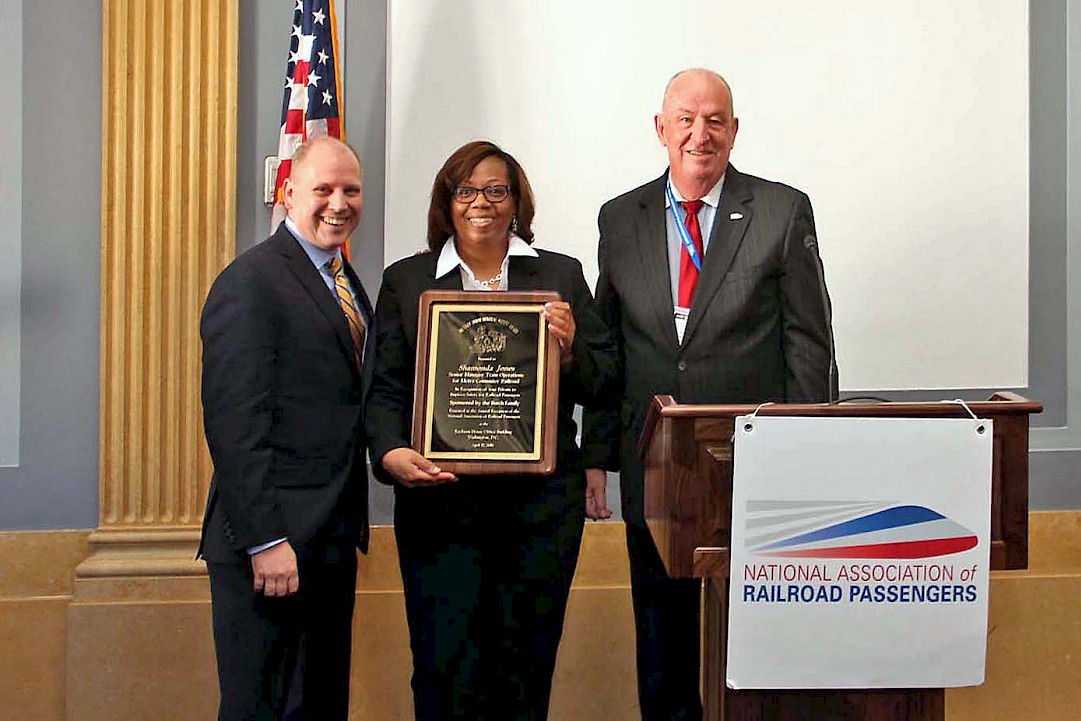 "We are extremely proud of Shamonda and the way she's worked with our dispatchers to help Metra keep our train operations both safe and efficient so that our commuters get where they need to go every day," said Metra Executive Director/CEO Don Orseno. "Her dedication to Metra and increasing passenger safety has helped us advance and improve our operation, so that we can continue to make the safe passage of our commuters our primary focus."
The Burch Memorial Safety Award is bestowed in memory of Dr. Gary Burch, one of eight passengers who died in 1991 following the derailment of Amtrak's Silver Star in Camden, S.C. The Memorial Award was established by the Burch family to recognize the women and men who dedicate themselves daily to ensuring safe passage of America's train travelers—and to advancing the cause of safety among officials and policymakers. Past recipients include engineers, conductors, design managers, and safety liaisons from a variety of organizations like Amtrak, Union Pacific and Norfolk Southern.
The Dr. Gary Burch Memorial Safety award was presented to Jones during NARP's annual Congressional Reception, which follows NARP's "Day on the Hill." The Day on the Hill provides a forum for NARP members and Council Representatives to meet with elected officials and share the organization's vision for robust passenger rail system in the U.S., as well as members' local needs within their respective communities and states. More than 100 NARP members plan to participate in "Day on the Hill," and will meet with hundreds of congressional offices.
About the National Association of Railroad Passengers
NARP is the only national organization speaking for the nearly 40 million users of passenger trains and rail transit. We have worked since 1967 to expand the quality and quantity of passenger rail in the U.S. Our mission is to work towards a modern, customer-focused national passenger train network that provides a travel choice Americans want. Our work is supported by more than 28,000 individual members nationwide.
###
"When [NARP] comes to Washington, you help embolden us in our efforts to continue the progress for passenger rail. And not just on the Northeast Corridor. All over America! High-speed rail, passenger rail is coming to America, thanks to a lot of your efforts! We're partners in this. ... You are the ones that are going to make this happen. Do not be dissuaded by the naysayers. There are thousands of people all over America who are for passenger rail and you represent the best of what America is about!"
Secretary Ray LaHood, U.S. Department of Transportation
2012 NARP Spring Council Meeting