Happening Now
Senators Thune and Wicker Receive Honors from NARP for Continued Advocacy of a National Passenger Rail Network
April 13, 2016
Release #16-06
For Immediate Release (#16-06)
Contact:
Robert Brady – (202) 680-4951
Senators Receive "Golden Spike" Award at Congressional Reception
Washington, D.C. – U.S. Senator John Thune (R-SD) and U.S. Senator Roger Wicker (R-MS) were honored with a prestigious award conferred by the National Association of Railroad Passengers (NARP) last night at the organization's annual Congressional Reception. The "Golden Spike" Award is given to individuals who promote and help advance the cause of American passengers. The award was presented to Senators Thune and Wicker for their leadership in passing the bipartisan Fixing America's Surface Transportation (FAST) Act, the first comprehensive surface transportation bill to include passenger trains.
"Senator Thune has shown a remarkable vision and leadership in advancing this bipartisan legislation to strengthen the national passenger rail network—all the more impressive when considering the absence of passenger train service in South Dakota. His efforts are truly appreciated by NARP, and the 40 million Americans who have a vested interest in rail transit and need a strong voice on Capitol Hill," said Jim Mathews, President and CEO of NARP, a national advocacy group for rail passengers.
"In Senator Wicker, Mississippians—as well as scores of communities throughout the Gulf Coast region—have a true champion who is fighting for the opportunities and access that rail service can bring to the area. We are honored to be part of the movement to restore train service to Mississippi and the Gulf Coast—a movement succeeding in no small part through the Senator's hard work and determination," said Mathews.
The FAST Act creates a number of much-needed investment programs for rail, providing avenues to expand the national network and address years of underinvestment in rail infrastructure. Significantly, it creates a working group to identify a path forward to restore passenger rail along the Gulf Coast. Service was discontinued following Hurricane Katrina in 2005. After more than a decade of work by advocates, Amtrak and the Southern Rail Commission, along with NARP, tested the possibility of the reintroduction of service with a February 2016 inspection train trip that ran between New Orleans and Jacksonville. Senator Thune serves as the chairman of the Senate Commerce, Science and Transportation Committee, which has jurisdiction over rail, and guided the bill from committee to final passage. Senator Wicker—along with Senator Cory Booker (D-NJ)—oversaw the drafting of the rail title.
"Strengthening America's transportation infrastructure has been and continues to be a priority. Consistent and effective investment in transportation infrastructure is critical for our country's economic future, and to ensure that states like South Dakota, and others across the country, have reliable and effective transportation networks. Our nation's rail system is interconnected, and a robust and efficient rail network benefits all those who depend on rail service, from farmers and manufacturers to rail passengers. The bipartisan FAST Act is a major step in advancing critical reforms, providing reliable long-term certainty, and stopping the cycle of short-term bills that don't address long-term transportation investment, issues, or needs. I am honored to be part of this effort with the Commerce Committee, and receive the Golden Spike Award from NARP for the work we have accomplished, and will accomplish in the future," said Senator Thune.
"Our country's transportation infrastructure will receive the boost it has desperately needed thanks to new federal investments," said Senator Wicker. "I look forward to the prospect of restoring passenger rail to the Gulf Coast more than a decade after Hurricane Katrina. This unique opportunity could help reopen the doorway to new economic opportunities and job growth for the millions of people living in the region. I appreciate this recognition and remain dedicated to strengthening rail as an important part of our overall transportation system."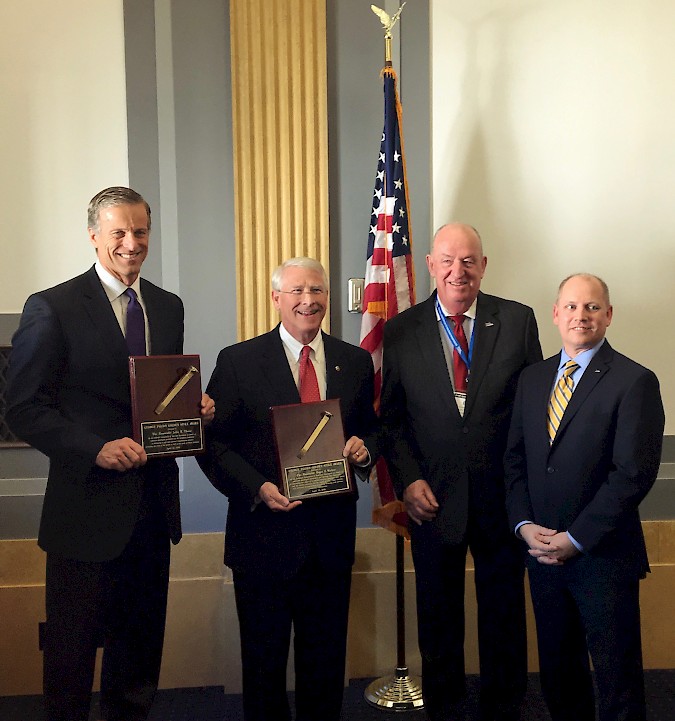 From left to right: Senator John Thune, Senator Roger Wicker, NARP Chairman Bob Stewart, NARP President and CEO Jim Mathews
Since the 1960s, when NARP first started awarding the Golden Spike, the 28,000 member association has honored individuals ranging from celebrities to elected officials. The first Golden Spike recipient was actress Debbie Reynolds, who was an avid train lover and whose father worked as a conductor on the Southern Pacific Railroad. Other notable honorees include Walt Disney, who was the second recipient, as well as singer Johnny Cash, former administrator of the Federal Railroad Administration Joseph Szabo, Senator Harry Reid (D-N.V.), and Senator Richard Durbin (D-I.L.).
The Golden Spike Award was presented during NARP's annual Congressional Reception, which followed NARP's "Day on the Hill." This event included NARP members and Council Representatives meeting with elected officials to share the organization's vision for passenger rail in the U.S., as well as members' local needs within their respective communities and states. More than 100 NARP members participated in "Day on the Hill," and met with hundreds of Members of Congress.
About the National Association of Railroad Passengers
NARP is the only national organization speaking for the nearly 40 million users of passenger trains and rail transit. We have worked since 1967 to expand the quality and quantity of passenger rail in the U.S. Our mission is to work towards a modern, customer-focused national passenger train network that provides a travel choice Americans want. Our work is supported by more than 28,000 individual members nationwide.
###
"When [NARP] comes to Washington, you help embolden us in our efforts to continue the progress for passenger rail. And not just on the Northeast Corridor. All over America! High-speed rail, passenger rail is coming to America, thanks to a lot of your efforts! We're partners in this. ... You are the ones that are going to make this happen. Do not be dissuaded by the naysayers. There are thousands of people all over America who are for passenger rail and you represent the best of what America is about!"
Secretary Ray LaHood, U.S. Department of Transportation
2012 NARP Spring Council Meeting