Happening Now
Jim Mathews Debates The Cato Institute's Randall O'Toole
Rail Passengers Association President/CEO Jim Mathews was invited to participate on a panel at the Cato Institute on Wednesday, October 10, 2018.
The featured presenter was Cato Institute Senion Fellow, Randall O'Toole, Mr. O'Toole has recently written a book 'Romance of the Rails: Why the Passenger Trains We Love Are Not the Transportation We Need', which served as the focal point of the session.
Jim was joined on the panel by Art Guzzetti, Vice President of Policy, American Public Transportation Association and by Marc Scribner, Senior Fellow, Competitive Enterprise Institute. The session was moderated by Jason Kuznicki, Editor at the Cato Institute.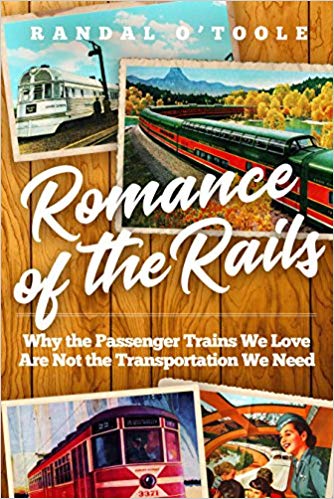 "I'm so proud that we came together in bipartisan fashion in the Senate to keep the Southwest Chief chugging along, and I'm grateful for this recognition from the Rail Passengers Association. This victory is a testament to what we can accomplish when we reach across the aisle and work together to advance our common interests."
Senator Tom Udall (D-NM)
April 2, 2019, on receiving the Association's Golden Spike Award for his work to protect the Southwest Chief