Happening Now
Jim Mathews Debates The Cato Institute's Randall O'Toole
Rail Passengers Association President/CEO Jim Mathews was invited to participate on a panel at the Cato Institute on Wednesday, October 10, 2018.
The featured presenter was Cato Institute Senion Fellow, Randall O'Toole, Mr. O'Toole has recently written a book 'Romance of the Rails: Why the Passenger Trains We Love Are Not the Transportation We Need', which served as the focal point of the session.
Jim was joined on the panel by Art Guzzetti, Vice President of Policy, American Public Transportation Association and by Marc Scribner, Senior Fellow, Competitive Enterprise Institute. The session was moderated by Jason Kuznicki, Editor at the Cato Institute.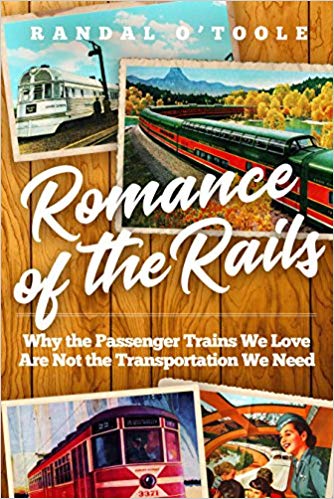 "It is an honor to be recognized by the Rail Passengers Association for my efforts to strengthen and expand America's passenger rail. Golden spikes were once used by railroads to mark the completion of important rail projects, so I am truly grateful to receive the Golden Spike Award as a way to mark the end of a career that I've spent fighting to invest in our country's rail system. As Chair of the Transportation and Infrastructure Committee, it has been my priority to bolster funding for Amtrak, increase and expand routes, look to the future by supporting high-speed projects, and improve safety, culminating in $66 billion in new funding in the Bipartisan infrastructure Law."
Representative Peter DeFazio (OR-04)
March 30, 2022, on receiving the Association's Golden Spike Award for his years of dedication and commitment to passenger rail.