Happening Now
Iowa Pacific Holdings President Ed Ellis to Give Keynote at Railroad Passengers Meeting in Indianapolis
October 15, 2015
Ed Ellis to Give Keynote
MEDIA ADVISORY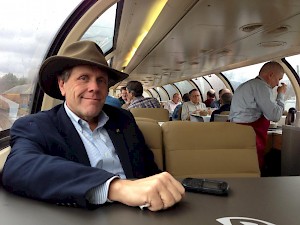 Who: Iowa Pacific Holdings Founder and President Ed Ellis
What: Ellis will give the keynote address at the National Association of Railroad Passengers' Fall Meeting in Indianapolis. He will discuss Iowa Pacific's passenger train service between Indianapolis and Chicago, along with prospective models for private company participating in passenger rail services.
When: Saturday, October 17, 2015, at 12:00 p.m.
Where: Crowne Plaza Union Station, Indianapolis. Victoria Station Room
For more information, contact Benet J. Wilson at 443/838-7033.
###
"When [NARP] comes to Washington, you help embolden us in our efforts to continue the progress for passenger rail. And not just on the Northeast Corridor. All over America! High-speed rail, passenger rail is coming to America, thanks to a lot of your efforts! We're partners in this. ... You are the ones that are going to make this happen. Do not be dissuaded by the naysayers. There are thousands of people all over America who are for passenger rail and you represent the best of what America is about!"
Secretary Ray LaHood, U.S. Department of Transportation
2012 NARP Spring Council Meeting