Happening Now
Iowa Pacific Holdings President Ed Ellis to Give Keynote at Railroad Passengers Meeting in Indianapolis
October 15, 2015
Ed Ellis to Give Keynote
MEDIA ADVISORY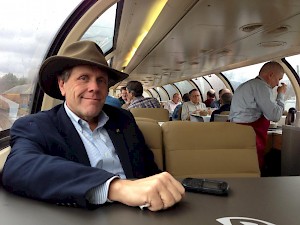 Who: Iowa Pacific Holdings Founder and President Ed Ellis
What: Ellis will give the keynote address at the National Association of Railroad Passengers' Fall Meeting in Indianapolis. He will discuss Iowa Pacific's passenger train service between Indianapolis and Chicago, along with prospective models for private company participating in passenger rail services.
When: Saturday, October 17, 2015, at 12:00 p.m.
Where: Crowne Plaza Union Station, Indianapolis. Victoria Station Room
For more information, contact Benet J. Wilson at 443/838-7033.
###
"Saving the Pennsylvanian (New York-Pittsburgh train) was a local effort but it was tremendously useful to have a national organization [NARP] to call upon for information and support. It was the combination of the local and national groups that made this happen."
Michael Alexander, NARP Council Member
April 6, 2013, at the Harrisburg PA membership meeting of NARP