Happening Now
Hotline #1,064
April 27, 2018
Join Amtrak Mayors' Petition; DOT Establishes Funding Program; SBR 3 To Launch In May; Rail Passengers Meets With Amtrak; Simulated Service For Brightline
We Need Your 'Nose For News'! When you see rail-related news stories, op-eds, editorials, or letters to the editor in your communities, send them along to us! We include them in our social media efforts, along with the weekly Hotline. Send your news items to Bob Brady, [email protected], and we will share it with members. Are you holding a rally, a community meeting, or another kind of rail-advocacy event? We can help spread the word if you send them to us. We can put them on the website, here. Please follow Rail Passengers Association on Facebook and Twitter to stay up to date on all things passenger rail.
---
Help Us Make Your Voices Heard At Amtrak: Join The Mayors' Petition Project!
In recent weeks, Amtrak has made several changes that our members do not agree with - removing the iconic Parlour cars, eliminating many discounts and just last week changing dining car service. These changes are coming fast and we understand that you are upset and frustrated.
We are listening to your concerns and Rail Passengers staff is at the forefront advocating for improved Amtrak service, from our main office in D.C. and at our regional offices. We're reaching out to Members of Congress and Amtrak management to let them know that Amtrak customers and Rail Passengers members want better from our national railroad service.
There's only so much staff can do, however. As we advocate on behalf of the American railroad passengers, we need YOUR help. We've launched the Amtrak Mayors' Petition project so that every community served by Amtrak can voice their views on Amtrak's changes.
We have already received support from 100 members, but more is always needed.
What we need from you? We need you to send emails and to call mayors' offices as part of this campaign. Contact our policy staff and we will add you to the volunteer pool. We will provide you everything you need: numbers, scripts, and sample emails to promote a petition that makes the following argument:
In light of a record public investment in passenger rail and recent actions by Amtrak management affecting National Network service, Amtrak must report to Congress and Amtrak-served communities how it will invest these funds to ensure continued service to all towns on the national rail system.

We support growing service along densely-populated corridors, but insist it must happen in addition to National Network service, not at the expense of rural and small town passengers.
If you can't participate in our Amtrak Mayors' Petition project, please consider supporting Rail Passengers advocacy work with a special contribution that will help us push back against these disruptive changes.
Your advocacy and generosity is vital to building a modern, efficient rail system for future generations of passengers.
---
Rail Passengers Associates has learned that Amtrak will be resuming its efforts to de-staff stations with 40 or fewer daily passengers. The full list includes Charleston, WV; Cincinnati, OH; Fort Madison, IA; Garden City, KS; Hammond, LA; Havre, MT; La Junta, CO; Lamy, NM; Marshall, TX; Meridian, MS; Ottumwa, IA; Shelby, MT; Texarkana, AR; Topeka, KS; and Tuscaloosa, AL.
Texas Rail Advocates issued a release pushing back against the move, which affect Marshall and Texarkana stations, as well as stations throughout the Midwest and western U.S. The change will take place sometime after June 1.
"This seems to be part of Amtrak's new cost-savings strategy under CEO Richard Anderson to cut station staffing and on-board service to the long-distance national network", said Peter LeCody, Rail Passengers Chair and President of TRA. "In Amtrak's last fiscal year the Texas Eagle service had the highest gain in ridership and one of the highest gains in revenue among the 15 long distance trains. Why in the world would you want to cut service to these cities when you are on the upswing? Removing the local agent means no ticketing or information service available locally, no checked bag service and the loss of an interface with tourism to the economies of Marshall and Texarkana."
In stations with a caretaker, limited assistance will be available to travelers using the stations. In some cases, checked baggage will be handled by checking the bag online during booking, and then giving the pre-checked bag to the conductor trainside.
"I'd like to see how much local marketing and local outreach was done in these communities in the past year to actually attract more riders to alert them there is actually train service available", LeCody added. "Knowing how local marketing and outreach efforts were cut in Texas it would not surprise me that the other towns and cities were also ignored. Why not try to build up ridership before you go and make cuts?"
The U.S. Department of Transportation has established a new funding program for infrastructure projects. The new program, Better Utilizing Investments to Leverage Development (BUILD), will replace the critical and very popular Transportation Investment Generating Economic Recovery (TIGER) grant program.
"The effective TIGER grant program has injected a little more than $5 billion into transportation investments nationwide, including passenger rail projects," said Rail Passengers President Jim Mathews. "We have said this before, that the TIGER program is a great example of a public-private partnership that has generated nearly $4 of additional investment for every TIGER grant dollar awarded. We can only hope that the new funding program has similar returns."
The fiscal-year 2018 BUILD grant program will provide $1.5 billion to various applicants for road, bridge, transit, rail, port or intermodal projects. Grants will be awarded on a competitive basis for projects that will have a "significant local or regional impact." In addition, funding will be evaluated on merit criteria that includes safety, economic competitiveness, quality of life, environmental protection, state of good repair, innovation, partnership and additional non-federal revenue for future transportation infrastructure investments.
For the first round of BUILD grants the maximum award for a project will be $25 million, and no more than $150 million will be awarded to a single state.
Your Rail Passengers Association is strongly supporting a joint application from the Vermont Agency of Transportation and the Genesee and Wyoming Corp.'s New England Central Railroad (NECR) subsidiary for a $1.6 million grant under the Consolidated Rail Infrastructure and Safety Improvements (CRISI) grant program.
The project will deploy a variety of safety measures along a small but important freight and passenger corridor which today includes a large proportion of un-signalled, or "dark," territory. Rail Passengers Association President Jim Mathews, in a support letter this week to DOT Secretary Chao, wrote that "these safety improvements will protect lives and property, mitigate the risk of major service disruption, and improve throughput and efficiency by eliminating the need for speed restrictions in many areas, benefiting freight shippers and rail passengers alike."
Rail Passengers Association also noted that this same corridor hosts the state-supported Amtrak Vermonter passenger rail service, whose daily trains served nearly 100,000 passengers last year, not only between stations in Vermont but as a vital link between rural Vermont communities and New York City and destinations in Massachusetts. Overall the service connects 32 cities in nine states, including many small and rural communities that are underserved by other modes.
---
Three more states, Arizona, Georgia and Pennsylvania, have received certification from the Federal Transit Administration (FTA) for their rail state safety oversight (SSO) programs. With the new certifications, 11 of 30 states have had their SSO programs approved by the federal government.
Federal law requires states with transit-rail systems in operation, or with transit-rail systems in the engineering or construction phase, to obtain certification of SSO programs by April 15, 2019. Under federal law, states that don't meet the deadline will be at risk of losing funding since the FTA can't award new federal transit funds to agencies until certification is received.
Passenger service for the Bay Area Rapid Transit's (BART) 10-mile extension to Antioch, CA will commence May 26. The extension cost $525 million and included two new stations - one new stop in Pittsburg and another stop in Antioch. With the new line up and running, BART officials expect to serve 2,400 riders in each direction per hour during rush hours.
"This is a new dawn for transit in this part of the Bay Area," said Joel Keller, who serves on BART's board, in a press release from the agency. "Making this visionary project a reality took the long-term dedication of East County residents, and the commitment of many local, regional, state, and federal leaders."
On the extension BART will utilize diesel multiple units (DMU) that will operate on standard gauge track instead of BART's wider gauge rails. The new cars meet the federal government's strictest emissions standards and use renewable diesel from hydrogenated vegetable oil.
---
Spring Advocacy Summit Materials
During the Rail Passengers Association's Spring Advocacy meeting, we shared important data and materials with key legislators and staff on Capitol Hill on major passenger rail infrastructure projects and issues. They ranged from our annual Legislative Asks in 2018, NEC infrastructure investment, high-speed rail in the U.S., state of good repair, rural mobility and more.
These colorful one-page fact sheets were produced for our members, outreach and meetings during our 2018 'Day on The Hill' visits, and for future use as we work towards a better national network.
That's why we're making them available to you for download to use for any local community meetings or appointments with local elected or transportation officials. They are available at: www.railpassengers.org/happening-now/events/april-meeting-materials.
And, as ever, be sure to reference our 2017 Ridership Statistics for your area and trains!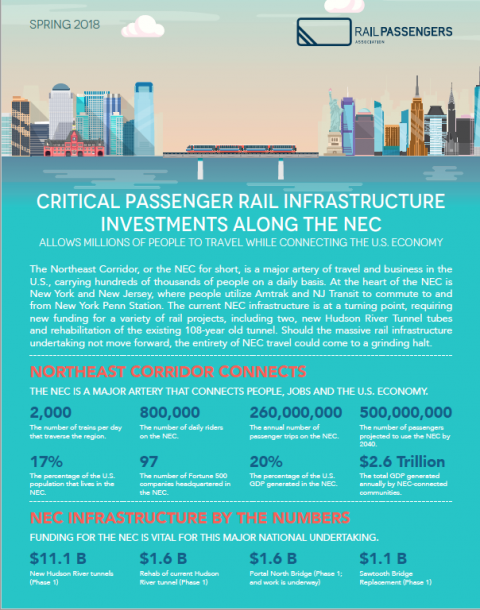 ---
Misguided opposition to All Aboard Florida's Brightline service continues, with Senator Marco Rubio questioning the company's funding approval for $1.75 billion of tax-exempt bonds. Rubio wrote in a letter to U.S. DOT Secretary Elaine Chao that the company needs to provide "increased transparency" as the Brighline looks to use the bonds to fund connecting Miami and Orlando in its next phase.
"When federal financing mechanisms are utilized, it is critical that the utmost transparency is provided to taxpayers," Rubio wrote in the letter. "AAF's project has raised questions regarding whether federal financing was appropriately used. I urge the Department of Transportation to provide clarity."
In response to the letter from Rubio, a Brightline spokeswoman said that Brightline's use of the private-activity bonds has been approved under five different legal challenges in opposition to the higher-speed rail line.
"By the federal statutory definition, Brightline qualifies (for the bonds), and in combination with $1.5 billion of our own investment has created thousands of jobs and economic-impact throughout the state of Florida," Brightline said in a statement.
The U.S. DOT has also supported Brightline's eligibility for the bonds. Six years ago, the Florida East Coast Railway received federal assistance under Title 23 for federal highways, making Brightline an eligible "highway" project. Brightline operates on the same corridor as the Railway.
Following Rubio's letter, State Sen. Debbie Mayfield, R-Vero Beach, requested that Governor Rick Scott direct the Florida Development Finance Corporation to hold off on the sale of tax-exempt bonds to help finance Brightline expansion from West Palm Beach to Orlando. The corporation is a special unit created by the state Legislature in 1993 to help businesses and nonprofit groups finance capital projects that promote economic development. It acts as a conduit, issuing both traditional and tax-exempt bonds on behalf of borrowers.
"The continued opposition to Brightline is very misguided," said Rail Passengers President Jim Mathews. "Since beginning service in January, Brightline has proved itself to be a quality and reliable rail service, that offers an exceptional customer experience. In the long run, it has the potential to reshape Florida and the communities around the route. MiamiCentral, the downtown station in the heart of Miami, has already showing its growth and benefits as a multi-use transit hub."
Despite the opposition, Brightline plans to start simulated service tomorrow as it begins running trains to the downtown Miami station, MiamiCentral. The trains Brightline will run will not carry passengers, but the process is part of the company's required training and testing before revenue service can start.
Brightline officials said they plan to begin revenue service to Miami in May. As it prepares to open service, the company will also revise its train schedule. As of Saturday, weekday trains will depart from West Palm Beach on the hour, except for the first train that departs at 5:30 a.m., and from Fort Lauderdale at 37 minutes past the hour. Fridays will have an additional departure at 11:57 p.m. On weekends, Brightline will operate 90-minute intervals between Fort Lauderdale and West Palm Beach.
The new departure times will remain the same once Brightline begins shuttling passengers to downtown Miami.
---
Rail Passengers Statement on the Senate Approval of Fuchs, Schultz for STB
Senator Wicker's Concern Over Freight Train Interference Well Founded
The Rail Passengers Association applauds the Senate Commerce Committee approval of Patrick J. Fuchs and Michelle Schultz for the Surface Transportation Board, and calls upon the Senate to swiftly vote to confirm.
"Our association has had the pleasure of working with Patrick closely during his time as a senior staff member of the Senate Commerce Committee, and we cannot speak highly enough of his commitment to improving America's rail network and the depth of experience and knowledge he brings to his work," said Rail Passengers Association President Jim Mathews. "No one knows better the intent behind the passenger rail protections included in the FAST Act, and I know Patrick will be fair and judicious in the rail matters brought before the STB."
"During Schultz's tenure as associate general counsel for the Southeastern Pennsylvania Transportation Authority, she developed a reputation for diligence and competence among our Pennsylvanian members, and I believe she will bring the same aptitude to her work at the STB," said Mathews.
Critically, during the April 25th nomination hearing, Senator Roger Wicker (R-MS) discussed the delays plaguing rail passengers and highlighted the freight train interference that is causing this problem.
"Amtrak has preference over freight transportation in using a rail line," said Senator Wicker. "[But] in reality freight railroads have consistently denied such preference to Amtrak, in fact only 47% of long distance trains were on-time at stations in FY 2017 and this is largely attributable to freight's refusing to provide preference to passenger rail."
Rail Passengers has the utmost confidence that these two nominees will help the STB to expeditiously and fairly remedy bad actions taken by host railroads. For more information, refer to Amtrak's Host Railroad Report Card.
---
Charlotte Area Transit System's (CATS) LYNX Blue Line light-rail saw an increase of 48 percent this past March over the same timeframe in 2017. The hike in ridership is largely due to the new 9.3-mile extension that opened on March 16. The opening of the extension also contributed to a six percent year-to-date increase in overall light rail ridership over the same period in 2017.
"These ridership numbers demonstrates the community's acceptance and desire for increased transit options as an alternative to traffic congestion," said CATS Chief Executive Officer John Lewis in a press release. "CATS continues our commitment to enhancing transit services in the region and look forward to expanding transit options in the future."
Despite the notable increase, the ridership numbers were still lower than projected by CATS officials. On day one of the extension opening, ridership reached 37,527 trips, well-above the estimated total of 33,500 trips. Following the opening, the first full week of service averaged 23,785 weekday trips and the second full week averaged 26,050 weekday trips.
When the Lynx first opened a decade ago ridership grew slowly and eventually averaged nearly 18,000 weekday trips. Officials expect the ridership numbers to continue to climb on the extension.
The California State Transportation Agency (CalSTA) has awarded 28 recipients more than $2.6 billion dollars for Transit and Intercity Rail Capital Program (TIRCP) grants. In addition, CalSTA is providing additional funding for seven projects through multi-year funding agreements, bringing the total awarded to more than $4.3 billion. The money is set to focus on reducing greenhouse gas emissions by transforming transit and rail projects throughout the state.
"The projects selected for this round of Transit and Intercity Rail Capital Program grants make great strides in helping California transform the state transportation system," CalSTA Secretary Brian Annis said in a press release. "This investment of SB1 revenue and Cap and Trade dollars will help us reduce harmful emissions, expand mobility options and create jobs statewide."
One of the organizations to receive funding is the Capitol Corridor Joint Powers Authority (CCJPA). CCJPA received $80,340,000 million in grants, and it will support projects under its Northern California Corridor Enhancement Program, with a total budget of $275,041,000 and an expected GHG reduction of 1,348,000 metric tons of carbon dioxide emissions.
"We are grateful to the State of California to include the Capitol Corridor in its vision to transform California's transportation system," said CCJPA Board Chair, Lucas Frerichs. "This TIRCP award of SB1 funds will allow the CCJPA to implement bold projects that will tap into our growing ridership markets and expand to meet new passenger demand."
The $2.6 billion was made possible through Senate Bill 1 (SB 1), as well as proceeds from the Cap and Trade program. The multi-year program provides funding for projects aimed at reducing greenhouse gas emissions and creating jobs by expanding transit and rail options that are faster, more frequent, and more reliable.
---
Summer By Rail 3 Connects Transit To America's Pastime: Baseball
The Rail Passenger Association's third annual Summer by Rail will kick off on May 26, but this year's journey comes with a slight twist, or rather a curveball. With a route that runs from Miami, FL to Seattle, WA, Summer by Rail correspondent Jacob Wallace will visit 19 different baseball stadiums between Major League Baseball (MLB), Minor League Baseball (MiLB), and independent leagues. At the heart of the trip, Wallace will explore the connectivity between North America's transportation infrastructure and its great national pastime.
"Baseball is one of the gems of an American summer, and we wanted to highlight how easy it is for baseball fans to travel throughout the U.S. using only public transit to get to the ballpark," said Wallace, who is a rising journalism senior at American University in Washington, D.C. "I've always been a fan of baseball, and I'm excited for the opportunity to connect the sport with travel and transportation."
Starting on May 26 in Miami to attend a Marlins game, Wallace will use intercity rail and other forms of public transit like bike-share and ride-share services to go from game to game and town to town.
The trip will conclude July 3 at a Seattle Mariners game. Along the way Wallace will travel to Washington, D.C., Detroit, Chicago and Milwaukee to see the Nationals, Tigers, White Sox, Cubs and Brewers, among other MLB teams. Wallace will also visit minor league teams like the Savannah Bananas, Durham Bulls, and Vancouver Canadians.
In between games, Wallace will meet with elected city officials, transit advocates, and small business owners to listen to the public transit needs and plans for these cities, as well as hear about tools these communities need to bolster their local infrastructure.
Wallace will share regular updates on his trip, highlights of using public transit, and stories that share other riders' views on using services like Amtrak or other public transit services to commute to and from ball games.
Updates can be found online the Summer by Rail blog, www.summerbyrail.com, or on Instagram and Twitter using the handle @RailPassengers.
---
New train-testing has been intensified by the Bay Area Rapid Transit (BART) on its 10-mile Berryessa Extension. The Santa Clara Valley Transportation Authority (VTA), which is managing the construction of the Berryessa Extension, said that testing could mean running trains for 20 hours per day for several months. Train testing first began last summer but with only occasional train runs until new sound walls were completed to lessen the noise of trains in the surrounding community. The walls, along with other measures, were built to reduce noise and vibrations from the trains.
During the testing phase, the train speeds, frequencies, length and overall weight differ than that of what actual passenger service and operations will be. As a result, future noise testing and analysis will begin in several months when simulated service testing begins, VTA officials said.
The Berryessa Extension, which runs from Fremont to San Jose, CA, is the first phase of BART's 16-mile Silicon Valley Extension.
Metropolitan Transportation Authority (MTA) commissioners voted to increase spending on major transportation projects by $800 million. This marks an increase in the agency's five-year spending program to $33.3 billion from $32.5 billion, but the increase will be met by utilizing unspent money from older plans.
MTA officials said the money will be spent on several programs, including making subway stations more accessible to people with disabilities and elements of an $836 million plan to improve subway service that was announced last year.
Yet despite the vote, commissioners raised concerns about cost overruns and a lack of transparency at the agency. One such example is the project to expand the Long Island Rail Road to Grand Central Terminal. The project was estimated at $4.3 billion in 2001, but MTA officials said costs had risen to $11 billion as of last month.
The budget will now go before a state review board for approval.
---
As Amtrak Cuts Discounts, Rail Passengers Association's Continues
Membership to Rail Passengers has become more valuable as Amtrak has eliminated numerous discounts for students, veterans and AAA members. As it stands now, a membership to Rail Passengers is one of the only discounts that Amtrak continues to recognize. This includes a 10% discount on most Amtrak rail fares, even on vacation packages through Amtrak Vacations.
If you have friends or family that travel on Amtrak and previously relied on other criteria for discounts, now is a great time to encourage them to become members of the Rail Passengers Association.
Other discounts for members include:
Membership and benefit information is available at: www.railpassengers.org/all-aboard/join.
---
Twin Cities & Western Railroad (TC&W) has filed a lawsuit in U.S. District Court in Minneapolis against the the Metropolitan Council, which is overseeing the development of the Southwest light-rail project. TC&W's lawsuit claims that agreements from the Metropolitan Council outlining how freight and light-rail trains will operate alongside one another breach previous contracts, federal interstate commerce laws and the U.S. Constitution. TC&W said in its lawsuit that the current agreements "will substantially and unreasonably interfere" in the railroad's ability to service farmers and manufacturers in western Minnesota and South Dakota that depend on rail to haul their goods to market.
As a result, the railroad is asking that the agreements be terminated, for financial damages and attorneys fees, and a jury trial to determine it all. The lawsuit names the Met Council, the Hennepin County Regional Railroad Authority, and Canadian Pacific Railway as defendants.
Met Council Chair Alene Tchourumoff said the council has always attempted to work in partnership with TC&W and provide offers that supported the railroad's interests. The council's efforts to partner with TC&W came to a stop last year after the council offered TC&W $11.9 million in exchange for assurances from the railroad to cooperate during construction of the 15-mile line and release all potential legal claims. The council offered another $230,000 to cover TC&W's expenses, but that offer was rejected last week.
The council needs to secure agreements with TC&W and Canadian Pacific in order to apply for $929 million in funding from the Federal Transit Administration. Construction of the Southwest line is expected to begin later this year, with passenger service starting in 2023.
---
Upcoming Regional Rail Passenger & State Association Member Meetings and Other Events:
Please contact Bruce Becker to have a local, state or regional event or meeting added to the Rail Passengers Association calendar of upcoming events!
---
In New York State, Amtrak and several different law enforcement agencies have joined together to launch "Operation NY S.E.C.U.R.E." (Securing the Empire Corridor by Unifying Regional Efforts). The initiative is the the first multi-agency effort on Amtrak's Empire Line to promote better cooperation between law enforcement agencies and improve the state's capabilities to respond to actual emergencies on passenger rail services.
"Keeping New Yorkers safe is our top priority," Governor Andrew Cuomo said in a press release. "This operation gives all levels of public safety partners the opportunity to coordinate and prepare for terrorist threats and emergency situations on our rail lines and I look forward to continuing the successful partnership with Amtrak and all of our law enforcement partners."
Included in the effort are the Division of Homeland Security and Emergency Services, State Police, Metropolitan Transit Authority, Amtrak Police, and several local law enforcement agencies. Officers will perform counter terrorism and incident response exercises at passenger train stations and along the right-of-way in Amtrak's Empire Corridor and on Metro-North's Hudson Line.
Law enforcement will be involved in activities such as heightened platform patrols, increased security presence onboard trains, explosives detection canine sweeps, and counter-surveillance measures.
The Washington Metropolitan Area Transit Authority's (WMATA) Metrorail Safety Commission (MSC) has appointed David Mayer as its chief executive officer. Mayer has been the chief safety officer for the New York Metropolitan Transportation Authority (MTA) since 2014, but will be the recently formed commission's first CEO as of June 4. Prior to MTA, Mayer worked at the National Transportation Safety Board (NTSB).
"Mayer's 25 years of transportation safety experience and outstanding leadership skills, coupled with his knowledge of complex federal oversight and regulatory practices, make him the ideal person to lead our new organization as we work to help ensure a safe Metro system for area residents and visitors to our region," said MSC Chairman Christopher Hart, who previously served as the NTSB's chairman.
Lawmakers in Maryland, Virginia and Washington, D.C. established the commission to serve as the state safety oversight agency, which will take over from the Federal Transit Administration (FTA). Over the past couple of years, the FTA has been in charge of safety oversight of WMATA and wants to hand over oversight responsibility. This will not happen however until the MSC has been certified as a federally approved state safety oversight organization.
The commission is also seeking to hire three additional people by the beginning of September. Those individuals will likely be transit specialists with expertise in track and rail structures, signal systems and the operations of state safety oversight programs.
---
Openings Available For State Council Representatives
The following vacancies now exist for state representatives on the Rail Passengers Association Council of Representatives: Alabama (1 opening); California (7 openings); Delaware (1 opening); Florida (1 opening); Idaho (1 opening); Illinois (1 opening); Louisiana (1 opening); Massachusetts (1 opening); Minnesota (1 opening); North Dakota (1 opening); Ohio (2 openings); Pennsylvania (1 opening); Vermont (1 opening); Washington State (1 opening); Wyoming (1 opening)
If you are interested in becoming more involved in passenger rail advocacy and serving in a Rail Passengers Association leadership role, this is your opportunity to be considered for an appointment by the Board of Directors to an open state representative seat. There is no deadline to apply and submissions will be considered on a rolling basis as they are received.
Please review the position responsibilities & required qualifications and complete & submit a Candidate Information Statement if you would like to seek a position.
"It is an honor to be recognized by the Rail Passengers Association for my efforts to strengthen and expand America's passenger rail. Golden spikes were once used by railroads to mark the completion of important rail projects, so I am truly grateful to receive the Golden Spike Award as a way to mark the end of a career that I've spent fighting to invest in our country's rail system. As Chair of the Transportation and Infrastructure Committee, it has been my priority to bolster funding for Amtrak, increase and expand routes, look to the future by supporting high-speed projects, and improve safety, culminating in $66 billion in new funding in the Bipartisan infrastructure Law."
Representative Peter DeFazio (OR-04)
March 30, 2022, on receiving the Association's Golden Spike Award for his years of dedication and commitment to passenger rail.