Happening Now
Hotline #1,147
December 13, 2019
Rail news for the week ending December 13th!
A Note to Our Members
Dear Rail Passengers members:
Due to issues with the U.S. Postal Service, we are experiencing check payment processing times that are much longer than usual. We apologize for any confusion this may have brought for renewing members. I expect this problem to be fully resolved quickly, as we have worked with the Postal Service to find and implement a fix. That's underway right now.
While we work to sort through this issue, please disregard any renewal notices you receive if you have already sent in a payment. We will update your account in the order in which your payment has been received. For questions, please feel free to email me at [email protected].
Thank you as always for your membership, support, and patience,
Kim Williams - Membership Manager
---
Virgin's Las Vegas High-Speed Rail Will Build In California First
The Nevada leg of Virgin Trains' planned high-speed link between Las Vegas and Southern California probably won't start construction until 2021, because most of the work is being done first in California where most of the route will run.
"They'll probably start in about five different areas when construction starts," said Virgin Trains' business strategy VP Tina Quigley, quoted in the Las Vegas Review-Journal. "Those five areas will probably be in California," since only 35 miles of the 170-mile link will run through southern Nevada. "It wouldn't be until early-to-mid 2021 that the Vegas station and the work in Vegas would start."
Virgin is targeting 2023 to finish construction and launch service -- but they still have to wait for the Federal Railroad Administration's formal record-of-decision (ROD). More important, they're still waiting for Nevada to approve its part of a package of bonds worth more than $1 billion. Virgin needs Nevada to OK their portion of the bond issue in either January or February to stay on schedule, but so far indications suggest Nevada will probably approve.
Florida Makes $60M Investment In Rail Crossing Safety
Florida's Transportation Secretary late last week unveiled plans to improve more than 4,000 rail crossings during the next two years in the wake of the tragic death of a grandmother and her two grandchildren in November in rural Palm Beach County.
The three were killed by an Amtrak train just outside the entrance to the J.W. Corbett Wildlife Management Area an at-grade crossing with no flashing lights, gates, bells or pavement markings. The only indication of the rail right-of-way in that spot is a yield sign and a railroad crossbuck sign.
The $60 million Florida project will paint warning stripes on pavement, post warning signs and install crossing arms throughout the state. Florida overall has had an especially bad record when it comes to incidents involving trains and pedestrians or motorists. The state says that when it tested the safety upgrades between 2014 and 2017 they saw a drop in vehicles on or close to rights-of-way by some 15%.
The work on all the crossings is expected to be finished in March of 2022.
Manchin, Mathews Blame Policies for Drop in Cardinal WV Ridership
In 2019, Amtrak set records for total ridership on the National Network led by a 12.6% increase for thrice-weekly Cardinal. The long-distance train that connects New York City and Chicago had nearly 109,000 riders in FY2019, up from almost 97,000 last year - which even included a 9 month shutdown of the NYC to DC segment.
For service in West Virginia, there is a very different story being told. The Cardinal makes eight stops in the state (Huntington, Charleston, Montgomery, Thurmond, Prince, Hinton, Alderson, and White Sulphur Springs) and saw ridership drop 31% this year - from 35,840 to just under 25,000. This week, Senator Joe Manchin (D-WV) condemned some of the recent policy decisions by Amtrak for the loss of ridership. "I believe these numbers are due to adverse actions taken by Amtrak in the past year that have made it more difficult for West Virginians to take the train," the Senator said in a statement. He also blamed the loss of the station agent in Charleston last year, meaning that none of the eight stops in the state were staffed by an Amtrak employee. "Without a station agent, disabled West Virginians have difficulty accessing the train, and those without access to the Internet cannot buy tickets before they arrive."
The loss of the station agent being a big reason for the drop in ridership is something that Rail Passengers Association President Jim Mathews agrees with the Senator on. "We always see declines in non-staffed stations. It's as inevitable as the sunset," Mathews said this week.
City Council Seeking $2M for Historic Bay St. Louis Depot Upgrades
Members of the Bay St Louis (MS) City Council met last week to make a pitch to State Senator Philip Moran to help upgrade the city's historic Depot District using $1.6 million from the Gulf Coast Restoration Fund. The train depot in Bay St Louis is a registered landmark in Mississippi and is home to the Hancock County Tourism,Bay St Louis Mardi Gras Museum, and Alice Moseley Folk Art Museum and the funding request states that the depot "is also in need of interior updates and exterior repairs to include waterproofing, parking and striping and ADA accessibility improvements".
This upgrade will go a long way to help support the Southern Rail Commission's plans to bring back passenger rail service to the Gulf Coast, running between New Orleans and Mobile - with a stop in the Bay. Restoration has been in the works since 2016 after the loss of passenger service 14 years ago, shortly after Hurricane Katrina.
Congress Announces Budget Deal to Avoid Government Shutdown
With only one week left until the deadline, Congressional appropriators have announced a $1.3 trillion deal that will largely keep the status quo. Details are still sparse, but early indications are that Amtrak and mass transit will get to keep the incremental increases they won in the committee process.
The White House hasn't indicated whether President Donald Trump will sign the bill. His signature issue, the southern border wall, would receive $1.375 billion in this deal—about a third of what Trump was seeking.
The House is scheduled to vote for the bills on Tuesday. The Senate will have to finalize the process before the December 20 deadline to avoid a shutdown.
Talgo's Long-Stored Trainsets On The Move
On Friday, December 3, the Series 8 Talgo Trainsets, which have been stored by Talgo since 2014 at Amtrak's Beech Grove Shops, were moved back to Talgo's facility in Milwaukee where they were originally manufactured and then delivered in 2012. A special train with the three cab cars, three bistro cafes, three baggage-coach end cars and 22 coaches made the Indianapolis, Chicago, Milwaukee journey.
The trainsets were built for but never used by the state of Wisconsin, after then Wisconsin Governor Scott Walker curtailed plans for enhanced rail service between Chicago, Milwaukee and Madison.
As reported by Trains New Wire, on the day of the move only Amtrak provided any comment, "These trainsets are among the interim equipment options being considered by Amtrak for use in the Pacific Northwest." And then this past Monday, Talgo also released a statement, "Talgo is working with Amtrak to place the Series 8 trainsets in service in the Pacific Northwest. They have been moved to Milwaukee for preparation of that service later next year. Some of those enhancements include PTC and features to align with the service provided in the Amtrak Cascades Corridor." The trainsets have been regularly maintained by Talgo while stored at Beech Grove.
Amtrak is responsible for supplying at least a replacement for the Talgo Series VI trainset damaged in the December 2017 Cascades wreck at DuPont, WA, and perhaps for at least one of two other Talgo VI's. It is currently unclear if Amtrak and Talgo have entered into any formal lease or purchase agreement, either on an interim or permanent basis, for Amtrak's use of this long-stored equipment.
NJ Transit Approves $500M In Bond
At a meeting on Wednesday, December 11, New Jersey Transit's (NJT) Board of Directors approved authorizing the New Jersey Economic Development Authority to seek the issuance of $500 million in bonds for the purchase of new rail equipment and buses. NJT President Kevin Corbett said an increase in the gas tax would serve as the backing for the bonds.
The Board also approved an authorization to make compensatory payments to those who own properties near the Portal North Bridge. NJT is attempting to acquire the necessary properties for this critical project in accordance with the Eminent Domain Act of 1971 and is starting condemnation proceedings where necessary.
Maryland's Anti-Transit Transportation Secretary to Step Down
Maryland's Transportation Secretary Pete Rahn announced this week he will resign on January 9 to spend more time with his family in his home state of New Mexico. He will be replaced by Gregory Slater, who currently heads the State Highway Administration.
Rahn was a blunt salesman for Republican Gov. Larry Hogan's biggest public works projects, including the light-rail Purple Line. However, he angered communities around the state through his vocal advocacy for shifting public investment from transit to highways.
"It's no secret that it's been difficult for local and state elected officials and community leaders to deal with Secretary Rahn," State Delegate Marc Korman (D-Montgomery) told the Washington Post. "He's a smart guy who had decent accomplishments, but he… would not be as forthcoming as people would have liked. He would not collaborate as people would have liked."
While Slater comes straight from the highway side of MDOT, transit advocates will have a more collaborative partner in securing additional investments in Maryland's rail network, pushing the state to help fund the final design for the replacement rail tunnels in Baltimore. Governor Hogan seemed to indicate as much while announcing Slater as his next choice for Transportation Secretary: "With his decades of experience, Greg is sure to build on our balanced approach to infrastructure, including record investment in transit."
SEPTA Announces Changes To Regional Rail Schedules
The Southeastern Pennsylvania Transportation Authority (SEPTA) announced schedule changes this week that will allow for better on-time performance for trains on most system lines that will be a major benefit for passengers. Changes to the Airport, Chestnut Hill East, Chestnut Hill West, Fox Chase, Glenside Combined, Lansdale/Doylestown, Manayunk/Norristown, Media/Elwyn, Paoli/Thorndale, Trenton, Warminster, West Trenton, and Wilmington/Newark lines will all go into effect on December 15th.
Click here more schedule information.
Consumer Groups Oppose Amtrak Arbitration Policy
A diverse coalition announced its opposition to Amtrak's new policy of including forced arbitration clauses with all ticket purchases in a letter to Congress this week, labeling forced arbitration a "secret justice system" that is bad for consumers.
The group of 32 local and national groups, including the NAACP and Public Citizen, issued letters to Congress and Amtrak asking for a speedy reversal of the new policy.
"[Amtrak's arbitration] provision states that it is 'intended to be as broad as legally possible' – applying not only to individuals who buy tickets, but to 'family members, minor passengers, colleagues and companies' for whom tickets are bought," wrote Public Citizen. "The provision also lists a litany of claims that cannot be heard in court, including negligence, gross negligence, disfigurement, wrongful death, medical and hospital expenses, discrimination and failure to accommodate an actual or perceived disability."
There is already opposition to the new policy among transportation leaders on Capitol Hill, with House Railroads Subcommittee Chair Dan Lipinski (D-IL) announcing at the Amtrak reauthorization hearing that his committee is looking at ways to roll it back.
"Apparently there is not anything to bar forced arbitration for an Amtrak passenger, so that is something that we're now starting to look at legislatively," said Lipinski said
Airlines are currently prohibited by law from imposing similar agreements on their customers.
Feds Give Atlanta $2.8M To Expand Streetcar
Six months after the Metropolitan Atlanta Rapid Transit Authority (MARTA) Board of Directors approved a $2.7 billion plan for transit expansion in the city, the United States Department of Transportation has granted them $2.8 million for streetcar expansion. The funds will be used to connect light rail to the Georgia State campus, the Atlanta University Center and the Atlanta Westside Beltline - as well as an engineering study for further projects. Construction is expected to begin sometime in 2025, while MARTA officials have said that a full system build-out would not be completed until after 2040.
Defense Bill Includes Provision Banning Purchase of Transit Equipment from China-Owned Companies
Congress included a provision in the national defense bill passed this week that bans U.S. transit agencies from using federal funds to purchase railcars or buses from manufacturers owned by the Chinese government. The bill will also financially penalize transit agencies that use their own money to purchase those vehicles. Washington lawmakers argue that this provision is necessary to reduce the risk that China's government would be able to hack the U.S. transit system in a potential conflict.
While the provision doesn't go into effect for two years -- except for the Washington Metropolitan Area Transportation Authority, which was considering buying vehicles from Chinese rail giant CRRC, which has opened a manufacturing plant in Springfield, MA.
The final bill will include a grandfather clause for transit agencies already contracted to purchase rolling stock from Chinese companies "if the manufacturer and the public transportation agency have executed a contract for rail rolling stock before the date of enactment."
It is unclear what effect this provision will have on the cost of rail equipment in the U.S., nor what will happen to the thousands of Americans currently employed by Chinese manufacturing companies domestically.
Season of Giving
As we near the end of the year, you may be considering your end of year philanthropic choices. We ask you to support the Rail Passengers Association. As a charitable organization, we rely on the generosity of others so that we can continue being the voice of the passenger. As the only national organization that consistently advances the cause of commuter rail, regional rail, and inter-city rail as well as Amtrak's national network trains, our concerted efforts have saved national routes from what once seemed to be certain demise and have prevented many of the worst cuts that had been planned to sought-after services such as food offerings and sleeping car accommodations.
We need your help so that we can continue to advocate for the country's 40+ million rail passengers. To donate with a credit card, click on the image below. You can also mail in a donation, written out to the Rail Passengers Association at 1200 G Street NW, Suite 240, Washington, DC 20005, ATTN: Jonsie Stone/EOY. Please include "EOY Donation" in the check's memo field. If you live in the DC area, please feel free to drop a donation off at the same address.
Click the image below to donate!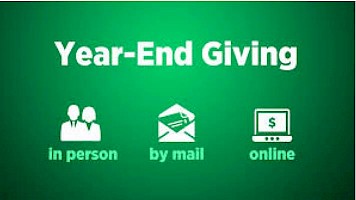 Rounding Up This Week's Social Media Highlights
This week we covered lots of expansions, commuter solutions, the new Acela train sets, and Chicago Union Station's food hall currently under construction. Some insights from our members online:
"This has long been overdue. I'm extremely thankful for Senator Durbin's leadership in addressing the issue of on time performance." - Timothy Machen
"Having toured the rebuild and spoken with the project managers, I think this is going to be super beneficial for the station and its workers. The economic benefit to denver, with their station revamp speaks to the capacity for improvement chicago union station has as well. I hope it turns out great and I look forward to seeing it soon." - Madi Butler
Tell Us What's Happening Where You Live!
When you see rail-related news stories, op-eds, editorials, or letters to the editor in your communities, send them along to us! We will include them in our social media efforts, along with the weekly Hotline. Send your news items to Joe Aiello at jaiello[at]narprail.org, and we will share it with members. Are you holding a rally, a community meeting, or another kind of rail-advocacy event? We can help spread the word if you send them to us. We can put them on the website here. Please follow Rail Passengers on Facebook and Twitter to stay up to date on all things passenger rail.
Rail Passengers Track Update
Where are we and what are we working on? This section will give you updates on what Rail Passengers HQ is up to.
Jim Mathews, President & CEO, had meetings this week. LOTS of meetings. Mostly internal business, but some that hold great promise for rail policy next year. Reauthorization is on everyone's mind in Washington, DC, and that's good news for all of us working for more and better trains.
Sean Jeans Gail, Vice President of Policy, worked with Congressional offices and other rail groups on a blueprint for the next generation of passenger rail in the upcoming surface transportation reauthorization, looking at ways to improve Amtrak's on-time performance and increase funding for transit and intercity rail.
Carolyn Cokley, Director of Customer Programs, is traveling to Fort Worth for the Volunteer Open House and looking forward to interacting with rail advocates and engaged residents who want to represent their city and serve the community. If you are in Fort Worth on Saturday, December 14, 12 noon – 3:00 p.m., please stop by and sign up.

Joseph Aiello, Field Coordinator, spent time this week working on the Association's January newsletter as well as attending a number of year-end advocacy events. Joe is looking forward to heading to Portland, ME on Monday for the TrainRiders/Northeast Annual Meeting.
Madi Butler, Grassroots Organizer, is in Fort Worth this weekend for the Station Volunteer Open House. Next week, Madi will be heading to Kentucky to meet with State representatives and members before the holidays.

Bruce Becker, Vice-President of Operations, continued working on the planning for RailNation:DC 2020 - Rail Passengers Washington Advocacy Summit, Day on The Hill & Congressional Reception. As promised, event registration is now open! In addition, discounted group-rate room reservations are currently available at this year's host hotel, the Embassy Suites Alexandria Old Town.
Jonsie Stone, Director, Resource Development, spent a good amount of time this week processing donations and preparing thank you letters. Which is exactly what I like to do in December. Thank you for your support!
Kim Williams, Membership Manager, took her first long-distance Amtrak ride to Fort Worth, TX to attend the Station Volunteers Program Open House with Carolyn and recruit new members. If you are in Fort Worth on Saturday, December 14, noon – 3:00 p.m., please stop by and sign up! I'll also write a blog post about my ride to Fort Worth soon - it was an excellent trip.
The Rail Passengers Association would like to thank our Annual Partners for their support.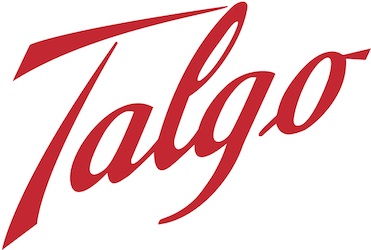 We are excited to welcome Texas Rail Advocates as our newest Annual Partner. The Southwestern Rail Conference is hosted by Texas Rail Advocates, the largest grassroots, non-profit organization in Texas that promotes smart development of freight and passenger rail throughout the Southwest. To learn more about the Conference please click the image below.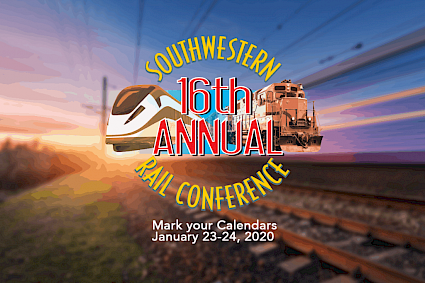 Washington, DC - Sunday, March 29 through Wednesday, April 1!
Upcoming Regional Rail Passengers Association and State Passengers Association Member Meetings & Events
Passenger Service Notices
Kalamazoo, MI Station Ticket Window Closing
Effective Jan. 2, 2020
The Amtrak station in Kalamazoo, MI, will no longer have a staffed ticket window, but Amtrak trains will continue to serve the station daily. If you are traveling to or from Kalamazoo, please refer to the following:
Waiting Area: Customers will continue to have access to the station's waiting area and restrooms.

Customer Assistance: Amtrak conductors and attendants aboard our trains will assist customers boarding and detraining.

Ticketing Options: Customers can make reservations and obtain eTickets at Amtrak.com, using our free mobile apps, or by calling 800-USA-RAIL (1-800-872-7245). These eTickets can be displayed on a smartphone or tablet, printed at home or on the Amtrak Quik-Trak kiosk at this station. Payment can be made by bank-issued credit cards, reloadable debit cards carrying a credit card logo or the new Amtrak Gift Cards, which are sold in supermarkets, drug stores, big box stores and Amtrak.com/GiftCards. Customers using cash can pay for tickets on the train, but they will be priced at the highest published fare and subject to availability.

Other Stations: Customers seeking travel for unaccompanied minors or other services can use the ticket windows with customer service representatives at the Amtrak station in Battle Creek, Sunday through Thursday from 8:00 am to 4:00 pm.
Pacific Surfliner Weekend Service Changes
Friday, Saturday and Sunday, December 13 through 15, 2019
Due to emergency track work being performed at Del Mar, CA, Pacific Surfliner service will be affected on the dates shown below:
Friday, December 13
Train 590 will be cancelled with no alternate transportation. Passengers can make reservations aboard other Amtrak trains.
Saturday and Sunday, December 14 and 15
Trains 578, 583, 1565, 1572, 1584, 1590, 1573 and 1591 will be cancelled. Passengers can make reservations aboard other Amtrak trains.

Saturday, Train 796 will terminate at Los Angeles and bus service will be provided for all missed stops from Los Angeles to San Diego.

Sunday, Train 792 will terminate at Los Angeles with bus service provided between Los Angeles and San Diego.

Northbound Train 1761 will originate at Los Angeles with no alternate transportation provided from San Diego to Los Angeles.

All other trains will terminate at Oceanside with bus service to San Diego, stopping at the intermediate station of Solana Beach. There is no alternate transportation provided to Old Town San Diego. Passengers have the option of taking the trolley from San Diego to Old Town San Diego.

Buses will depart stations earlier than the train schedule to allow for on time departures from Oceanside.
Please note: There will be no checked baggage or express service south of Oceanside on the dates shown above. Alternate bus service will not serve Old Town San Diego.
Keystone Service and Pennsylvanian Trains 42 and 43
Dec. 20 through Dec. 30, 2019
Reservations Required During the Holiday Period
To better accommodate the increased number of travelers expected during the busy holiday period, reservations will be required on all Pennsylvanian and Keystone Service trains (including Philadelphia to Harrisburg service) from Friday, Dec. 21 through Monday, Dec. 30, 2019.
Reservations will not be required for monthly and ten-ride ticket holders.
Holiday Travel Reminders:

Use eTicketing to avoid ticket counter lines.

Allow ample time to arrive at the station and board the train.

Make sure your baggage is tagged with your name and address.

Amtrak customers must produce valid photo identification when:

Obtaining, exchanging or refunding tickets

Storing baggage at stations Checking baggage

Onboard trains, in response to a request by an Amtrak employee
Flagstaff Station Hour Changes
Effective December 2, 2019
Please be advised that beginning Dec. 2, Flagstaff station ticket office and waiting room hours will be reduced.
New Ticket Office Hours:
Daily 7:15 pm to 6:30 am
New Waiting Room Hours:
Visitor Center: Monday-Saturday 8:00 am to 5:00 pm

Visitor Center: Sunday 9:00 am to 4:00 pm

Waiting Room: Daily 7:00 pm to 7:00 am
Waiting Room Closed:
Monday-Saturday 7:00 am to 8:00 am and 5:00 pm to 7:00 pm

Sundays 7:00 am to 9:00 am and 4:00 pm to 7:00 pm
Baltimore Station Restrooms Temporarily Closed
Effective Dec. 9 through 20, 2019
Due to a restroom refresh, the Baltimore station restrooms will be temporarily closed from Dec. 9 through Dec. 20.
Passengers will not have access to restrooms inside the station during this time. There will be a restroom trailer outside of the Charles Street exit. There will be signage and Amtrak employees in the station to assist with directions.
Jefferson City, MO Station Waiting Room Temporarily Closed
Effective Immediately
Due to structural problems with the station building reported to us by the building owner, the Jefferson City, MO station waiting room is temporarily closed until further notice. Trains will continue to stop at the station and passengers will have access to platforms.
Passengers will not have access to the inside of the station or restrooms during this time. City volunteers will be on site to help with questions or directions during scheduled train times. Be sure to dress warmly and be prepared to use portable lavatories. Rather than waiting for trains outdoors, please use the Amtrak app or other means to check train status while waiting in a personal vehicle.
Keystone Service Schedule Changes
Effective Dec. 7, 8, 14 and 15, 2019
Due to track work being performed along the Keystone Service line, some schedules will be affected on the weekends of December 7-8 and 14-15.
Westbound:
Train 611, 615, 661, 663, 667, 669 and 671 will operate 7 minutes later from Exton to Harrisburg.

Train 665 will operate 5 minutes earlier from Philadelphia to Paoli and 2 minutes later from Exton to Harrisburg.
Ashland, VA, Station Platform Update
Effective through Fall/Winter 2020
Beginning mid-October, Amtrak will begin construction to upgrade platforms at the Ashland station in order to make them compliant with the Americans with Disabilities Act (ADA).
The platforms and passenger loading areas will be raised, although a lift will still be required for passengers with mobility disabilities to board the train. Additional lighting will be added to the east side of the platform. Below is a rendering of the final improvements as seen from the south end of the platform facing north.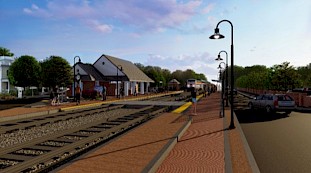 Construction will be performed in two phases, updating the southern portion first and then the northern portion. The Visitor Center inside the train station will continue to be open and Amtrak trains will continue to serve Ashland during construction.
Parking in certain areas will be limited during the different phases of construction. Please refer to the parking information page http://www.ashlandva.gov/562/Parking-Information for updates on parking throughout the project.
For updates about the project visit https://www.amtrak.com/stations/asd.html
Travel Tip of the Week
Chicago Union Station restoration project
Amtrak's $22 million project to restore the Great Hall at Chicago Union Station has reaped recognition in the form of six awards from architectural, engineering, construction and real estate organizations or publications.
The awards are the:
2019 Interior Architecture Award – American Institute of Architects, Chicago Chapter

2019 Overall Transformation of the Year – GlobeSt Real Estate Forum Magazine

2019 Silver Reconstruction Award – Building Design & Construction Magazine

2019 Best Project, Government/Public Building – ENR Midwest Magazine

2019 Best Renovation/Retrofit Project – Structural Engineers Association of Illinois

2019 Metamorphosis Award, Whole Building – Retrofit Magazine
Now under construction at the station is a new Clinton Street entrance to improve station accessibility with an elevator from street level, including both tiers of a food hall to be ready for tenant leasing and finishing next fall.
Chicago Union Station serves 37.6 million Amtrak and Metra passengers annually, and handles about 120,000 on a typical weekday.
Next time you have a layover in Chicago, take a walk around the Great Hall and appreciate the beauty.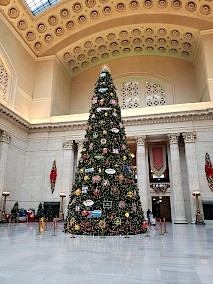 Your Feedback is Important to Improving American Passenger Trains
As you travel, please help us promote the Travel Review with other rail passengers. As you encounter passengers who want to make their positive and negative opinions known, please direct them to www.railpassengers.org/Travel Review. All participants will remain anonymous. If you encounter any problems with the Travel Review, or have any questions, please send an email to [email protected]
Do You Need More TravelReview Feedback Cards?
Please help us to spread the word. We need your help in engaging other passengers when you travel and let them know that their feedback is welcomed by RailPax. To facilitate this sharing of information the TravelReview Feedback Card is now available for you to download and print for regular usage. The card can be given to fellow passengers to introduce the work that RailPax is doing as well as our desire to have their feedback. The cards can also be left behind in stations as you pass through.
The template is in a .pdf format and will open in Adobe document cloud. First download the file and save it to your desktop for easy access. Then print as needed. The original template is formatted for Avery 5871 or 5371 cardstock which are both 2" x 3½" business card formats. Any brand cardstock should function as long as the dimensions match.
If you experience any problems in accessing the file, please send an email to [email protected]
Lonely Planet's Amazing Train Journeys
Planning a holiday-season vacation including trains, or looking for a great holiday gift idea, then you need a copy of Lonely Planet's 'Amazing Train Journeys' guidebook! And with every purchase Lonely Planet will donate 15% of the proceeds to your Association, to help us keep working for More Trains, Better Trains and a commitment to better infrastructure.
Through this beautiful book, you'll experience 60 of the world's greatest and most unforgettable train journeys, from classic long-distance trips like Western Canada's Rocky Mountaineer and Darwin to Adelaide's The Ghan, to little-known gems on regular commuting lines. It's the culmination of asking more than 200 travel writers for their absolute favorites.
Some are epic international adventures, others are short suburban routes along stunning coastline. There are incredible feats of engineering, trains that snake their way through mountain peaks, and even those which have achieved Unesco World Heritage status.
More than just a collection, each profile will give you the practical information you need to experience one or more of these epic journeys yourself -- including ticket options, timetables and stops, plus inspiring photos and illustrated maps. It's all here!
Amazing Train Journeys is available as a book, e-Book or in both formats at a low combination price. And your purchase helps supports your Association's mission too! Remember, Lonely Planet is contributing 15% of all Amazing Train Journeys sales to Rail Passengers! You can order copies by clicking here!
---
"Saving the Pennsylvanian (New York-Pittsburgh train) was a local effort but it was tremendously useful to have a national organization [NARP] to call upon for information and support. It was the combination of the local and national groups that made this happen."
Michael Alexander, NARP Council Member
April 6, 2013, at the Harrisburg PA membership meeting of NARP