Happening Now
Hotline #1,143
House Rail Subcommittee Hearing
The House Rail & Infrastructure Subcommittee on Rail held a hearing the Amtrak reauthorization on November 13, examining current-day challenges and future opportunities for passenger rail in the U.S. Rail Passengers Association President Jim Mathews testified as part of the panel, which also included representatives from Amtrak, railroad labor, and state transportation officials—arguing that Amtrak is an essential engine for economic growth in town across the country, and that we cannot cut our way to a sustainable national rail network.
"Amtrak exists, and collects public funds, expressly to provide service to places that need it and where the private sector cannot profitably provide it…," said Mathews. "Amtrak is one of the ways the U.S. government acts to support the common good, the 'general welfare.' Every Amtrak long-distance route creates a return on equity for the communities that have invested in it over the past few decades. And thanks to rigorous economic modeling this Association has developed over the past year, we have been able to quantify that return in a way that hasn't been done previously."
[Read Rail Passengers' full write-up of the hearing, which includes video of the webstream and a link to Mathews' written testimony.]
The hearing made plenty of news, with several testy exchanges between Members of Congress and Amtrak President Richard Anderson over recent changes to service, many of which came in defiance of the intent expressed by House appropriators:
"Amtrak president and chief executive Richard Anderson on Wednesday defended the company's decision to kill the traditional dining car on some long-distance trains, a shift that has ignited a firestorm of complaints from railroad passengers and aficionados." [Washington Post]

"Lawmakers are in the initial stages of determining whether they can prevent Amtrak from implementing a forced arbitration policy that would bar passengers from suing if they're hurt or killed in crashes." [Roll Call]

"Jim Mathews, president and CEO of the Rail Passengers Association, displayed a 'survival pack' that 'the savvy passenger' on long-distance Amtrak trains (or "rolling museums" as he called them) carries: duct tape, plastic and wooden shims to keep the doors from rattling, Velcro to keep the curtains closed, hand sanitizer, and a power strip." [Politico]
House Democrats To Press Ahead On Surface Transportation Reauthorization
House Democrats are indicating that, in spite of infrastructure talks between Congress and the White House grinding to a halt, they will press ahead with a surface transportation reauthorization proposal in early 2020.
Right on the heels of this week's Amtrak reauthorization hearing, House Transportation and Infrastructure Chairman Peter DeFazio (D-OR) is talking with his fellow Democrats about what he wants in his committee's transportation proposal.
DeFazio hopes to move ahead early in 2020, and meet with the Senate in late spring to hammer out the differences between the two proposals. While the Senate has already passed a highway proposal, there hasn't been any indication of movement on the transit and rail titles yet—to say nothing of the financing portion—making DeFazio's schedule ambitious.
Rail Passengers is already working with offices to advance our package of reauthorization proposals, which you can find at RailPassengers.org/Blueprint.
On the presidential campaign trail, meanwhile, former-Vice President Joe Biden unveiled a $1.3 trillion infrastructure proposal that would seek to dramatically upgrade America's passenger rail system over a 10 year period.
Biden is not the only Democratic candidate who has released an ambitious infrastructure proposal, but—unsurprisingly, for a politician who earned the nickname "Amtrak Joe" across decades of daily commutes on the Northeast Corridor—he spends more attention on solving Amtrak's infrastructure woes, highlighting the need to immediately build new Hudson River Rail tunnels to keep Amtrak and commuter passengers moving.
The plan calls for massive investment to "spark the second great railroad revolution," which would include:
Putting the Northeast Corridor on higher speeds and shrinking the travel time from D.C. to New York by half—and build in conjunction with it a new, safer Hudson River Tunnel;

Make progress toward the completion of the California High Speed Rail project;

Expand the Northeast Corridor to the fast-growing South;

Begin the construction of an end-to-end high speed rail system across the Midwest and the Great West that will connect the coasts, unlocking new, affordable access for every American;

Support freight projects, including a truck and rail-transit bridge linking Oregon to Washington State, and Chicago's CREATE project, which has the potential to halve transit times for goods moving across the country

Work with Amtrak and private freight rail companies to further electrify the rail system, reducing diesel fuel emissions.
The plan also addresses the infrastructure crisis plaguing mass transit passengers, and would aim to provide "all Americans in municipalities of more than 100,000 people with quality public transportation by 2030" by increasing flexible federal investments to help cities and towns to install light rail networks and to improve existing transit and bus lines.
While the number sounds staggering, given the scope of the infrastructure goals -- which, in addition to transportation, includes water, energy, broadband, schools, and more -- and the fact that the outlay is spread over ten years means, the year-by-year expenditures could actually be in line with Rail Passengers' Blueprint.
2019 BUILD Grants Announced
USDOT announced on Tuesday, November 12, the awarding of $900 million in federal matching funding for 55 transportation-related infrastructure projects in 35 states under the BUILD Grant Program (formerly the TIGER Grant Program). As expected, half of the funding ($450m) will be going to projects in rural areas of the country.
Disappointingly, rail projects received only $48.3 million (5% of the total) and transit projects only $84.6 million (10%), for a combined $132.9 million (15%) of the overall $900 million awarded. Only two of the rail projects will directly benefit Amtrak passengers (interestingly, both of these are in Illinois).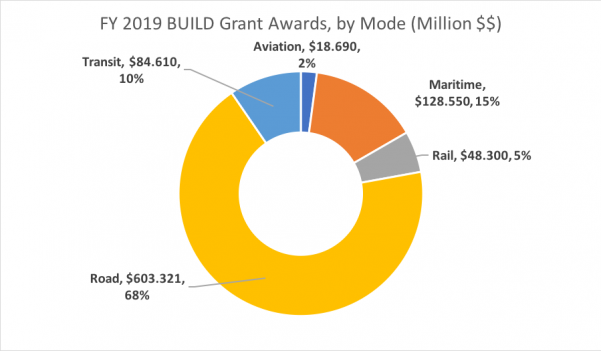 Chart By Jeff Davis - Eno Center for Transportation
Highway and bridge projects overwhelmingly received the majority of the funding at $603.3 million (68%). This mirrors the 2018 grant awards which were also highly skewed to highway projects.
The geographic distribution of the awards saw Florida receiving the largest amount, followed by North Carolina, Maine, Colorado, Texas, Arizona, Alabama, Missouri, Mississippi and Louisiana rounding out the Top 10. Only two projects were funded in California totaling $19.2m. The Northeast Corridor states of Virginia, Maryland, Delaware, New Jersey, New York & Connecticut received no grant funding.
The passenger-related rail & transit projects which were funded include:
Antelope Valley (CA) Transit Authority - $8.7m federal grant - Purchase of new battery-electric transit buses
Southern Illinois Multimodal Station (SIMMS) Project (Carbondale, IL) - $14.0m federal grant - Design & construction of a new multi-modal transportation center (including for Amtrak) in downtown Carbondale
The Underpass Project at Uptown Station Project (Normal, IL) - $13.0m federal grant - Design & construct a pedestrian, bicyclist, and passenger underpass as well as a second boarding platform at the Uptown Normal Intermodal Passenger Rail Station.
Plank-Nicholson Bus Rapid Transit (Baton Rouge, LA) - $15.0m federal grant - Construction of an approximately 9-mile Bus Rapid Transit (BRT) line to connect north and south Baton Rouge to downtown and the LSU campus.
PATCO Franklin Square Station Reopening Project (Philadelphia, PA) - $12.6m federal grant - Revitalize & reopen an existing PATCO station, including required ADA improvements.
Memphis Innovation Corridor Project (Memphis, TN) - $12.0m federal grant - Develop an approximately 8-mile BRT line with 28 new transit stations utilizing 9 electric buses.
The funded highway projects include a freeway expansion in Canton, OH; numerous new or reconstructed highway interchanges and many miles of additional lanes on existing highways.
While FY2020 Federal appropriation levels have not yet been enacted, it is expected that the 2020 round of BUILD Grants will be funded at or above this year's $900 million, with the 50/50 rural/urban split also expected to continue. Hopefully, rail passenger-friendly projects will garner a highly funding share in this next round of awards.
Complete information this weeks grant awards can be found here.
Controversial Amtrak Board Nominee Advances
The Senate Committee on Commerce, Science, and Transportation approved former-Rep. Todd Rokita by a voice vote on Nov. 13, sending his nomination to Amtrak's Board to the full Senate for final approval. Rail Passengers opposed Rokita's nomination based upon a flagrant pattern of voting to eliminate the National Network and slash funding to Amtrak.
While Rokita has cleared the first hurdle, he will now join the other three nominees for the Amtrak board waiting for final confirmation. They are all currently subject to a hold by the senators representing the Southwest Chief -- led by Senators Jerry Moran (R-KS) and Tom Udall (D-NM) -- who have said they will not remove the hold until they get long-term guarantees from Amtrak that the Chief will continue to operate through Kansas, Colorado, and New Mexico.
"While Mr. Rokita said the right things about the importance of a National Network during his confirmation hearing, but we need additional assurances from him before we'll change our opposition to his confirmation to the board," said Rail Passengers President Jim Mathews. "We will need to sit down with him in person and to hear him outline a positive vision for how Amtrak could better serve America's passengers."
Season of Giving
As we near the end of the year, you may be considering your end of year philanthropic choices. We ask you to support the Rail Passengers Association. As a charitable organization, we rely on the generosity of others so that we can continue being the voice of the passenger. As the only national organization that consistently advances the cause of commuter rail, regional rail, and inter-city rail as well as Amtrak's national network trains. Our concerted efforts have saved national routes from what once seemed to be certain demise and have prevented many of the worst cuts that had been planned to sought-after services such as food offerings and sleeping car accommodations.
We need your help so that we can continue to advocate for the country's 40+ million rail passengers. To donate with a credit card, click on the image below. You can also mail in a donation, written out to the Rail Passengers Association at 1200 G Street NW, Suite 240, Washington, DC 20005, ATTN: Jonsie Stone/EOY. Please include "EOY Donation" in the check's memo field. If you live in the DC area, please feel free to drop a donation off at the same address.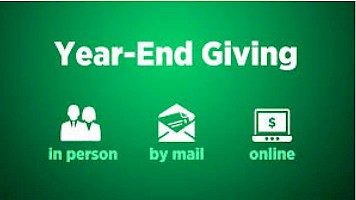 California High Speed Rail Tension Continues
[[newsom_hsr_11.8]]
A growing uncertainty over current plans for California's 119-mile high-speed rail project from members within the authority's own board of directors is just another in a long list of headaches for Governor Gavin Newsom over the direction of funding. At an Assembly Transportation Committee hearing in Fresno earlier this week, Rail Authority board member Daniel Curtin questioned if it wasn't better to actually move forward with slower diesel trains - that could be in service much sooner - instead of spending billions more to purchase new equipment and electrify the lines once construction is finished. Curtin stated that "building catenaries and maintenance facilities and buying high-speed trains is unnecessary" if there wasn't enough money to connect the Bay Area and Los Angeles.
There is also a division being seen from members of the Governor's own party. Assembly Member Laura Friedman (D-Burbank) made comments at the hearing that not only discounted statements made by Rail Authority CEO Brian Kelly but challenged the body to show analysis of cost options and how that would increase ridership numbers in the Valley, Bay Area, and Southern California. "Assuming that our goal is to build from San Diego to San Francisco … the way we get there is by increasing ridership anywhere on the line where you have a large population saying, 'OK, we're now in on the train … and we demand that you give us that whole system," she said.
New ACELA Trainsets
Amtrak has released photos of the new Acela II trainsets expected to join the fleet in 2021. This gallery contains amazing highlights and sneak peaks into what the new models will look like zooming their way through the Northeastern Corridor. The updated bathrooms offer an automatic door, touchless features throughout and are ADA-compliant with a 60-inch diameter turning radius. For passengers who like to work or read en route, every seat will have its own power and USB outlets, as well as adjustable reading lights.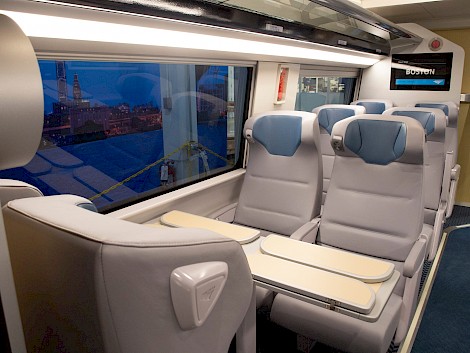 Rounding Up This Week's Social Media Highlights
While our top posts were those related to Jim Mathew's testimony coverage, we've had a very active week covering a myriad of topics. Many online followers were fascinated by Sir Rod Stewart's 100ft model rail which took over 23 years to complete. We also weighed in on pushing for more inclusive ADA compliance as well as analyzing local commuter services in Charlotte, Austin, Milwaukee, Alexandria, Denver, St. Louis.
Some notable comments from our members online:
"There are people in Congress that support Amtrak, as well as the people who ride Amtrak. That's why Amtrak survives, the government doesn't own Amtrak, the taxpayers do and they are more than willing to pay for it." - Steve Rennings
"Please hold strong for a truly NATIONAL network. Not just corridors- we need both, but this false dichotomy is foolishness." - Charlie Hunter
"Jim did a good job. He hit on some key things, pushed back at any thought to eliminate the LD trains, was just blunt enough on food service, equipment, and funding issues, etc." - Eddie Dee
"I think there should be legislation giving passengers the right to sue host railroads for late performance of passenger trains. Where freight got priority. There should be a right to be on time." - Timothy Machen
"I admire the work of rail advocates (in the Boston area). The same could and should be done in South Florida along the Florida East Coast Railway corridor." - CJ Walker
For those looking to join the digital conversation, please join us @railpassengers and @narprail on facebook, instagram, and twitter. We want to mention that all members can send us links, articles, travel photos and more via the Direct Message service on all social media platforms. By utilizing our online platforms, we can make sure coverage of state and local matters are reaching more members while we simultaneously continue our advocacy on a national scale.
Tell Us What's Happening Where You Live!
When you see rail-related news stories, op-eds, editorials, or letters to the editor in your communities, send them along to us! We will include them in our social media efforts, along with the weekly Hotline. Send your news items to Joe Aiello at jaiello[at]narprail.org, and we will share it with members. Are you holding a rally, a community meeting, or another kind of rail-advocacy event? We can help spread the word if you send them to us. We can put them on the website here. Please follow Rail Passengers on Facebook and Twitter to stay up to date on all things passenger rail.
Rail Passengers Track Update
Where are we and what are we working on? This section will give you updates on what Rail Passengers HQ is up to.
Jim Mathews, President & CEO, appreciates all the positive feedback on his House Subcommittee appearance on Wednesday.
Sean Jeans Gail, Vice President of Policy, helped Jim Mathews complete his testimony and prepare for the hearing before the House Subcommittee on Railroads, "Amtrak Now and Into the Future," working with members of the Rail Passengers Council and other stakeholder groups to ensure a diverse set of passenger views were presented to Congress. Jeans-Gail also met with Congressional staffers on how increased investment in passenger rail can address climate change.
Carolyn Cokley, Director of Customer Programs, Carolyn has continued to work on the station volunteer program and has finalized the Press Release announcing the Fort Worth open house on December 14. Carolyn continues to work on a date for a Lawrence KS volunteer open house which should take place sometime in the new year, a meeting with Kalamazoo city officials and MDOT to discuss next steps and a meeting with the Crawford Hotel to discuss the feasibility of volunteers at Denver Union Station scheduled for December 5.

Joseph Aiello, Field Coordinator, worked with the rest of the DC office to provide coverage of Jim Mathews' testimony this week. Joe also worked with local stakeholders in preparation for next week's North-South Rail Link Working Group meeting at the State House.

Madi Butler, Grassroots Organizer, while providing live coverage of Jim's testimony, Madi also conferred with a number of members to discuss the food service on board. They are finishing graphics and social media posts for a multitude of campaigns, meeting with small town mayors, and preparing to return to Ft. Worth for the Station Volunteers Open House taking place December 14th.
Bruce Becker, Vice-President of Operations, worked on the upcoming re-launch of the Association's website, in addition to assisting both new members with joining and current members renewing.
Jonsie Stone, Director of Resource Development, worked on a series of emails highlighting Jim's testimony, and digital and print messaging focused on end of year giving. Please feel free to share the emails related to Jim's testimony with your friends and family. We'd love to welcome them as Rail Passengers members or donors.
Kim Williams, Membership Manager, spent the week working with and getting to know some of our volunteers, processing membership renewals, and resolving member issues.
The Rail Passengers Association would like to thank our Annual Partners for their support.
We are excited to welcome Texas Rail Advocates as our newest Annual Partner. The Southwestern Rail Conference is hosted by Texas Rail Advocates, the largest grassroots, non-profit organization in Texas that promotes smart development of freight and passenger rail throughout the Southwest. To learn more about the Conference please click the image below.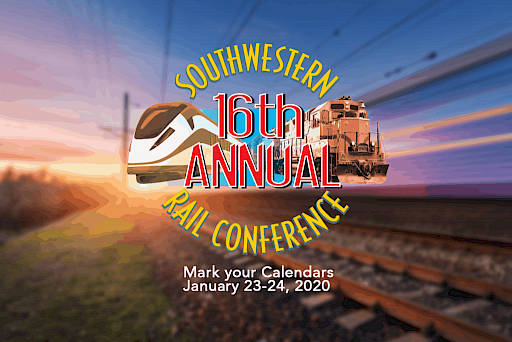 Support For Minneapolis To Duluth Service
Supporters of the Northern Lights Express, a proposed 90mph passenger train that would run between Minneapolis and Duluth in Minnesota, met with elected officials in DC last month in hopes to rally support for federal funding. St. Louis County Commissioners Keith Nelson and Patrick Boyle and NLX Alliance Technical Advisory Committee Chair Ken Buehler were on the hill to meet with Senators Amy Klobuchar (MN), Tina Smith (MN), Ron Johnson (WI), and Tammy Baldwin (WI) as well as Representatives Pete Stauber (MN-08) and Angie Craig (MN-02). Advocates hope that with support from both Wisconsin and Minnesota that federal funding would not be far behind - after missing out on nearly $550 million for the project last year.
Nelson commented that this is a shovel-ready project and that "we're ready to build."
Officials Still Hopeful For Pacific Northwest High Speed Rail
Even with the passing of Initiative 976 in Washington State last week, which will cap annual state and local car tab fees at $30, officials are still hopeful that a high-speed rail link between Vancouver and Portland is still viable. Janet Matkin, Communications Manager for the Washington State Transportation Department, said since the project is still in the "early stages of planning" it should not be affected by the recent vote and that there are a number of options that can be looked at in the future. While the passing of I-976 will make it harder for many local transportation projects to be funded in the immediate future, a single stream should not hold back the progress on this high-speed project.
The proposed train, which could travel up to 250mph and has a yearly estimated ridership of nearly 1.7 million passengers, is currently being studied by British Columbia, Oregon, Washington State, and Microsoft.
Contactless Fare Collection Advances In New York City
Fourty-Eight MTA stations, including Penn Station, will now feature MTA's new tap and go fare option. The swipe-free system, known as OMNY, lets riders pay their fares with a contactless credit card or mobile-phone wallet instead of swiping a MetroCard. For those using metrocards, that option will still be available until July 2023.
OMNY readers will be installed at the Whitehall Street and South Ferry train stations in Manhattan, 86th Street-Bay Ridge in Brooklyn, Sutphin Boulevard-Archer Avenue in Queens and St. George and Tompkinsville on Staten Island. The new technology also will be installed at every No. 6 train stop between 51st Street and 125th Street in Manhattan, No. 4 train stops north of 125th Street and stops on the No. 1 train between Rector Street and Columbus Circle.
MTA plans on announcing additional OMNY station throughout 2020 with rail stations being integrated by the end of the fall and bus lines integrated by end of December.
According to MTA Chief Revenue Officer Al Putre "The biggest complaint we get right now, and it's been consistent: Everyone wants to know 'when is OMNY coming to my bus line,' 'when is OMNY coming to my station,". "It's real simple," he said of its popularity. "It's convenience."
Stadler Rail Wins MARTA Car Order
The Metropolitan Atlanta Rapid Transit Authority (MARTA) and Stadler Rail have announced a $646 million agreement for 254 new rail cars. MARTA CEO Jeffery Parker said that "about 65 percent of our delays are due to rail car reliability" and that this order will aim to increase ridership through a much better customer experience. The new cars will have an open gangway design, new ADA accessibility, as well as charging stations for electronics. The Authority has also announced that they will be planning a customer engagement process and that feedback will help support the car design.
The initial pilot car will be delivered to MARTA for testing sometime in 2022 with the full order coming between 2023 and 2028.
Upcoming Regional Rail Passenger & State Association Events
Please contact Bruce Becker to have a state or regional event or meeting added to the Rail Passengers calendar of upcoming events!
PASSENGER SERVICE NOTICES
Track Work Affects Downeaster Service
Effective November 19, 2019
Track work is being performed by Pan Am and will affect Downeaster service as described below:
Tuesday, November 19
Train 681, which normally operates between Boston North Station and Brunswick, will terminate at Wells. Alternate transportation will be provided between Wells and Brunswick, making intermediate stops at Portland and Freeport. No alternate transportation will be provided to Saco.
Train 684, which normally operates between Brunswick and Boston North Station, will originate at Wells. Alternate transportation will be provided between Brunswick and Wells, making intermediate stops at Freeport and Portland. No alternate transportation will be provided to Saco.
San Joaquins Service
Effective Nov. 22 and 23, 2019
Track work being performed by BNSF Railway will affect San Joaquins service on Friday, November 22 and Saturday, November 23, as described below:
Friday, November 22
Train 704, which normally operates from Sacramento to Bakersfield, will terminate at Wasco.

Amtrak Thruway Bus 5804 will originate at Wasco and provide alternate transportation between Wasco and Bakersfield.

Train 718, which normally operates from Oakland (Jack London Square) to Bakersfield, will terminate at Wasco.

Amtrak Thruway Bus 5818 will originate at Wasco and provide alternate transportation between Wasco and Bakersfield.
Saturday, November 23:
Train 711, which normally operates from Bakersfield to Oakland (Jack London Square), will originate at Wasco.

Amtrak Thruway Bus 5811 will operate through to Wasco, providing alternate transportation between Bakersfield and Wasco. Bus 5811 will depart all station stops from San Diego to Bakersfield 15 minutes earlier than normally scheduled.
Carl Sandburg Trains 381 and 382 Track Work
Affects Service Tuesday, Nov. 19, 2019
Due to track work being performed by BNSF, Carl Sandburg service will be affected as outlined below.
Tuesday, Nov. 19:
Train 381, which normally operates between Chicago and Quincy, will terminate at Macomb. Alternate transportation will be provided between Macomb and Quincy.

Train 382, which normally operates between Quincy and Chicago, will originate at Macomb. Alternate transportation will be provided between Quincy and Macomb.
Eastbound Bus 3382 will depart Quincy at 4:30 pm and operate 60 minutes earlier than the normal train schedule.
| | | |
| --- | --- | --- |
| Station | Train 382 | Bus 3382 |
| Quincy | 5:30 p.m. | 4:30 p.m. |
| Macomb | 6:19 p.m. | 5:30 p.m. |
Pacific Surfliner Service Reservations Required During the Thanksgiving Holiday Period
Wed., Nov. 27 through Mon., Dec. 2, 2019
Make Your Pacific Surfliner Reservations Now For the Thanksgiving Holiday
To better accommodate the increased number of travelers expected during the busy Thanksgiving holiday period, reservations will be required on all Pacific Surfliner trains from Wednesday, Nov. 27 through Monday, Dec. 2. During this period, your ticket will only be valid on the train you are holding a reservation for.
Reservations are not required for our monthly and ten-ride ticket holders
Additionally, both Rail2Rail programs (Coaster and Metrolink) will observe a blackout period for the same dates, Nov. 27 through Dec. 2.
Also, we are adding cars to select trains to provide more seating for our customers on these dates. For more information on Thanksgiving holiday travel aboard the Pacific Surfliner, visit https://www.pacificsurfliner.com/blog/tips-for-planning-your-thanksgiving-trip/
Holiday Travel Reminders
For reservations, visit Amtrak.com, use our free mobile app, speak with station personnel or call 1-800-USA-RAIL (1-800-872-7245).

Use eTicketing to avoid ticket counter lines.

Allow ample time to arrive at the station and board the train.

Take advantage of our California Everyday Discounts and other offers, but please note the blackout dates.

Take up to two bags (each weighing 50 pounds or less) for free. We have space on the first level of the train for larger and heavier luggage and room above each seat.

If you are traveling between stations with luggage service, you can check your bags. Stations are marked on the schedule with a suitcase icon.

Make sure your baggage is tagged with your name and address.

Amtrak customers must produce valid photo identification when requested; including the following instances:

Obtaining, exchanging or refunding tickets

Storing baggage at stations

Checking baggage

Onboard trains, in response to a request by an Amtrak employee
Ashland, VA, Station Platform Update
Effective through Fall/Winter 2020
Beginning mid-October, Amtrak will begin construction to upgrade platforms at the Ashland station in order to make them compliant with the Americans with Disabilities Act (ADA).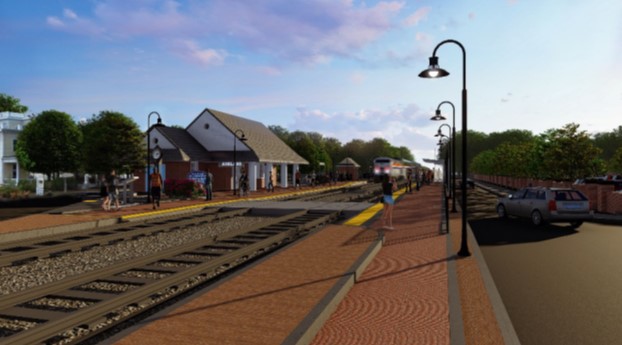 Ashland
The platforms and passenger loading areas will be raised, although a lift will still be required for passengers with mobility disabilities to board the train. Additional lighting will be added to the east side of the platform. Below is a rendering of the final improvements as seen from the south end of the platform facing north.
Construction will be performed in two phases, updating the southern portion first and then the northern portion. The Visitor Center inside the train station will continue to be open and Amtrak trains will continue to serve Ashland during construction.
Parking in certain areas will be limited during the different phases of construction. Please refer to the parking information page http://www.ashlandva.gov/562/Parking-Information for updates on parking throughout the project.
For updates about the project visit https://www.amtrak.com/stations/asd.html
Hiawatha Service
Reservations Required During the Thanksgiving Holiday Travel Period
Tues., Nov. 26 through Mon., Dec. 2, 2019
Make Your Hiawatha Service Reservations Now
To better accommodate the increased number of travelers expected during the busy Thanksgiving holiday period, reservations will be required on all Hiawatha Service trains from Tuesday, Nov. 26 through Monday, Dec. 2. During this period, the date and time on your ticket must match the train you are riding on.
Monthly and ten-ride ticket holders will not need reservations.
Holiday Travel Reminders
For reservations, visit Amtrak.com, use our free mobile apps, speak with station personnel or call 1-800-USA-RAIL (1-800-872-7245).

Use eTicketing to avoid ticket counter lines.

Allow ample time to arrive at the station and board the train.

Please note:

Boarding gates close five minutes before train departure

Ticket sales end 10 minutes before departure times

If checking baggage: Arrive one hour before departure

If assistance is required: Arrive early and alert staff

Make sure your baggage is tagged with your name and address
Amtrak customers must produce valid photo identification when:
Obtaining, exchanging or refunding tickets

Storing baggage at stations

Checking baggage

Onboard trains, in response to a request by an Amtrak employee
Northeast Corridor Service Schedule Changes
Effective Nov. 11, 2019
Northeast Regional and Acela trains will be reverting to pre trackwork schedules, as outlined below.
New York, NY to Boston, MA:
Acela Express and Northeast Regional trains will be operating between 30 minutes earlier and 5 minutes later on the Northeast Corridor.
Saluki Service Trains 390 and 391
On November 19, 2019
Due to track improvements being performed by Canadian National Railway, Trains 390 and 391 will be impacted as follows:
Train 390, which normally operates between Carbondale and Chicago, will originate at Champaign. It will depart at 10:45 am, 31 minutes later than the normal schedule, operating on this schedule at all stations from Champaign to Chicago. Alternate service will be provided as described below.
Train 391 which normally operates between Chicago and Carbondale, will terminate at Champaign. Alternate service will be provided as described below.
| | | |
| --- | --- | --- |
| Alternate Transportation to: | 3390 | 3391 (Read Up) |
| Carbondale | 5:20 AM | 3:45 PM |
| Du Quoin | 5:50 AM | 3:10 PM |
| Centralia | 6:45 AM | 2:15 PM |
| Effingham | 8:00 AM | 12:45 PM |
| Mattoon | 8:40 AM | 12:00 PM |
| Champaign-Urbana Ar/Dp | 9:50 AM/10:45 AM | 10:25 AM/10:45 AM |
Keystone Service and Pennsylvanian Trains 42 and 43
Reservations Required During the Thanksgiving Holiday Travel Period
Effective Nov. 25 through Dec. 2, 2019
Make Your Keystone Service and Pennsylvanian Reservations Now For the Thanksgiving Holiday
To better accommodate the increased number of travelers expected during the busy Thanksgiving holiday period, reservations will be required on all Pennsylvanian and Keystone Service trains (including Philadelphia to Harrisburg service) from Monday, Nov. 25 through Monday, Dec. 2.
Reservations will not be required for our monthly and ten-ride ticket holders.
Note: On Thanksgiving Day, the Keystone Service trains will operate according to a Saturday schedule.
Holiday Travel Reminders:
For reservations, visit Amtrak.com, use our free mobile app, speak with station personnel or call 800-USA-RAIL (1-800-872-7245).

Use eTicketing to avoid ticket counter lines.

Allow ample time to arrive at the station and board the train.

Make sure your baggage is tagged with your name and address.

Amtrak customers must produce valid photo identification when requested; including the following instances:

Obtaining, exchanging or refunding tickets Storing baggage at stations

Checking baggage

Onboard trains, in response to a request by an Amtrak employee

Visit Amtrak.com for complete details on Amtrak's ID requirements.
Keystone Service Schedule Changes
Effective Nov. 16-17 and 23-24, 2019
Due to track work being performed along the Keystone Service line, some schedules will be affected on the weekends of Nov. 1617 and 23-24.
Eastbound:
Train 610, 612, 660, 662, 664, 666, 670, 672 and 674 will operate 25 minutes earlier from Harrisburg to Coatesville, 10 minutes earlier from Downingtown to Exton and current schedule from Paoli.
Westbound:
Train 665 will operate 25 minutes later from Philadelphia to Harrisburg.
Elevator to Pedestrian Overpass Out of Service at Irvine Station
Effective Oct. 28 through Nov. 18, 2019
The elevators to the pedestrian overpass at the Irvine station will be out of service from Oct. 28 through Nov. 18 for repairs. Elevator Options Passengers requiring an elevator may board at the Santa Ana or San Juan Capistrano stations. Allow Extra Time – Don't Miss Your Train Customers using the stairs may need to allow extra time to get to the boarding platform.
Downeaster Service Schedule Change
Effective October 21, 2019
Due to seasonal ridership changes, Downeaster Service will make schedule adjustments as outlined below:
Southbound
Train 692 will operate 30 minutes later than the current schedule.

Train 696 will operate 45 minutes earlier than the current schedule.
Northbound
Train 691 will operate 10 minutes later than the current schedule.

Train 693 will operate one hour and 40 minutes later than the current schedule.

Train 697 will operate 45 minutes earlier than the current schedule. Old Orchard Beach station stop will be discontinued during the off season.
Travel Tips
Thanksgiving Travel Notices
In response to customer demand during the busiest travel week of the year, Amtrak announced this week its Acela (Boston – Washington, D.C.) and Northeast Regional (Boston – Virginia) services on the Northeast Corridor will operate extended schedules with additional frequencies and capacity during Thanksgiving week to accommodate the surge of holiday travelers.
Other services in the Northeast, including the Keystone Service, Pennsylvanian and Empire Service trains will operate full and extended schedules with additional frequencies and added capacity during the Thanksgiving week and require reservations in advance of travel.
Tickets sell out quickly, and Amtrak is encouraging customers to plan ahead and book tickets early. Last year, Amtrak experienced its highest ever ridership during Thanksgiving week, with over 846,000 riders across the country and over 160,000 customers the Sunday following Thanksgiving.
East Lansing station volunteers will be on duty on the Wednesday before and Sunday after Thanksgiving to support travelers over the holiday.
Here's how customers can connect directly with Amtrak before, during and after their travels:

Download the Amtrak app for easy booking and travel updates

To connect with customer service follow Amtrak on Facebook and @Amtrak on Twitter

For real time service alerts, follow @AmtrakNECAlerts for updates within the Northeast Region and @AmtrakAlerts for any other alerts outside of that region

We encourage customers to share their Amtrak experience on all social media channels by tagging @Amtrak and using the hashtag #Amtrak in their posts
Please see special Passenger Notices here in the Hotline for Thanksgiving travel requirements for the Hiawatha, Pennsylvanian, Keystone and Pacific Surfliner routes
Amtrak marks a new partnership with Coca-Cola
Amtrak has debuted a new look for Siemens ACS-64 No. 606: the colors of Coca-Cola. The locomotive marks a new partnership with Coca-Cola, signaling the end of a long-running agreement for Pepsi to supply Amtrak's trains. Amtrak noted the change on its Twitter feed this week but has still not issued a press release with additional information.
The locomotive has pulled the northbound Silver Meteor, train No. 98, up the Northeast Corridor on Thursday morning.
Sorry Pepsi drinkers.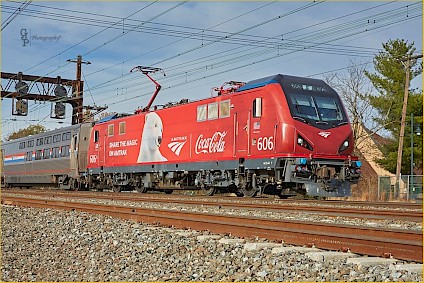 Your Feedback is Important to Improving American Passenger Trains
As you travel, please help us promote the Travel Review with other rail passengers. As you encounter passengers who want to make their positive and negative opinions known, please direct them to www.railpassengers.org/Travel Review. All participants will remain anonymous. If you encounter any problems with the Travel Review, or have any questions, please send an email to [email protected]
Do You Need More TravelReview Feedback Cards?
Please help us to spread the word. We need your help in engaging other passengers when you travel and let them know that their feedback is welcomed by RailPax. To facilitate this sharing of information the TravelReview Feedback Card is now available for you to download and print for regular usage. The card can be given to fellow passengers to introduce the work that RailPax is doing as well as our desire to have their feedback. The cards can also be left behind in stations as you pass through.
The template is in a .pdf format and will open in Adobe document cloud. First download the file and save it to your desktop for easy access. Then print as needed. The original template is formatted for Avery 5871 or 5371 cardstock which are both 2" x 3½" business card formats. Any brand cardstock should function as long as the dimensions match.
If you experience any problems in accessing the file, please send an email to [email protected]
Lonely Planet's Amazing Train Journeys
Planning a holiday-season vacation including trains, then you need a copy of Lonely Planet's 'Amazing Train Journeys' guidebook! And with every purchase Lonely Planet will donate 15% of the proceeds to your Association, to help us keep working for More Trains, Better Trains and a commitment to better infrastructure.
Through this beautiful book, you'll experience 60 of the world's greatest and most unforgettable train journeys, from classic long-distance trips like Western Canada's Rocky Mountaineer and Darwin to Adelaide's The Ghan, to little-known gems on regular commuting lines. It's the culmination of asking more than 200 travel writers for their absolute favorites.
Some are epic international adventures, others are short suburban routes along stunning coastline. There are incredible feats of engineering, trains that snake their way through mountain peaks, and even those which have achieved Unesco World Heritage status.
More than just a collection, each profile will give you the practical information you need to experience one or more of these epic journeys yourself -- including ticket options, timetables and stops, plus inspiring photos and illustrated maps. It's all here!
Amazing Train Journeys is available as a book, e-Book or in both formats at a low combination price. And your purchase helps supports your Association's mission too! Remember, Lonely Planet is contributing 15% of all Amazing Train Journeys sales to Rail Passengers! You can order copies by clicking here!
Nominations Open For 2020 Election Of Council Of Representatives Members
Rail Passengers' is inviting all members in good standing to consider running for seats on the Council of Representatives, the Association's volunteer governing body. The next election for state positions on the Council will occur in January 2020 and will be for a two-year term starting March 1, 2020. Any Rail Passengers Association member, who has paid membership dues for at least one year, is at least 18-years of age and is a U.S. resident is eligible to run.
The Council includes 112 elected state representatives. The number of representatives per state is determined by an equally weighted ratio of the number of Rail Passengers Association members in a given state and the state's number of U.S. Representatives. Every state has at least one state Council Representative. The certified number of Council seats to be elected per state in January 2020 can be found on the Rail Passenger website at '2020 Council of Representatives Election'.
The Council of Representatives represents the overall Rail Passengers Association membership in setting and approving the overall policy & direction for the organization. The Council elects the Officers and Board of Directors of the Association, in addition to electing up to 10 'At-Large' members of the Council. Serving on the Council is a great opportunity to collaborate with others who have a common interest in actively improving passenger rail service across the country. Council members are expected to engage in advocacy activities at the local, grassroots level, to advance the Association's goals and they also represent local needs, issues and activities at the national level.
The Council of Representatives meets in-person twice per year; in the spring of each year in the Washington, D.C. area, and in the fall of each year at varied locations across the country. Council members are responsible for their own travel & meeting expenses to attend these gatherings, but they may be able to deduct these expenses on their tax returns. Incumbent Council Representatives who are seeking re-election must have attended (or been represented by an alternate) at least two of the four Council meetings held during the March 1, 2018 - February 29, 2020 term.
Members interested in running for a seat on the Council must complete and submit a Candidate Information Statement for review and qualification by 11:59 p.m. local time on December 1, 2019. The Candidate Information Statement is available on the Rail Passengers website or by requesting a printed copy from the Rail Passengers' DC office.
Complete information on serving on the Council of Representatives; detailed specifications on the election procedures and the Candidate Information Statement can be found on the Rail Passengers website at '2020 Council of Representatives Election'.
The Rail Passengers Association is only as strong as the volunteer leaders who step up and share their time & talents in working towards our collective goals. Please consider becoming one of these leaders and help make a difference in the future of passenger rail.
"We would not be in the position we're in if it weren't for the advocacy of so many of you, over a long period of time, who have believed in passenger rail, and believe that passenger rail should really be a part of America's intermodal transportation system."
Secretary Ray LaHood, U.S. Department of Transportation
2011 Spring Council Meeting