Happening Now
Hotline #1,139
October 17, 2019
Have You Voted In Our Top 10 Routes Poll?; Miami-Dade Approve New Brightline Station; Hope For West Virginia MARC Service; New Jersey Station Improvements; Bikes On Amtrak
October 17, 2019
NOTE: Due to this weekend's RailNation:California event, this is an abbreviated Hotline issue. Full Hotline coverage returns on Friday, October 25!
Tell Us What's Happening Where You Live! When you see rail-related news stories, op-eds, editorials, or letters to the editor in your communities, send them along to us! We will include them in our social media efforts, along with the weekly Hotline. Send your news items to Joe Aiello at jaiello[at]narprail.org, and we will share it with members. Are you holding a rally, a community meeting, or another kind of rail-advocacy event? We can help spread the word if you send them to us. We can put them on the website here. Please follow Rail Passengers on Facebook and Twitter to stay up to date on all things passenger rail.
---
Only one day to go! You don't want to miss out on RailNation:California this weekend in Sacramento!
Chad Edison - Chief Deputy Secretary for Rail and Transit, California State Transportation Agency - will be the Luncheon Keynote Speaker at Saturday's Advocacy Symposium. Chad's presentation will be on 'Applying The California Experience To The Rest Of The United States'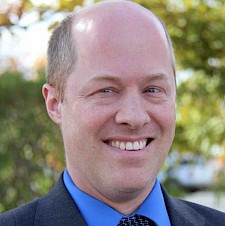 On-Site Symposium Registration will be available at the Sheraton Grand Sacramento Hotel on Saturday morning starting at 7:00am
The Saturday Advocacy Symposium will feature three thematic tracks:
'Inclusion & Equity' with session speakers including Alfred Twu, Jason Lee, George Basile, Seung Lee, and Alicia Trost

'Making Change Happen' with session speakers including Robert Munson, Michael Christensen; Karen Christenson, Doug Kerr and Carl Fowler

'What Passengers Want' with session speakers including Jim Allison, Tom Martinelli, and Summer By Rail Intern Chef Madi Butler
Tickets to the Friday Evening Welcome Networking Reception & Awards Presentation are still available! All Are Welcome - You don't need to be registered for the Symposium to attend the Reception!
---
Have you voted in our Top 10 Routes poll? Rail Passengers is spending the 31 days of October comparing 31 of the most exciting potential new train services, and we're asking passengers to tell us what their favorites are.
After sixteen days of voting, we've already had over 3,000 people take part.
Favorite New Long-Distance Route: Daily Cardinal. Passengers are looking for frequent, reliable service to connect the East Coast to the Midwest. And with few transportation alternatives in West Virginia and Ohio, it makes sense that this route has risen above the rest.

Favorite New State-Supported Route: Montrealer. Just in time for winter hockey season, passengers are clamoring for restored service between New York and Montreal. (Juste à temps pour la saison de hockey d'hiver, les passagers réclament un service rétabli entre New York et Montréal.)

Favorite New High-Speed Route: Las Vegas - Los Angeles High Speed Route. Connecting two of the premiere travel markets in the U.S., this potential high-speed route is a can't miss bet.
Don't see your favorite new train service on this list? Vote Now!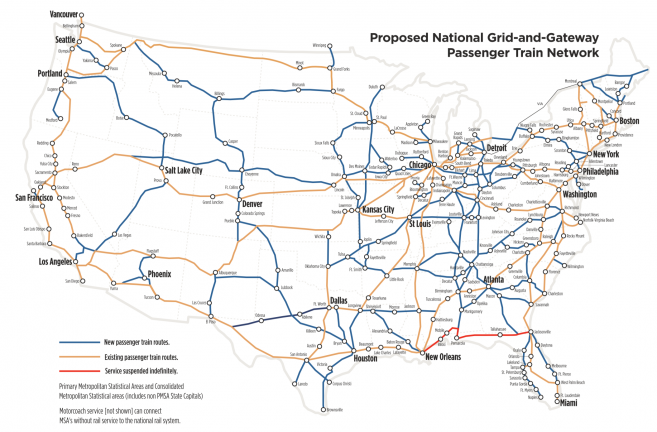 ---
Miami-Dade commissioners voted last week to approve a $76 million project to bring Virgin Train USA's Brightline service to Aventura Mall, Florida.
There was a disagreement among commissioners, with many feeling that the intercity service would be too expensive for everyday use by locals looking to access jobs and services in Miami and Fort Lauderdale.
"How many people are we actually going to serve here? Because it's not a commuter rail," said Commissioner Joe Martinez. "The fares, I think, will be out of the reach of a lot of people."
Commissioners supporting the move are trying to strike a balance, reaching a deal with Brightline to charge a reduced fare for locals looking to reach Miami. A one-way fare between Aventura and Miami will cost $9.75.
Ultimately, the ability to partner with a private passenger railroad was too good to pass up for the Miami-Dade commissioners who believe that, at the moment, there is not enough political will to extend Tri-Rail commuter service to Aventura.
We have been talking for years," said Commissioner Rebeca Sosa. "If we sit down and do nothing, nothing will ever happen in this county... So it's time for us to step up and start."
---
Even though Dallas Area Rapid Transit (DART) broke ground on their Silver Line rail project in September, local residents are asking the agency to go back and add in more improvements. Neighbors in North Dallas are asking for sound walls to limit track noise, as well as a tunnel to "make the trains invisibile" near the Preston Ridge Trail - a very popular walking and biking area. Maura Schreier-Fleming, the president of a local homeowners association, said that a tunnel would "address a number of issues" in a segment that will see over 90 trains a day once the formerly-named Cotton Build Corridor is in full use. The ask wouldn't be an unusual one for the agency since DART created two rail tunnels in the building of their original light rail system. DART spokesman Gordon Shattles has said that they are more than willing to meet with the neighbors to address a number of these issues and that they will not "do anything until they have a consensus."
---
In a closed-door meeting Thursday, October 10, representatives of seven Eastern Panhandle cities and counties came up with a tentative plan to contribute a total of $300,000 to continue MARC commuter rail service into the panhandle. That was after a representative of the Governor's Office told the group that Governor Jim Justice is willing to increase state funding to continue the six-trains-per-day operations, if the Eastern Panhandle localities make a serious financial commitment to the service, Doyle said. He said Berkeley Bentley, deputy general counsel to Justice, addressed the meeting in Charles Town. "He said the governor is willing to step up to the plate, providing that the local governments come up with significant money," Doyle said.
Doyle said representatives from Berkeley and Jefferson counties, and from the cities of Martinsburg, Charles Town, Ranson, Harpers Ferry, Bolivar and Shepherdstown, then came up with a proposal for a funding formula based on population. Contributions would range from just over $170,000 for Berkeley County to $410 for Harpers Ferry, whose Town Council has already pledged $2,500 to maintain MARC service.
---
A new study released by realtors and transit professionals shows that houses located within a half mile of public transit services accrued and retained value at higher rates than those in areas with less access to service, adding to the body of evidence that investing in transit supports a robust economy. "The Real Estate Mantra – Locate Near Public Transportation,"
released jointly by the American Public Transportation Association and the National Association of Realtors, demonstrated the role public transportation plays in determining the value of commercial and residential real estate markets.
"Access to public transportation is a hugely valuable community amenity that increases the functionality and attractiveness of neighborhoods, making nearby communities more desirable places to live, work and raise a family," said NAR 2019 First Vice President Charlie Oppler, who spoke at Monday's press conference. "The results of our report, conducted over multiple years alongside the American Public Transportation Association, should reiterate to policymakers at all levels of government the importance of investing in modern, efficient infrastructure that facilitates growth and helps our nation keep pace in a rapidly evolving world."
The report looked at seven major metropolitan areas, analyzing data from commercial and residential property sales over a four year period:
Residential properties within these areas had a higher median sale price of 4-24% between 2012 and 2016, the report found. Commercial property values also experienced gains in the studied cities, where four of the regions saw median sales price per square foot increase between 5 and 42 percentage points in areas close to public transit.
The report also found a number of additional benefits for residents of transit-served neighborhoods, with data showing that "residents of transit-oriented areas experience lower transportation costs, have higher access to jobs and are less likely to own cars. Transportation costs in transit-oriented areas are significantly lower than other regions, with an average annual savings of $2,500 to $4,400 for the typical household. One in four households in close proximity to transit do not own a vehicle, according to the study."
You can read the full report here.
---
This week New Jersey Governor Phil Murphy, Amtrak Board Chairman Tony Coscia, and NJ TRANSIT CEO Kevin Corbett announced the kickoff of fall 2019 construction work at four New Jersey train stations. These projects – a result of a reinvigorated relationship between NJ TRANSIT and Amtrak – demonstrate a joint commitment to improving the customer and travel experience throughout the state.
The work is set to take place throughout fall 2019 and early 2020. Specifics of the projects at each station include the following:
New Brunswick Station – Improvements to the elevator system; an extension of the eastbound platform for extra boarding capacity; significant rehabilitation of the station's exterior brick façade; installation of new lighting, windows, HVAC system, and escalator; and a paint refresh.
Elizabeth Station – Upgrades include the addition of two new elevators; updating the existing two elevators; the addition of ADA-complaint ramps; and building new high-level platforms, which will also increase the platform area for passengers.
Trenton Transit Center – Replacement of damaged timber boards that are located past the yellow warning strip on the platform to improve customer safety.
Princeton Junction Station – General platform repairs to improve customer safety, including the refresh of platforms that have deteriorated for decades from exposure to weather and de-icing agents. This includes reinforcing the platform supports, patching concrete, repainting the yellow warning strip, and general repair of the stairs and handrails.
---
Taking Your Bike on Amtrak just got a Whole Lot Easier in Pennsylvania
When booking fare, you can now take your bike on the Pennsylvanian for an additional $20. New York, Newark, Philly, Lancaster, Harrisburg, Altoona, Johnstown and Pittsburgh Stations are including this additional service
Jennie Granger PennDOT's deputy secretary for multimodal transportation sang praises of this new initiative - "Expanding multimodal transportation options doesn't end at the train station," "travelers from across the country (can) explore Pennsylvania's outstanding recreational opportunities with day trips to historic communities or longer bikepacking adventures to the many state and local parks, lakes and forests along the Pennsylvania's BicyclePA Routes and state trails."
By selecting "add bike" when booking your seat online departing from participating stations, you can include this service. It is first come first serve so book as early as possible. Amtrak requests those with bikes arrive at least 45 minutes before departure to provide adequate time to tag bikes, remove saddlebags, and load up.
Those who are connecting to Amtrak's Capitol Limited service in Pittsburgh can have their bikes and luggage transferred to their final destination. This will help passengers access bike routes such as Chicago to NYC Trail, Bicycle Route 66, North Lakes, Atlantic Coast Trail, and Northern Tier.
---
Rail Passengers Track Update: Where are we and what are we working on? This section will give you updates on what Rail Passengers HQ is up to.
Jim Mathews, President & CEO, is in Sacramento for RailNation:California.

Sean Jeans Gail, Vice President of Policy, is in Sacramento for RailNation:California.

Carolyn Cokley, Director of Customer Programs, sends congratulations to Carey Maynard-Moody on her Community Action Award.

Joseph Aiello, Northeast Field Coordinator, is in Sacramento for RailNation:California.

Madi Butler, Grassroots Organizer, is in Sacramento for RailNation:California.

Bruce Becker, Vice-President of Operations, is in Sacramento for RailNation:California.
Jonsie Stone, Director of Resource Development, is in Sacramento for RailNation:California.
Kim Williams, Membership Manager, is holding down the fort at the Rail Passengers office with Carolyn this week while everyone enjoys RailNation!
---
The Rail Passengers Association would like to thank Talgo, Inc., our Annual Partner, for their support.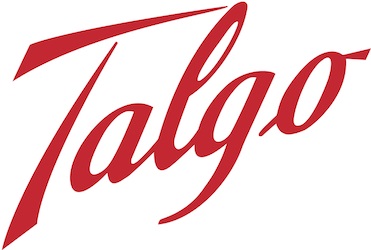 ---
Southeast Montana Passenger Rail Summit
Thursday, October 24th, 2019 - 12:30-2pm
Yellowstone County Administration Building
316 N 26th St, Room 3207
Billings, Montana
Questions? Contact Missoula County Commissioner Dave Strohmaier at 406-258-4877 or [email protected]
---
Only One Day To Go Until Our Best Fall Event Yet! - RailNation:California in Sacramento, Friday, October 18 - Monday, October 21.
On-Site Symposium Registration will be available on Saturday morning starting at 7:00am
Chad Edison - Chief Deputy Secretary for Rail and Transit - California State Transportation Agency - will be the Luncheon Keynote Speaker at this October's RailNation:California Advocacy Symposium in Sacramento. His presentation will be 'Applying The California Experience To The Rest Of The United States'
The Saturday Advocacy Symposium will feature three thematic tracks:
Track Theme

Morning Session

Afternoon Session

'Inclusion & Equity'

'Housing and Transit In California: Development Without Displacement'

Presenters - Alfred Twu & Jason Lee

'Engaging Youth Stakeholders in Transit Advocacy'

Presenters - George Basile, Seung Lee &

Alicia Trost

'Making Change Happen'

'Plucky Corridors, Regional Rail, & The Green New Deal'

Presenters - Karen Christenson, Michael Chritensen & Robert Munson

'Changing Rail Passenger Policy'

Presenters - Carl Fowler & Doug Kerr

'What Passengers Want'

Sponsored By Airworthy

'California's Coordinated Multi-Modal Scheduling Plan'

Presenter - Jim Allison

'Advancing The Case For A Daily Sunset'

Presenter - Abe Zumwalt

'Improving the Rail-Getaway Experience'

Presenters - Tom Martinelli & Chef Madi Butler
Check out the complete line-up of speakers and presentations!
---
Upcoming Regional Rail Passenger & State Association Member Meetings and Other Events:
Please contact Bruce Becker to have a state or regional event or meeting added to the Rail Passengers calendar of upcoming events!
---
PASSENGER SERVICE NOTICES
Carolinian Train 79 and 80 Piedmont Trains 73, 74, 75, 76, 77 and 78
NC State Fair and Lexington BBQ Festival
Effective Oct. 18 through 27, 2019
Carolinian and Piedmont trains will make an additional stop for the North Carolina State Fair and Lexington BBQ Festival from October 18 through 27.
North Carolina State Fair Oct. 18 through 27
Train 77 and 80 will make an additional stop at North Carolina State Fair.

Train 80 will arrive at the State Fair at 9:53 am and only discharge passengers.

Train 77 will depart the State Fair at 3:09 pm and only receive passengers.
Lexington BBQ Festival Saturday Oct. 26 Only
Trains 73, 74, 75, 76, 77, 78, 79 and 80 will be making an additional stop at Lexington for the Lexington BBQ Festival on Saturday, October 26.
Fire Activity in Southern CA Affects Amtrak Thruway Service
Effective Immediately
Due to fire activity in southern California, Amtrak's Thruway bus service may be affected.
Caltrans has announced Interstate 5, 405 and State Routes 14 and 118 may have full or partial ramp and highway closures.
To monitor the fire and highway closures visit
or see real time traffic at http://cad.chp.ca.gov/
or planned closures https://lcswebreports.dot.ca.gov/searchdistricts?district=5
Briceburg Fire near Yosemite Park Affects San Joaquins Thruway Service
Effective Immediately
Due to the Briceburg fire happening around Yosemite Park, Amtrak's Thruway bus service will be affected.
All Yosemite Area Regional Transportation System bus service between Merced and Yosemite Valley Visitor's Center will be suspended until further notice.
As officials monitor the fire, schedule updates may be made. Please use caution and stay safe in the areas near the fire.
Pacific Surfliner Weekend Service Changes
Friday, Saturday and Sunday, October 18 through 27, 2019
Track work being performed by North County Transit District will affect Pacific Surfliner service on the dates shown below:
Fridays, October 18 and 25
Train 590 will be cancelled. Passengers can make reservations aboard other Amtrak trains.

Bus service will be provided from Los Angeles to San Diego, making stops at Oceanside, Solana Beach, Old Town San Diego and San Diego Downtown. No alternate transportation will be provided to Fullerton, Anaheim, Santa Ana, Irvine and San Juan Capistrano.
Saturdays and Sundays, October 19-20 and 26-27
Trains 562, 578, 583, 591, 1565, 1566, 1569, 1572, 1573 and 1590 will be cancelled. Passengers can make reservations aboard other Amtrak trains.
Southbound Train 782 will terminate at Los Angeles. No alternate transportation will be provided between Los Angeles and San Diego. Passengers can make reservations aboard other Pacific Surfliner trains.

Southbound Train 796 will terminate at Los Angeles and bus service will be provided for all missed stops.

Southbound Trains 580, 768, 774, 792, 1564 and 1584 will operate normally to Irvine, where bus service will be provided from Irvine to San Diego. Express buses will run from Irvine to San Juan Capistrano, Oceanside, Solana Beach, Old Town San Diego and downtown San Diego only.

Northbound Trains 593, 595, 763, 777, 785, 579, 1761 and 1767 will originate in Irvine. Bus service will be provided from San Diego to Irvine to connect with the trains listed above, except for Train 1761. Buses will depart downtown San Diego, Solana Beach, Oceanside and San Juan Capistrano earlier than the train schedule to allow time to connect with trains in Irvine. o Buses will not pick up at Old Town San Diego. Passengers can take the trolley to downtown San Diego to board buses to Irvine.

Bus service will not be provided to connect with Train 1761.

Metrolink will honor Amtrak tickets between Irvine and Los Angeles.
San Francisco Thruway Stop Moves to a New Location
Effective Oct. 28, 2019
Effective Oct. 28, Amtrak Thruway buses will stop at the Salesforce Plaza in place of the Transbay Temporary Terminal stop.
Salesforce Plaza is an unstaffed, curbside stop on the south side of Mission at Fremont. It is adjacent to the aerial tramway (gondola) that runs from the Plaza to the top of the Salesforce Transit Center Terminal. Passengers requiring a staffed station may use Emeryville and Oakland Jack London Square.
For bookings and train status information or tickets visit Amtrak.com, use our free mobile app, speak with station personnel or call us at 800-USA-RAIL (800-872-7245). Thank you for choosing Amtrak.
Downeaster Service Schedule Change
Effective October 21, 2019
Due to seasonal ridership changes, Downeaster Service will make schedule adjustments as outlined below:
Southbound
Train 692 will operate 30 minutes later than the current schedule.

Train 696 will operate 45 minutes earlier than the current schedule.
Northbound
Train 691 will operate 10 minutes later than the current schedule.

Train 693 will operate one hour and 40 minutes later than the current schedule.

Train 697 will operate 45 minutes earlier than the current schedule. Old Orchard Beach station stop will be discontinued during the off season.
Jefferson City Station Waiting Room Temporarily Closed
Effective Immediately
The Jefferson City station waiting room is temporarily closed until further notice. Trains will continue to stop at the station and passengers will have access to platforms.
Passengers will not have access to the inside of the station or restrooms during this time. City volunteers will be on site to help with questions or directions during scheduled train times.
Keystone Service Schedule Changes
Effective through Nov. 3, 2019
Due to track work being performed along the Keystone Service line, some schedules will be affected through Nov. 3 as outlined below.
Eastbound Weekdays
Train 600 will operate 5 minutes later from Elizabethtown to Philadelphia

Train 648 will operate 5 minutes earlier from Harrisburg to Paoli and will arrive on time into Philadelphia.

Train 650 will operate 5 minutes earlier from Harrisburg to Paoli and 1 minute earlier into Philadelphia
Eastbound Weekends
Train 612 will operate 10 minutes later from Harrisburg to Philadelphia

Train 670 will operate 15 minutes earlier from Harrisburg to Philadelphia
Westbound Weekdays
Train 641 will operate 5 minutes later from Elizabethtown to Middletown and 3 minutes later into Harrisburg

Train 643 will operate 4 minutes later from Elizabethtown to Harrisburg

Train 651 will operate 4 minutes later from Elizabethtown to Middletown and will arrive on time into Harrisburg
Westbound Weekends
Train 611 will operate 5 minutes later from Elizabethtown to Harrisburg

Train 661 will operate 3 minutes later from Elizabethtown to Harrisburg
Elizabethtown Station Boarding
Track 2 will be closed for boarding effective July 22, 2019

Passengers traveling to Harrisburg will need to board on Track 1
---
Travelers' Tip For The Week
Safe travels to and from RailNation California. Please remember to fill out your Travel Reviews.
---
Your Feedback is Important to Improving American Passenger Trains
As you travel, please help us promote the Travel Review with other rail passengers. As you encounter passengers who want to make their positive and negative opinions known, please direct them to www.railpassengers.org/Travel Review. All participants will remain anonymous. If you encounter any problems with the Travel Review, or have any questions, please send an email to [email protected]
Do You Need More TravelReview Feedback Cards?
Please help us to spread the word. We need your help in engaging other passengers when you travel and let them know that their feedback is welcomed by RailPax. To facilitate this sharing of information the TravelReview Feedback Card is now available for you to download and print for regular usage. The card can be given to fellow passengers to introduce the work that RailPax is doing as well as our desire to have their feedback. The cards can also be left behind in stations as you pass through.
The template is in a .pdf format and will open in Adobe document cloud. First download the file and save it to your desktop for easy access. Then print as needed. The original template is formatted for Avery 5871 or 5371 cardstock which are both 2" x 3½" business card formats. Any brand cardstock should function as long as the dimensions match.
If you experience any problem in accessing the file, please send an email to [email protected]
---
Planning a fall vacation including trains (and who wouldn't want to enjoy the fall colors?), then you need a copy of Lonely Planet's 'Amazing Train Journeys' guidebook! And with every purchase Lonely Planet will donate 15% of the proceeds to your Association, to help us keep working for More Trains, Better Trains and a commitment to better infrastructure.
Through this beautiful book, you'll experience 60 of the world's greatest and most unforgettable train journeys, from classic long-distance trips like Western Canada's Rocky Mountaineer and Darwin to Adelaide's The Ghan, to little-known gems on regular commuting lines. It's the culmination of asking more than 200 travel writers for their absolute favorites.
Some are epic international adventures, others are short suburban routes along stunning coastline. There are incredible feats of engineering, trains that snake their way through mountain peaks, and even those which have achieved Unesco World Heritage status.
More than just a collection, each profile will give you the practical information you need to experience one or more of these epic journeys yourself -- including ticket options, timetables and stops, plus inspiring photos and illustrated maps. It's all here!
Amazing Train Journeys is available as a book, e-Book or in both formats at a low combination price. And your purchase helps supports your Association's mission too! Remember, Lonely Planet is contributing 15% of all Amazing Train Journeys sales to Rail Passengers! You can order copies by clicking here!
Fall MemberDeals Announced
MemberDeals is already looking ahead to October as tickets for Halloween Horror Nights are already available for purchase. Summer Concerts Series sale continues with savings over 50% exclusive for Rail Passengers members. Celebrate concert season with the hottest concerts nationwide, from Luke Bryan, Third Eye Blind, Heart and The Who to name a few. Don't miss out!
Remember, if you want to use these great internet-only discounts, you must be a member in good standing AND be logged in to the Rail Passengers website. If you need help accessing these discounts email us at [email protected], or call the office at 202-408-8362.
---
Nominations Are Now Open For 2020 Election Of Council Of Representative Members
Rail Passengers' is inviting all members in good standing to consider running for seats on the Council of Representatives, the Association's volunteer governing body. The next election for seats on Council will occur in January 2020 for a two-year term starting March 1, 2020. Any Rail Passengers member, who has paid dues for at least one year, is at least 18-years of age and is a U.S. resident is eligible to run.
The Council consists of 112 elected state representatives. The number of representatives per state is determined by an equally weighted ratio of the Rail Passenger members in a given state and the state's number of U.S. Representatives. Every state has at least one Council Representative. The certified number of Council seats to be elected, per state, in January 2020 can be found on the Rail Passenger website under 'Join the Council'.
The Council of Representatives represents the overall Rail Passenger membership in setting and approving the overall policy and direction for the Association. The Council elects the Officers and Board of Directors of the Association, in addition to up to 10 'At-Large' members of the Council. Serving on the Council is a great opportunity to collaborate with others who have a common interest in actively improving passenger rail service across the country. Council members are expected to encourage activities at the grass roots level to advance the Association's goals and represent local needs, issues and activities at the national level.
The Council meets in person twice per year; in the spring in Washington, D.C., and in the fall at varied locations across the country. Council members are responsible for their own travel and meeting expenses to attend these gatherings and they may be able to apply these expenses on their federal tax returns. Incumbent Council Representatives who seek re-election must have attended at least two of the four meetings held during each Council term.
Members interested in running for a seat on the Council must complete and submit a Candidate Information Statement for review and qualification by 11:59 p.m. local time on December 1, 2019. The Candidate Information Statement is available on the Rail Passengers website or by requesting a printed copy from the Rail Passengers' DC office. Complete information on serving on the Council of Representatives; detailed specifications on the election procedures and the Candidate Information Statement can be found on the Rail Passengers website under 'Join the Council'
The Rail Passengers Association is only as strong as the leaders who step up and share their time and talents in working towards our collective goals. Please consider becoming one of these leaders and help make a difference in the future.
"I'm so proud that we came together in bipartisan fashion in the Senate to keep the Southwest Chief chugging along, and I'm grateful for this recognition from the Rail Passengers Association. This victory is a testament to what we can accomplish when we reach across the aisle and work together to advance our common interests."
Senator Tom Udall (D-NM)
April 2, 2019, on receiving the Association's Golden Spike Award for his work to protect the Southwest Chief