Happening Now
Hotline #1,075
July 13, 2018
NTSB Holds Hearing on Amtrak Accidents; NJ-ARP Requests Dismissal of Anderson; Raleigh Union Station Opens; USDOT Delays Review of NJ Request for Portal Bridge
We Need Your 'Nose For News'! When you see rail-related news stories, op-eds, editorials, or letters to the editor in your communities, send them along to us! We include them in our social media efforts, along with the weekly Hotline. Send your news items to Bob Brady, [email protected], and we will share it with members. Are you holding a rally, a community meeting, or another kind of rail-advocacy event? We can help spread the word if you send them to us. We can put them on the website, here. Please follow Rail Passengers Association on Facebook and Twitter to stay up to date on all things passenger rail.
---
Grappling with the aftermath of two fatal incidents only a few weeks apart involving Amtrak trains, the National Transportation Safety Board (NTSB) this week probed leaders at Amtrak, CSX the Federal Railroad Administration (FRA), BNSF Railway and European rail agencies about whether and how U.S. railroading is embracing long-overdue changes in safety culture, operating rules and equipment.
During the first day of the two-day hearing on two Amtrak derailments in Washington State and South Carolina, Board members questioned Amtrak, CSX and FRA about the incidents and early findings from the agency's investigation. The NTSB did not offer any conclusions to the cause of the accidents.
The DuPont, Wash., derailment late last December killed three, including Rail Passengers Association members Jim Hamre and Zack Willhoite. Hamre was a member of the Rail Passengers Association Board at the time of the crash. The February collision between an Amtrak train and CSX train in Cayce, S.C. killed two crew members and injured 116.
The focus shifted on day two to ways that rail might move forward with improving safety and preventing future incidents.
"We cannot emphasize enough the importance of a strong safety culture and the willingness to adapt and think ahead when if comes to keeping passengers and employees on the rails safe," said Rail Passengers President Jim Mathews. "Railroading has a lot to learn when it comes to embracing a real, everyday safe operating culture. Having the latest technology available, such as Positive Train Control, is one piece of a larger puzzle that entails safety management, developing safeguards and policies, and effective training. We can't have people afraid to ride a train for fear of a derailment."
NTSB member Earl Weener said he is concerned that railroads are only chasing solutions to safety after an accident occurs and compared previous efforts to the game "whack-a-mole." Weener said railroads need to get ahead of the problems and "assessing what the risk is has to change."
Highlighting some of the changes that Amtrak is making aimed at preventing incidents, Amtrak's senior director of system safety Theresa Impastato testified that Amtrak is moving quickly on adopting new ways of thinking in "safety policy, risk-based management, data acquisition, and analytics."
She also said that Amtrak's risk-assessment team is expanding and that "the safety team at Amtrak now includes a combination of career railroad employees augmented by people who have experience in aviation, healthcare, systems engineering, aerospace engineering, nuclear power generation, defense systems, petrochemical processing and heavy metal mining." Rail Passengers Association particularly applauds this development, bringing the latest in safety thinking into passenger railroading.
Justin Meko, vice president for safety, compliance and training at Amtrak, said the railroad is also changing its host-railroad practices, so that rather than just relying on the rules of the host railroad, Amtrak is conducting its own evaluation of how to operate safely.
"What's changed is that we don't simply go by the operating practice of the host railroads," Meko said. "We go by what's best for Amtrak, based on the risk assessment."
Also at issue was the rail cars used by Amtrak in Washington. The NTSB said that the cars did not meet the crash-protection standards established in 1999. Despite this, the FRA approved a waiver for Amtrak to use the rail cars on the route. The NTSB also questioned if the engineer, who lost spacial awareness prior to the derailment, had received the appropriate level of training on the new route.
At the conclusion of the two-day hearing, NTSB Board Chairman Robert Sumwalt said that he thinks "there's a long way to go in general in the rail industry." He continued, "With that said, I want to encourage Amtrak to hold the line steady and press forward. I think you're moving in the right direction."
Although the NTSB has not released an official cause for either accident, documents from the agency list human error as the likely culprit in both crashes, and suggest that the implementation of Positive Train Control could have helped prevent them. For example, the Amtrak train that derailed in Washington jumped the track at 30 MPH above the speed limit. In the case of the Amtrak and CSX collision, CSX employees placed a track switch in the wrong position, which resulted in the Amtrak train being diverted to the CSX freight rail yard. However, the NTSB also said other factors, such as insufficient training, could have led to the accidents.
The NTSB is expected to make a final determination about the cause of the crashes in 2019.
In a sign of growing anger in the passenger-rail advocacy community over recent Amtrak service changes, the New Jersey Association of Railroad Passengers (NJ-ARP) wrote this week to Amtrak Chair Anthony Coscia and New Jersey Rep. Rodney Frelinghuysen (R-N.J.) calling for Amtrak CEO Richard Anderson's ouster, as well as demanding legislative "guardrails" to prevent Amtrak from dismantling routes, abolishing station agent positions or downgrading on-board service. NJ-ARP also singled out the railroad's decisions on the Southwest Chief for special criticism.
Rail Passengers has also criticized the Southwest Chief proposal and is working with congressional allies to pass legislation that would preserve existing levels of service throughout the National Network.
---
Support The Southwest Chief and The National Network.
Do you support the work Rail Passengers Association does on behalf of riders?
Your generous donations help fund advocacy campaigns, such as the one we are launching in response to Amtrak's unacceptable Southwest Chief proposal.
Please help us keep up the fight on behalf of America's passengers.
Other ways in which you can support our advocacy work include:
---
The Rail Passengers Association toured one of the newly refreshed Acela trainsets today at Union Station in D.C. The refresh program includes upgrading Acela's interiors, from seat cushions and covers to new carpet and even the bathrooms, and follows closely on the heels of a successful and well-received refresh on Amfleet I coaches on the Northeast Corridor and some midwest services. Next in line are Amfleet IIs and Superliners, and work is moving quickly to roll out these improvements fleet-wide.
"Visiting and seeing the refreshed interiors of the Acela trainsets was impressive, and I'm happy to see Amtrak begin to revitalize its commitment to improving the quality of experience for the paying passenger," said Rail Passengers President Jim Mathews. "The carpets, seats, and toilets were left untouched for years so this refresh project was sorely needed and should make passengers that much happier to ride Amtrak."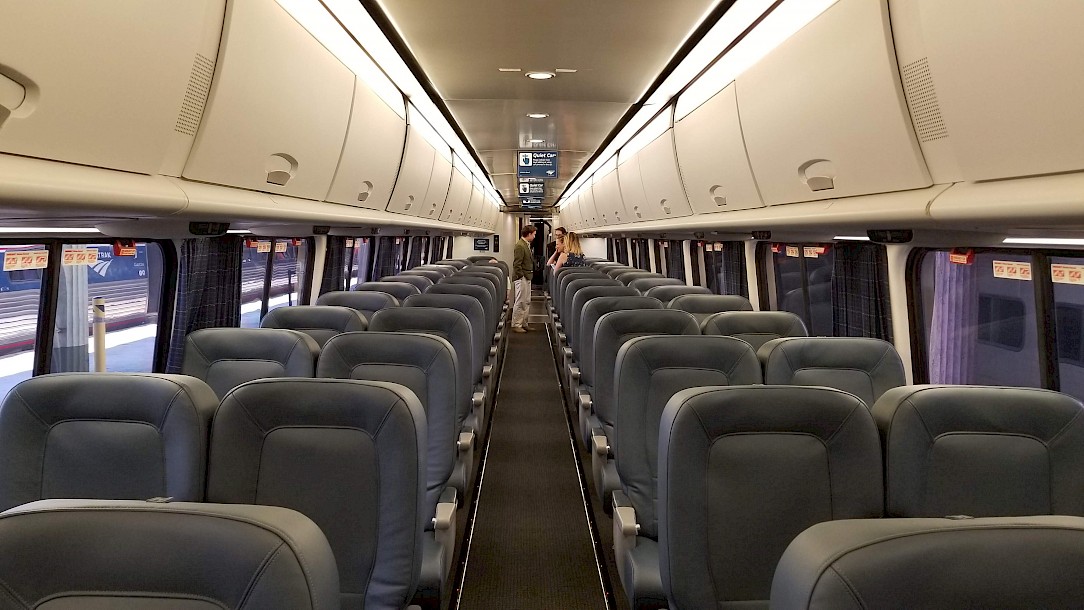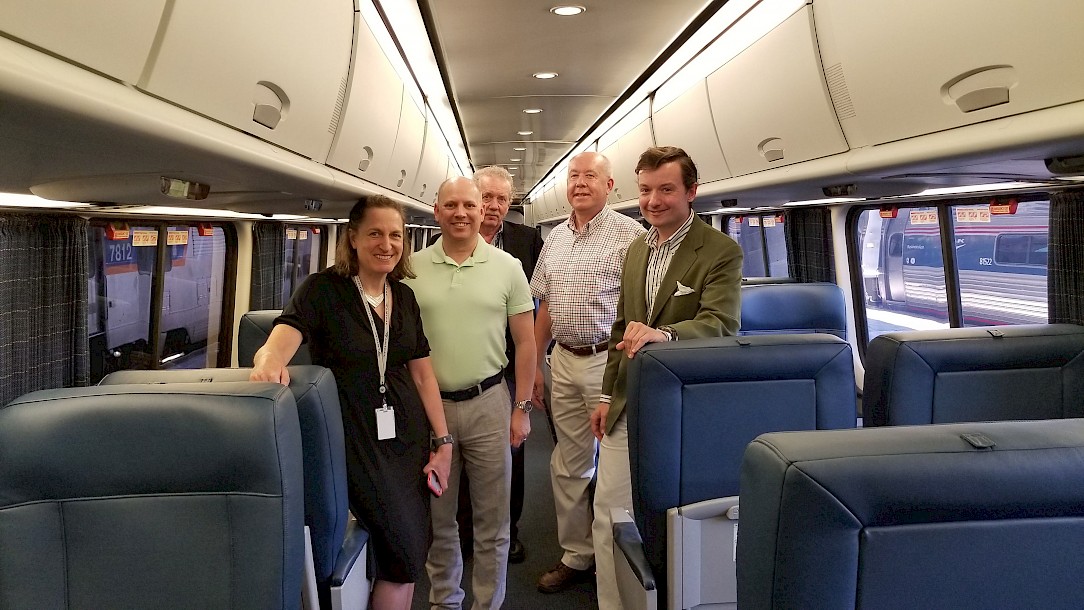 Amtrak began the 14-month refresh program in May and it will carry on through July 2019. It includes refurbishing the interiors of 20 trainsets, which totals 100 Amtrak cars and 6,080 seats.
When the next generation Acela trainsets are ready in 2021, the current Acela fleet will be retired in 2022.
Although Summer by Rail wrapped up in early July, there are still plenty of exciting updates on Jacob Wallace's 6,000-mile trip across North America to see 19 MLB, MiLB and small-town baseball games.
FOX News in Milwaukee covered Jacob's time in the city, as well as his trip to Miller Park to see the Brewers.
Jacob said about Summer by Rail, "One of the big things we wanted to highlight on the trip is ... the fun things you can do by traveling by train. There's a lot of stadiums you can hit just by doing rail travel."
---
What Happens When You Travel Across The Country By Train
By Jacob Wallace, Summer by Rail Correspondent
When I was preparing for this trip, one of the first connections I made between baseball and rail travel was the idea of community. Baseball allows people from a town or entire region to unite behind a common cause for a few hours each game, and enjoy food and maybe some beer. Trains, similarly, force people to sit next to each other at meals or on travelling tours, and have conversations with semi-retired square dance callers or chemtrail conspiracy theorists. I can't think of any way to get to know your fellow citizens – all of them.
I've been asked throughout my journey by family, friends and reporters what my favorite part of the trip was, and it's become an almost impossible question to answer, since I had so many unusual moments on this trip. But I think if I had to pick a moment that was most representative of my trip, I'd choose an interview on the Empire Builder.
My 30 hours travelling that route alone was the longest ride of my trip, and I was curious how I'd handle it. When I woke up in the morning, I felt almost at a loss to figure out how to function in a space that was both small and well-populated with people. Meals ended up providing the bridge I needed to reach out.
At every meal I've had on the train, there's an appetizer of awkward eye contact and cautious verbal handshakes that precede each meal. "Hi, where you headed to?" "Where'd you get on?" "I'll have the risotto." Stuff like that. Each meal slowly warms up from there, but I rarely felt like the conversation triumphed over the food, which for me at this particular dinner was the Thyme Roasted Chicken Breast (I never really worked up the courage to try the Steamed Mussels available on a train in Montana.) However, my time with Rinji and Marlon was an exception.
Both of them came from different upbringings. Rinji was raised in South Korea and came to the US full-time in her 20s. Marlon was Honduran and raised primarily in New Jersey, but during his time in the Marines he traveled all over Asia. They both met in New York, and from there gradually formed a life together, travelling all over Europe and the United States and getting married somewhere along the way.
Through it all Rinji, the woman from South Korea, had come to love train travel. She rode the trains in South Korea all the time almost as a necessity, and now was excited to see where Amtrak could take her in the US. After a lot of prodding, she had finally managed to convince her husband, Marlon, to join her on the Empire Builder for his first serious train trip.
Weirdly, Rinji and Marlon were my neighbors across the hall in the sleeper car, but it took me the whole day to finally meet them. At first, Rinji insisted that only Marlon should be interviewed. As Marlon and I sat in my tiny roomette, chatting about his first time on the train and watching the sun slowly set over Glacier National Park, Rinji would listen in and call out a comment here and there. Over time she gave up trying to stay out of the conversation, and we all leaned into the doorways of our roomettes and had a conversation between the three of us about what it was like to travel. Rinji loved trains, and she was confident she could convince Marlon to love them like her.
"At first I was like, 'It's a train, where's the fun in that?'" Marlon told me at one point. "I'm really enjoying the ride."
"See, I told you!" Rinji shot back.
When I think about what I want travel to accomplish, I think about Rinji and Marlon. They would not even have met had they both been afraid to go somewhere new and try something different. I got to do both of those things: prior to the start of my trip, I had been to exactly one of the cities that I visited this summer. I ate cherries in Washington, hot dogs in Chicago and poutine in Toronto. I met veterans of rail advocacy who had been pushing for better service for decades, and young people like me who just needed a better way to get to their college. Rail travel, it's clear to me, benefits the light rail users of the city and the rural towns where trains pull in at odd hours all the same.
I fully plan to go to more baseball games in the future, but that was always a given for me. You haven't lived until you've seen a whole stadium full of Canadian minor-league baseball fans jeer the opposing team's manager off the field, and I want more evenings like that. But I wasn't sure how I'd feel about rail travel. After 37 days, 22 cities, 19 baseball games and about 6,000 miles traveled though, I can confidently say that I'll ride the rails again.
---
Raleigh Union Station began operating Amtrak service on Tuesday after numerous delays dating back to 2017. The opening of the station was postponed due to the slope of of the station's platform, which did not meet Amtrak and federal specifications and Americans with Disabilities Act regulations. Crews had to correct the slope to prevent strollers or wheelchairs from rolling off the platform.
The new station cost more than $110 million and is located at the former Dillon Supply Co. warehouse with a second floor that is home to restaurant and office space. The station also has a ticketing counter, an observation deck and and underground walkway. According to a spokesman for the N.C. Department of Transportation, funding was provided by the City of Raleigh, N.C. Department of Transportation and the Federal Railroad Administration.
With Brightline trains up and running in Florida, parent company Florida East Coast Industries (FECI) wants to expand development in cities with stations. In Fort Lauderdale for example, the company wants to build a new 14-story commercial tower near the Brightline station. The building would provide companies with 175,000 square feet of office space across seven floors, parking and 15,000 square feet of ground-floor retail. FECI has not submitted an application for development, but original plans has the location marked as a "future phase" of the Brightline station.
In addition, CB Richard Ellis, a real estate services firm, has been hired by FECI to begin searching for new tenants. Christopher Gallagher, CB Richard Ellis Senior Vice President, said that the location of the new building should be appealing to companies.
"It's about being part of the train-oriented development which moves people from West Palm Beach to Miami within a 30-minute time frame," Gallagher said. "You can attract talent from West Palm to Miami. Talent is hard to find."
It's estimated that the new commercial tower could be ready by 2020.
---
Make plans to attend Rail Passengers Association's RailNation 2018 Advocacy Summit & Meeting in Miami, FL, Friday, October 19 through Sunday, October 21. The host hotel is the Hyatt Regency in Downtown Miami.
Friday will feature a series of local tours & activities, including an exclusive opportunity to ride a chartered trip on Brightline. Saturday will include a full day of advocacy presentations, speakers and panels, followed by an evening networking event & fundraiser with entertainment. Sunday will cap off the weekend with additional presentations in the morning and a closing lunch with a keynote speaker. Event registration will start on July 20th!
Discounted group-rate room reservations are now available via this link. In addition, the preliminary agenda, program, tour and event information is posted on the RailNation Miami 2018 Event Page!
---
In a July 11 letter obtained by Bloomberg, the U.S. Department of Transportation told NJ Transit that it needs more time to review a funding request for the century-old Portal Bridge because the submission was too close to the deadline. The letter is from Federal Transit Administration associate administrator Elizabeth Riklin and was sent to NJ Transit's executive director Kevin Corbett.
Riklin wrote, "Given that New Jersey Transit submitted significant changes to the cost estimate and financial plan just nine business days before the deadline, you have not allowed sufficient time for the statutorily required evaluation"
The delay from the U.S. DOT is another set back from the Trump administration, which has pushed hard against funding Amtrak's $30 billion Gateway program, which includes the Portal Bridge as well as a new Hudson River Tunnel. The Portal Bridge connects 450 Amtrak and NJ Transit trains a day to and from New York City, but it has often been a cause of delays in recent years for commuters.
"The U.S. DOT's delays shouldn't be a surprise considering President Trump's opposition to funding Gateway," said Rail Passengers President Jim Mathews. "It only highlights the fact that the administration is not living up to the promises that Trump first made during his campaign to support the nation's transportation infrastructure."
The hold from the federal agency hurts even more considering New Jersey said it would borrow $600 million after Trump officials said New York and New Jersey must fund a bigger share of the project. The state also lowered its federal funding request by $33 million, to $811 million.
In response to the letter, Steve Sigmund, a Gateway Development Corporation spokesman said that the Corporation has "submitted a strong updated financial plan with 100 percent of the local funding share committed, and will continue to work with the FTA so this vital project keeps moving forward."
As part of its development for a new strategic plan, the American Public Transportation Association's (APTA) Strategic Plan Steering Committee is seeking public input that will help provide guidance for its programs and member services for fiscal years 2020-2022.
APTA is collecting feedback through an online survey until July 31, 2018. The Committee is expected to complete a draft of its strategic plan by early October, with a final plan for approval by November 30.
The Dallas-Fort Worth Regional Transportation Council (RTC) is now looking at Virgin Hyperloop One technology for two transportation initiatives in Texas. The council met with the company's engineers in Los Angeles, and also visited Virgin Hyperloop One's full-scale test track in the Nevada Desert. The Dallas-Fort Worth hyperloop would eventually connect DFW, Austin, San Antonio, Houston and Laredo.
"The RTC is all about bringing innovation to the transportation system in the Dallas-Fort Worth region and hyperloop would be an exciting technology to add," Gary Fickes, Tarrant County Commissioner and Chair of the Regional Transportation Council said in a press release. "I think the future's very bright for hyperloop and its use in the Dallas-Fort Worth region."
At the same time, however, planners are still looking at Texas Central Railway's high-speed rail system to connect metropolitan areas in Texas as the private company is looking to expand its original Houston to Dallas link. Texas Central Partners contacted the RTC to re-open its interlocal agreement with the region to evaluate extending the railway from Dallas to Fort Worth. Texas Central Partners earlier this year also entered into an agreement to connect its high speed train with Amtrak's national rail network.
"As our region grows from 7.2 million people now up to 11.2 million by 2045, we are planning a transportation system that offers choices to our residents. Adding an option like hyperloop to the existing system of roadways, rail transit, bicycle/pedestrian facilities and high-speed rail to Houston would expand the system in an exciting way," Michael Morris, transportation director for the North Central Texas Council of Governments, said an in email put out by Hyperloop supporters. "Connecting other regions in Texas through Hyperloop would open up economic opportunities throughout the state."
---
Member Forum Now Open
Rail Passengers Association has opened a new forum for members on Google Groups. Members can share their gripes and their applause, and trade information on the latest passenger rail-related issues.
Click THIS LINK to sign up. It's free and open to the public, but users must join the group before they are able to post messages.
Member Benefit: Newsletter Archives Complete
A new feature for Members: every monthly Newsletter this organization has produced since the beginning of publication in 1969, can be accessed by logging in here. If you have trouble logging in, or cannot reset your password, please contact membership services.
---
The Southeastern Pennsylvania Transportation Authority (SEPTA) performed an inaugural run of its a new ACS-64 locomotive to highlight the agency's progress on its modernization program. The agency ordered 15 new locomotives from Siemens to replace its aging fleet for $154 million. The new ACS-64 locomotives are electric powered and are equipped with positive train control (PTC).
"SEPTA's Regional Rail Ridership has grown by more than 50 percent over the last 15 years," SEPTA General Manager Jeffrey D. Knueppel said in a press release. "The addition of these new Siemens ACS-64 locomotives is critical for SEPTA to expand capacity and meet the needs of our riders."
SEPTA has received eight of the 15 new locomotives, with four other locomotives on their way from Sacramento, CA. The last three are due in August, with all the new locomotives in operation by October. In 2020 and 2021 the new locomotives will pull double-decker coaches that will carry more passengers than SEPTA's current cars. SEPTA plans to buy up to 55 of the coaches at cost of $174.3 million.
"This locomotive is not only powerful, but also efficient and reliable" said Michael Cahill, president of Siemens Rolling Stock in the U.S. "We are proud that these locomotives got here on time and in great working condition, and we are excited to work with SEPTA to improve availability so more Philadelphians can get to their destinations safely and on time."
A video of the new locomotive and the inaugural run is available online.
The City Council of Mobile approved the allocation of $223,000 for the design of a new rail station in downtown. The plan was approved Tuesday, only weeks after Alabama Governor Kay Ivey said no to providing $5.3 million in state funding for the reintroduction of Amtrak service along the Gulf Coast. Service ended in 2005 after Hurricane Katrina, but officials said they want to be prepared for the future should Amtrak service restart.
"I'm hopeful that by having a plan, having drawings, having something shovel ready, the Governor, whoever that might be next year, will be interested in funding our plan," said Councilman Levon Manzie.
The new station will be designed by Mott McDonald and it would be located near the city's waterfront near Cooper-Riverside Park and will easily connect rail passengers to various attractions. The funding is provided through a Southern Rail Commission grant.
---
Upcoming Regional Rail Passenger & State Association Member Meetings and Other Events:
Please contact Bruce Becker to have a state or regional event or meeting added to the Rail Passengers Association calendar of upcoming events!
---
The Federal Transit Administration (FTA) have certified the rail state safety oversight (SSO) programs for Washington, North Carolina and Puerto Rico. Under the certification:
The Washington State Department of Transportation will manage Sound Transit's light-rail systems and Seattle's streetcar and monorail systems;

North Carolina's Department of Transportation will oversee the Charlotte Area Transit System's light-rail and streetcar systems; and

The Puerto Rico Emergency and Disaster Management Bureau will have oversight of the Tren Urbano heavy-rail system.
With the new certifications 15 states, Washington, D.C. and Puerto Rico have achieved approval from the FTA. Federal law requires states with transit-rail systems to obtain FTA certification of their SSO programs by April 15, 2019. In total, 28 states are required to receive certification.
The Orange County Transportation Authority has approved postponing construction of the OC Streetcar from the summer to the fall, with an increase in cost of $100 million. The OC Streetcar was originally estimated at $300 million in 2017, but the new projected cost is up to more than $407 million. The funding is coming from Measure M2, a local sales tax earmarked for public transportation projects.
The current plan for the streetcar is to run on a 4.15-mile route and it will travel in lanes with current car traffic. It will also connect to Metrolink stations and bus routes with residential and employment hubs such as Santa Ana's downtown and Civic Center.
Brightline has hired Bob O'Malley to work for the company as it pursues development of a higher-speed rail line to Orlando. O'Malley was a the vice president of state and local government relations at CSX, until today. On Monday, he will start at Brightline as the company's vice president of public affairs and part of his job will be to manage any opposition that comes forward in Orlando.
"The most important thing will be maintaining good communication," O'Malley said. "It's still very early, but it's important to maintain good working relationships with everyone involved."
Brightline officials recently sent an unsolicited proposal to the Florida Department of Transportation, and proposed using the stretch of right of way between Tampa and Orlando in the median of Interstate 4 to build a high-speed rail system. The state then opened the bidding process to other companies for the development of a new line.
---
Openings Available For Rail Passengers Association State Council Representatives
The following vacancies now exist for state representatives on the Rail Passengers Association Council of Representatives: Alabama (1 opening); California (7 openings); Idaho (1 opening); Illinois (1 opening); Louisiana (1 opening); Massachusetts (1 opening); Minnesota (1 opening); North Dakota (1 opening); Ohio (2 openings); Pennsylvania (1 opening); Washington State (1 opening); Wyoming (1 opening)
If you are interested in becoming more involved in passenger rail advocacy and serving in a Rail Passengers Association leadership role, this is your opportunity to be considered for an appointment by the Board of Directors to an open state representative seat. There is no deadline to apply and submissions will be considered on a rolling basis as they are received.
Please review the position responsibilities & required qualifications and complete & submit a Candidate Information Statement if you would like to seek a position.
---
As promised by Amtrak Chief Commercial Officer Stephen Gardner during a meeting with Rail Passengers Association President Jim Mathews in Washington, Amtrak is now offering a hot entree option, as well as other new meals, for sleeping car customers on the Capitol Limited and the Lake Shore Limited. Amtrak's new options include:
Lunch & Dinner: Slow Braised Beef Short Rib in a red wine and beer sauce; Vegan Wrap; Chicken Caesar Salad; or Antipasto Plate, all with side items and dessert.

Breakfast: Seasonal fresh sliced fruit, blueberry muffin, Greek yogurt parfait and quinoa breakfast bar.
"Our plan to provide fresh food choices now includes a hot option, which is based on engaging our sleeping car customers on what they would like and with special training for our train crews," Bob Dorsch, Vice President of the Amtrak Long Distance Service Line said in a press release. "This contemporary style of service has been well received by customers, with meals of their choice and at times they choose. These customers also enjoy having exclusive use of the dining cars."
Full menus for both trains are available for download at Amtrak.com.
As the board of the Metropolitan Atlanta Rapid Transit Authority (MARTA) decides how to spend $2.5 billion on transit projects, Beltline Rail Now is pushing for a fully funded light-rail line along the 22-mile Atlanta Beltline loop. At a board meeting, the pro-transit group proposed a plan for MARTA to connect 45 neighborhoods in greater Atlanta, which would be paid for through the MARTA tax approved in 2016 to expand services.
"Transit has always been part of the Beltline project and we wouldn't have gotten as far on this project if it hadn't have been," said Ryan Gravel, a member of Beltline Rail Now. "There's a real accountability as we build it out that we also implement the transit."
A plan from MARTA proposed in May included 22 miles of light-rail in Atlanta, as well as 18 miles of bus rapid transit (BRT). However, the plan only included seven miles of Beltline rail. Under the plan, segments of the northeast and southwest Beltline loop would be built and connect to the Atlanta Streetcar downtown. Those projects would connect with a new light rail line along Campbellton Road in southwest Atlanta, though the Campbellton line would start as BRT before being converted to rail.
MARTA's proposed plan, as well as the one from Beltline Rail Now and several others, are under review by the board through the summer. The board plans to make decision on which projects to fund by September.
"Thank you to Jim Mathews and the Rail Passengers Association for presenting me with this prestigious award. I am always looking at ways to work with the railroads and rail advocates to improve the passenger experience."
Congressman Dan Lipinski (IL-3)
February 14, 2020, on receiving the Association's Golden Spike Award