Happening Now
Youth demand for automobiles on the wane
Written By Sean Jeans Gail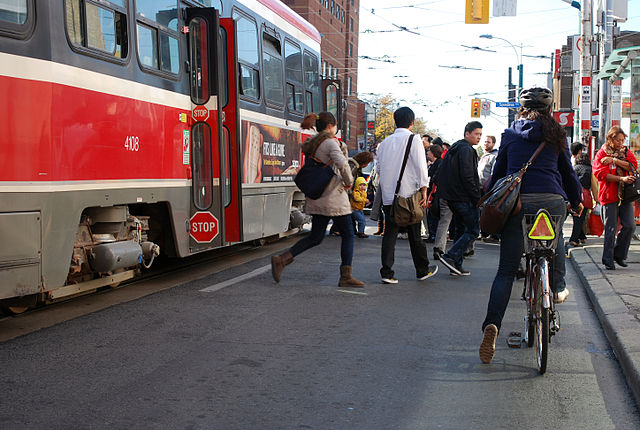 Progressive Railroading's Julie Sneider had an interesting piece this week on the waning interest in automobiles on display among American youth:
Americans' love of driving had been increasing steadily from the end of World War II until early in the 21st century. But in 2011, the average American was driving 6 percent fewer miles than in 2004, according to the U.S. Public Interest Research Group (PIRG) Education Fund and the Frontier Group recent report, "Transportation and the New Generation: Why Young People are Driving Less and What it Means for Transportation Policy."
Leading the trend away from driving are younger Americans, defined in the report as the 16-to-34-year-old age group. From 2001 to 2009, the average number of auto vehicle-miles traveled in that age demographic fell 23 percent, from 10,300 miles to 7,900 miles per capita. During that same time period, the average number of passenger miles (via train or bus) traveled by young people soared by 40 percent, the report states.
Also unlike their parents' generation, younger Americans don't seem to be in a hurry to pass their driver's test. Citing the Federal Highway Administration, the report says that from 2000 to 2010, the percentage of 14-to-34 year olds without a driver's license jumped from 21 percent to 26 percent.
I should say right up front that I have a general distrust towards "trend pieces" in media publications; the daily pressure to come up with new content isn't always a great incubator for dispassionate analysis.
But the study's data is compelling, and it supports both what I've previously read on the subject and what I see in my own life. The costs of owning a car—and severing yourself from your mobile networks—are rising, and the benefits are decreasing—steadily eroded by rapidly increasing congestion, an issue that even automobile executives have gone out of their way to address.
Sneider goes on to outline an interesting case as to why it is dangerous for transportation planners to ignore these trends. Definitely worth a full read.
"The Rail Passenger Association's recognition of the essential work done by SMART-TD members aboard Amtrak during this difficult period is appreciated. The Golden Spike Award serves as a testament to the compassion and dedication our conductors, assistant conductors and other workers exhibit constantly through times both ordinary and extraordinary."
Jeremy Ferguson, SMART-TD President
December 21, 2021, on the Association awarding its 2021 Golden Spike Award to the Frontline Amtrak Employees.