Happening Now
You can help build passenger rail between Phoenix and Tucson
Written By Colin Leach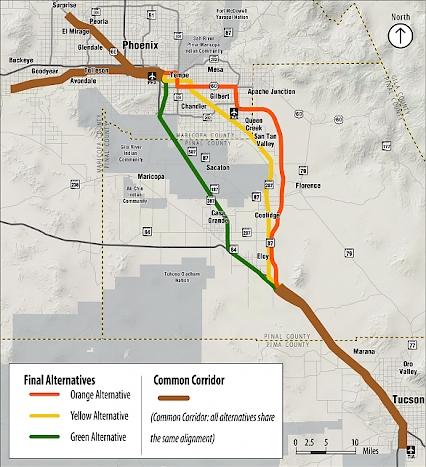 Map of proposed alternatives for Phoenix-Tucson route. Courtesy of Arizona Department of Transportation
Phoenix, Arizona is one of the urban centers of what demographers and public policy scholars term the "Sun Belt". This vast region, stretching from Miami to Los Angeles, has seen tremendous economic growth in the past decades. This growth can be credited to a combination of new high tech industries looking to take advantage of lower labor costs as well as retirees seeking warmer climes, and is best reflected in the census. Phoenix is no exception to this story. Between 1980 and 2014, the city's population increased by more than 97% from just under 800,000 to nearly one and a half million residents.
Growth, however, has come at a price. As former Arizona Republic columnist Jon Talton opined in a recent article, Arizona policymakers, like their counterparts elsewhere, prioritized the creation of highways over investment in other forms of transit. An alliance of private developers, rural property owners, and general contractors produced a policy that sanctioned urban sprawl on a huge scale.
It is this commitment to sprawl and highway construction that caused Amtrak's discontinuation of the Sunset Limited to Phoenix on June 2, 1996, to go largely unnoticed by state transportation planners. Although the Sunset Limited remains in tri-weekly service between Los Angeles and New Orleans, Union Pacific's announced intention to abandon part of the line between Phoenix and Yuma forced Amtrak to reroute the train to a line south of Phoenix. Rail passengers wanting to travel to Phoenix must either make their own connections at Maricopa or Tucson on the Sunset Limited, or can book a connection Thruway bus from Flagstaff on theSouthwest Chief.
NARP believes that the exclusion of one of our nation's largest and fastest growing cities from the national network is unwarranted and represents a classic case of imbalanced investment. An infrastructure policy that favors highways deprives Americans of the transportation alternatives that they want and need. We made this position clear in a 2006 letter to Amtrak urging the restoration of service to Phoenix, and hold this position today.
That's why we're encouraging our members and friends to take the Arizona Department of Transportation's survey on passenger rail between Phoenix and Tucson before May 31, 2014. Recognizing the need for balanced investment, the state Department of Transportation (ADOT) began studying the viability of passenger rail service between the two cities. As we reported to you last week, ADOT has identified three possible routes for the route (which you can read about here) and is looking for public comment on them.
Every voice counts. The more responses ADOT hears from Arizonans and others who travel to the region who believe that passenger rail is a vital part of the area's transportation infrastructure, the more likely they are to seriously support its creation.
We have momentum behind us. Phoenix residents already know the benefit of rail in their community, as witnessed by strong patronage of the city's METRO Light Rail. Ridership on this line has consistently increased since its opening in 2008, and the city council has approved further extensions of the route. Neighboring New Mexico has also proven the value of commuter rail. That state's Rail Runner Express between Santa Fe and Belen, which opened in 2006, is popular with commuters and is also slated for further investment in the coming years.
Phoenix residents should have the same access to the national rail network as do their friends and relatives in Tucson and Flagstaff. With your help, we can make that happen.
"Saving the Pennsylvanian (New York-Pittsburgh train) was a local effort but it was tremendously useful to have a national organization [NARP] to call upon for information and support. It was the combination of the local and national groups that made this happen."
Michael Alexander, NARP Council Member
April 6, 2013, at the Harrisburg PA membership meeting of NARP