Happening Now
Why Long-Distance Trains Matter
Written By Malcolm Kenton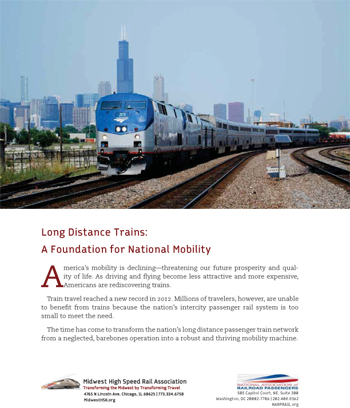 Long Distance Trains: A Foundation for National Mobility, a white paper by NARP and theMidwest High-Speed Rail Association, aims to correct common misconceptions about Amtrak's national network of overnight trains and to demonstrate the valuable role they play in connecting small towns and rural areas to larger cities, with multiple city-pair "corridors" served by one highly productive train.
NARP believes that the long distance trains should remain a federal responsibility. which was reaffirmed in the 2008 law. We believe connecting all parts of the country with reliable, affordable passenger train service is an important federal policy objective.
"The COVID Pandemic has been and continues to be the biggest challenge faced by Americans as it has taken a deadly toll on the world and on the world's economies. During COVID Locomotive Engineers at Amtrak and other Passenger and Freight Railroads have embodied the definition of essential workers. This dedication by our members is not new. We applaud the Rail Passenger's Association for recognizing the vital contributions of our members and their hard work moving Americans and freight during the COVID pandemic."
Dennis Pierce, Brotherhood of Locomotive Engineers and Trainmen (BLET) National President
December 21, 2021, on the Association awarding its 2021 Golden Spike Award to the Frontline Amtrak Employees.