Happening Now
Why it makes no sense to pit the Northeast Corridor against the National Network (hint: it's the economy, stupid)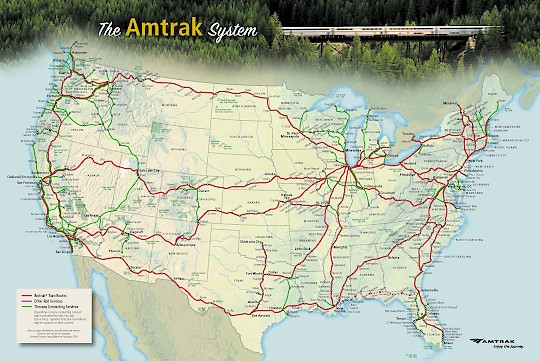 Like the man once famously said, "There you go again."
Newspapers and media outlets up and down the Northeast Corridor are once again buying into the mythology that Amtrak's NEC operation is profitable, and thus the railroad could be a going concern if it were just freed from its yoke of long-distance service.
It's a tidy, compelling narrative. Trouble is, it's just wrong.
Editorial boards in Washington, New York and Boston don't seem to be clamoring for Metro, MTA or the MBTA to be profitable. Yet they insist that the public-transportation network operating on a national scale is a waste of time and energy unless it spins off profits.
Let's be clear. Public transportation exists for the same reason that highways, waterways and air traffic control exist. They are vital pieces of infrastructure critical to economic growth and the attraction of private capital. NARP believes voters and editorial boards should consider intermodal and rail as they would any other transportation investment.
The payoff to a municipality, state or region to invest is not just in farebox recovery, but in whether the transportation fulfills a local or regional need in bringing jobs and the preconditions for a healthy economy and jobs to that area. Examples across the country show that, on average, every dollar invested in rail and improvements yields a three-dollar return to the surrounding community, and in some localities the payoff has been much higher.
Congress has spent $140 billion in taxpayer funds shoring up the Highway Trust Fund since 2008 alone — three times the federal funding Amtrak has received over its entire 40-year history. The reasons for this are myriad, and some political posturing comes into play. But at the same time, investing in roads is widely acknowledged to be an important component in sustaining a healthy economy. The addition of a rail title to the recently passed surface transportation bill shows that many policymakers on both sides of the aisle are beginning to grasp the true purpose of passenger-rail investment.
Surely this means we can move on from the double standard in how we treat roads and rails, and start thinking about how to use investment in all transportation modes to create A Connected America of vibrant local economies – the real "profit" of any transportation investment.
Only 30 of Amtrak's 500-plus stations sit along the NEC. The 11 million riders the NEC carried this year are important—but so are the 19 million that travelled on the National Network. The U.S. can't afford to ignore either group of riders.
Unfortunately, the op-ed writers' collective embrace of the NEC vs. the Rest of the U.S. dichotomy sets us up to throw those 19 million riders out into the cold and onto the roads -- whether they're elderly, live in rural America, or are able to drive or not. Simply put: it makes no sense to use a single financial yardstick to compare trains on the National Network and the Northeast Corridor. Here's why: National Network services are expected to account for the cost of running the trains and maintaining a share of the track owned by freight railroads, through access fees paid to the freights. NEC trains pay only for the cost of running the trains while covering a mere fraction of maintaining the track infrastructure owned by Amtrak, and the rest of that maintenance burden is continually kicked down the road until "next year."
This false dichotomy is bad for everyone, and carries real consequences. It has inspired political attacks on National Network trains because they are "unprofitable," while simultaneously encouraging complacency toward the supposedly "profitable" NEC. What we're left with from this complacency is decades of underinvestment, and the NEC has accumulated more than $50 billion in deferred maintenance costs.
That figure accounts only for state of good repair; Amtrak will still need to find tens of billions more for critical expansion projects such as replacements for the 100-year old Hudson River rail tunnels and the Civil War-era Baltimore & Potomac tunnel. These are crucial chokepoints, and must be addressed. Trashing the long-distance network does nothing to solve that very real problem.
Again, it's instructive to look beyond the direct profit-and-loss comparison of running an individual train and examine instead what it means to invest taxpayer dollars in infrastructure. Do those dollars make the communities -- and their voting populations -- better off? Do those dollars make it possible to attract private capital? Do those dollars set the stage for growth?
The answer is not killing off the National Network, but recognizing it for what it is -- an economic engine in the communities it serves -- and exploiting it as a powerful tool in the development toolbox. An illustration of what is possible when you add frequencies and public/private partnership comes from the experience of the New England states when they launched The Downeaster Corridor, a success which could be replicated on the U.S. Southeastern Gulf Coast (more on that in a minute).
Overall, the Downeaster contributes an estimated $12 million annually to Maine's economy and has stimulated more than $450 million in public-private development projects along the line. The Downeaster underscores in dramatic terms what can happen with smart, targeted investment – even with slower-speed conventional heavy rail service along a less-densely populated corridor.
As newspapers up and down the Northeast Corridor use the language in the newly enacted transportation bill to begin the drumbeat to divert resources solely to the NEC, at NARP we prefer to focus on other language in that measure that recognizes the economic development potential of the entire network, NEC and National Network alike. We are very encouraged by the section calling for the establishment and rapid conclusion of a working group to examine and recommend ways to restore rail service in the Gulf Coast that was wiped out by Hurricane Katrina a decade ago.
Amtrak's own extremely conservative estimate in 2009 was that restoring service in the Gulf region would trigger the need for between $24 million and $63 million in direct investment to upgrade and re-open stations which are no longer served and build equipment, creating construction and manufacturing jobs. Further, the Mississippi communities of Meridian and Hattiesburg illustrate strong potential for job creation in other industries such as retail trade and tourism, and increased state and local tax revenues attributable to wage taxes on newly-created jobs and increased economic activity.
In Meridian, a small investment leveraging $1.5 million of local money and $5 million in grants for the downtown train station under the auspices of then-Mayor John Robert Smith has so far produced more than $115 million in benefits to the community within blocks of the station and helped re-launch a vibrant downtown. Hattiesburg can tell a similar story, where Mayor Johnny Dupree led an effort to ensure that $13.5 million was invested in its station, and now, less than 10 years later, some $80 million in private capital has been invested within three blocks of the station, which I visited and enjoyed just two months ago.
Reliable daily rail service to and from Gulfport and Biloxi, for example, can be expected to help buoy efforts to bring tourists to the burgeoning casinos in the area, with millions of dollars in additional consumer spending and activity as a result. Seven of the 12 communities between New Orleans and Jacksonville, Florida, whose service was suspended post-Katrina, have no air service, and four have no intercity bus service, leaving those four areas without any public transportation option.
Reconnecting these areas to the rest of the economy should produce a net benefit beyond direct investment in rail service by easing the Gulf Coast's isolation from access to other markets for travel and tourism revenue. In the absence of this service, those travelling between Western and Midwestern U.S. cities on the one hand and Florida and Southeast U.S. markets on the other must make a circuitous trip through Chicago and Washington, D.C., which actively discourages travel and spending that might otherwise take place.
The economic arguments are compelling, and they illustrate why our nation must invest in both the NEC and the National Network, and resist the urge to pit regions against one another. It is, after all, the American economy we're looking to support.
"We would not be in the position we're in if it weren't for the advocacy of so many of you, over a long period of time, who have believed in passenger rail, and believe that passenger rail should really be a part of America's intermodal transportation system."
Secretary Ray LaHood, U.S. Department of Transportation
2011 Spring Council Meeting