Happening Now
When we build trains, we build jobs
Written By Colin Leach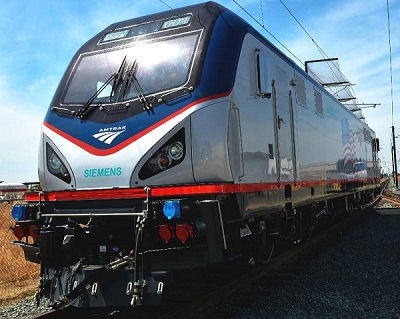 As our readers will know, we've addressed how passenger rail is the key to creating the sort of new economy that America needs in the years to come. By building commuter rail systems connecting urban cores with their suburbs, we create the potential for new, transit-oriented development sites that integrate transit into new residential and commercial developments. And by offering a convenient, fast, and affordable way to travel between urban and rural communities, passenger rail connects communities large and small with each other, increasing travel options. In the years to come, passenger rail will be a mode upon which our economic growth continually depends; investment in the present will reap incredible dividends in the future.
Yet there's one economic benefit we haven't discussed: the job growth that directly comes from investment in the service. As might be expected, increased investment in passenger rail creates new jobs across the board, including crews and staff on board the trains and in stations, and construction jobs upgrading old lines and building new ones. Most importantly, though, passenger rail investment directly creates well-paying, highly-skilled manufacturing jobs sought by policymakers and jobseekers alike.
Siemens's announcement of a $225 million locomotive order adds another chapter to this story. Under the terms of the contract signed between the German manufacturer and a five-state consortium consisting of Illinois, California, Washington, and Missouri, the firm will build at least 32 high-speed, low-emissions diesel-electric units for these states' Amtrak services, with options for 225 additional locomotives. As required by federal "Buy America" regulations, these units will be built in the United States at Siemens' factory in Sacramento, California. The plant, which also produced Amtrak's new Cities Sprinter locomotives, hosts hundreds of jobs and is one of the area's largest employers. Caltrans director Malcolm Dougherty praised the new contract, noting that his state continues to "lead the way in offering robust and sustainable alternative transportation choices."
These kinds of new jobs aren't limited to California. The new Siemens contract also included a subcontract with Cummins, Inc. of Columbus, Indiana to provide the diesel-electric engines. These engines, which will sport a record 4400 horsepower and comply with the latest EPA regulations, will be manufactured at Cummins' plant in Seymour, Indiana. Sourcing the engines from an American company further supports American businesses, and solidifies America's longstanding role as a global leader in railroad technology.
But what about the passenger cars? Those too will be built in America. In 2012, the same multistate coalition involved in the locomotive procurement negotiated a contract with the Japanese firms Sumitomo and Nippon-Sharyo to build 130 double-decked passenger cars. These cars will supplant existing equipment on lines such as the Capitol Corridor, Wolverine, and Lincoln Service, and are expected to enter into service in 2015. And, as stated above, they will be built at Nippon-Sharyo's new facility in Rochelle, Illinois, which has also built equipment for Chicago's METRA, Marin County's SMART, and Virginia's Virginia Railway Express. Thus far, this facility has created more than 300 new jobs in one of the areas hardest hit by the 2008 recession, and is expected to create more in the future.
We can add many more examples to the ones above, including the 130 new Viewliner II cars under construction at CAF's plant in Elmira, New York. But there remains a common theme through each of these stories: investment in our nation's rail transportation network can create thousands of the high-skilled manufacturing jobs that are, for millions of Americans, the passport to the middle class.
Investment in these jobs cannot come at a better time. Since the official end of the recession in 2009, policymakers have been troubled by the reality that many of the new jobs created since then have been low-paying, low-skill service jobs. A 2012 report by the National Employment Law Project found that a startling 58% of the jobs created since 20 are in lower-wage occupations,meaning that American workers often have to work far below their skill and pay levels simply to get by. By investing in passenger rail as well as other elements of our transportation infrastructure, we create more high-skilled, high-paying jobs.
In the coming years, be sure to take a good look at the Amtrak trains you're riding on. You'll find that they're as all-American as the country they travel through.
"The National Association of Railroad Passengers has done yeoman work over the years and in fact if it weren't for NARP, I'd be surprised if Amtrak were still in possession of as a large a network as they have. So they've done good work, they're very good on the factual case."
Robert Gallamore, Director of Transportation Center at Northwestern University and former Federal Railroad Administration official, Director of Transportation Center at Northwestern University
November 17, 2005, on The Leonard Lopate Show (with guest host Chris Bannon), WNYC New York.