Happening Now
Twin Cities Serve As a Model for "A Connected America"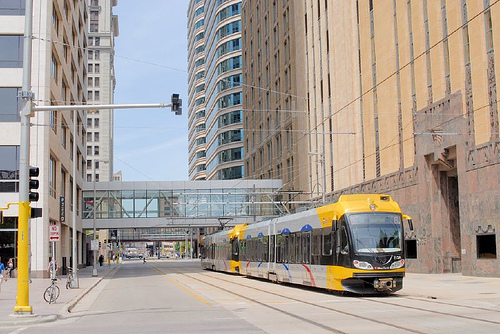 A Metro Transit Blue Line Train. Photo courtesy of John Watne via Flickr.
Last week I attended a journalism convention in Minneapolis. Whenever I travel, I always like to take advantage of public transportation options to get from the airport to downtown, and the region's Metro Transit system has that.
I did my research and discovered that the Twin Cities has a very robust public transportation system that includes an integrated network of buses, light rail and commuter trains, along with resources for those who carpool, vanpool, walk or bike. A light-rail link between downtown Minneapolis and downtown St. Paul was just added in mid-2014.

The light rail system is comprised of the Green and Blue lines running 86light rail vehicles serving 18 and 14 stations, respectively. Average weekly boardings on the Blue Line are 27,644 passengers, while the Green Line serves 34,548 passengers weekly, more comfortably and reliably, and at a lower subsidy per passenger than the buses they replaced. In an anecdotal sense, not being a local, the Light Rail was a far more user friendly option than a bus would have presented.
The 82-mile Northstar Commuter Rail operates from Big Lake to downtown Minneapolis. It serves seven stations, with an average of 2,539 boardings. Last, but certainly not least, Amtrak's Empire Builder runs from Chicago to Seattle, with a stop in St. Paul, Minnesota's, magnificent and palatial Union Depot. The depot also handles bus and light rail service.
In the August newsletter, I wrote about the Minnesota Rail Plan, which includes a second Empire Builder between Chicago and the Twin Cities, the Milwaukee to Twin Cities segment of the Chicago to Twin Cities high-speed rail, Zip Rail (an approximately 100-mile corridor located between Rochester and the Minneapolis/St. Paul Metropolitan Area for true high-speed rail) and Northern Lights Express (a proposed higher-speed rail service running 155 miles between Minneapolis and Duluth).
I took the light rail from Minneapolis-St. Paul International Airport to my hotel downtown, which was only a few blocks away. The light rail was quick, and there was plenty of room for my two suitcases. On Saturday, I took the light rail out to Mall of America. Had I taken a cab for either of these trips, it would have cost at least $40 each way; the light rail was a bargain at $1.75 each way.
NARP has been talking a lot about the importance of "A Connected America." This is an effort that links states and regions together with a high-quality, balanced intermodal and multimodal transportation system that serves all our citizens, not just those in the high-density Northeast Corridor. It includes a robust passenger and freight component designed to unite the United States in the same way that the interstate highway system did a generation ago, but in a less intrusive yet economically intense fashion that reinvigorates our existing built environment. The Twin Cities are a grand destination simply for what is now easily accessible-- even though much of it was there before!
Minneapolis is well on its way to becoming an example of the vision inherent of A Connected America with the myriad intermodal options it offers local citizens, including train, light rail, buses, shared bikes and walking trails. NARP and its members need to continue to advocate on the local level to ensure that cities across America have the same transit options as the Twin Cities. Click here to see what volunteer opportunities are available.
"On behalf of Amtrak's onboard service staff, I want to thank the Rail Passengers Association for honoring their hard work with this award. The past couple years have indeed been difficult for Amtrak onboard service staff – coping with furloughs and job insecurity, adapting to changing protocols and services, not to mention the unfortunate events such as a tragic derailment and a fatal shooting. Nevertheless, our dedicated members at Amtrak have handled these hurdles with the care, attention and diligence for which they're known. We thank Rail Passengers for their acknowledgement of our members' hard work and, as always, look forward to seeing you on the rails."
Arthur Maratea, TCU/IAM National President
December 21, 2021, on the Association awarding its 2021 Golden Spike Award to the Frontline Amtrak Employees.