Happening Now
Transit agency tells its own story
Written By Malcolm Kenton
The task of clearly illustrating and promoting the vital role that passenger train and rail transit services play in the communities they serve is often left to advocacy groups like NARP. Rarely do you see railroads or transit agencies take advantage of the resources at their disposal to tell their own stories. That's why the series of infographic narratives that the Charlotte Area Transit System (CATS) has unveiled are rather groundbreaking.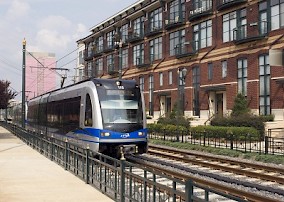 CATS operates a six-year-old, 9.6-mile light rail line in North Carolina's largest city, which is a national financial center (home to Bank of America's headquarters), and the city seeks to expand the system by lengthening the existing line, adding at least one more light rail line, and building a streetcar in Uptown (the central business district). But the city faces headwinds from critics who use false figures and data taken out of context to make transit seem irrelevant. CATS is taking these critics head-on by posting graphics like this that proclaim the facts on the sides of buses and trains:

View the rest of the infographics here.
NARP applauds this take-charge move by CATS. We look forward to other rail transportation providers following the agency's lead and taking control of the frame of the public debate about the appropriate level of investment in passenger train services—basing it on facts, not the myths that rail opponents are wont to spread. Stay tuned for NARP to unveil our own infographics in the near future.
"I wish to extend my appreciation to members of the Rail Passengers Association for their steadfast advocacy to protect not only the Southwest Chief, but all rail transportation which plays such an important role in our economy and local communities. I look forward to continuing this close partnership, both with America's rail passengers and our bipartisan group of senators, to ensure a bright future for the Southwest Chief route."
Senator Jerry Moran (R-KS)
April 2, 2019, on receiving the Association's Golden Spike Award for his work to protect the Southwest Chief