Happening Now
Trainsforming America: the transformative power of trains, from a passenger's point of view
Written By Sean Jeans Gail
Guest-blogger Rebecca Sansom is joining NARP to write about the process of creating her new documentary, Trainsforming America. This film looks to spark a dialog about transportation in America, engaging the public about the many benefits of passenger trains.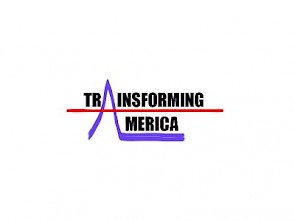 My parents have never been to Europe. They've pretty much lived in the South their whole lives. Which is fine, but I realized there was a disconnect when I was telling them about my travels, especially about taking trains everywhere. So, I decided to make a film to show my parents, and the many others like them, what it's like to live in a train culture. Fellow filmmaker and friend, Katie Chen, and I raised some money by Transforming America and then headed off to Europe to film trains and talk to train passengers. We discovered that most people don't own cars, and that riding trains is just part of their everyday lives.
Back in the U.S. we talked to Professor Richard Wener who is an environmental psychology professor at NYU Polytechnic in Brooklyn, NY. He has done a number of compelling studies about commuting and stress. For example, in one study he compared train commuters to car commuters. He brings up points that most people have never considered. Did you know that being stressed out on your daily commute to work can effect your whole day? We also talked to Petra Todorovich Messick, Director of America 2050. She outlines the benefits of adding more trains to our current infrastructure and the importance of thinking ahead knowing that our population is going to steadily rise in the coming 30 years. We talked to a number of American passengers, too, asking them if they would support more investment in rail service.
All in all, this film has turned out to be more convincing than I initially expected it would be that Americans really do want access to more trains. I can't say that I'm surprised by what we found and I hope that the film can play a part in encouraging policy makers and other citizens to realize that expanding our rail infrastructure is crucial to the future of transportation in the U.S.
We were honored to hold a sneak preview of an abbreviated 30 minute version of the film at the U.S. High Speed Rail Association's conference in Los Angeles last week. The screening went really well, and can be summed up nicely by what Principal Engineer at Aetypic, Jack Wang said, "It was great to end the conference with your film because all we've been talking about is funding and the technical aspects of the bullet train project in California, but your film captures the heart and soul of what we want to do here."
As far as where you can see the film: at this point we're going to try our luck at the film festival circuit. We would love to have a distributor acquire the film, but to do that we need help from other rail enthusiasts to get the word out and garner support for its release. If you want to interview the director, or donate to the film festival submission fee fund please email Wendy at [email protected].
Rebecca Sansom is a documentary filmmaker, with a degree from Samford University in Broadcast Journalism. She has worked onEqual Hoppertunity and Monarchs: Those Words, Those Frames. Sansom currently lives in Northern California.
embed video plugin powered by Union Development
"When [NARP] comes to Washington, you help embolden us in our efforts to continue the progress for passenger rail. And not just on the Northeast Corridor. All over America! High-speed rail, passenger rail is coming to America, thanks to a lot of your efforts! We're partners in this. ... You are the ones that are going to make this happen. Do not be dissuaded by the naysayers. There are thousands of people all over America who are for passenger rail and you represent the best of what America is about!"
Secretary Ray LaHood, U.S. Department of Transportation
2012 NARP Spring Council Meeting