Happening Now
Trainsforming America: A Documentary Moving Minds in the Right Direction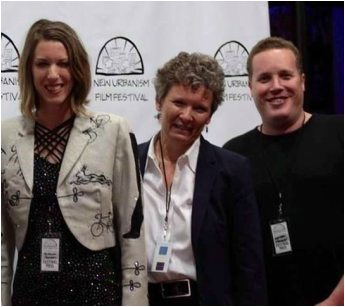 Rebecca Sansom, Director of Trainsforming America, with Debra Gerod and Matthew Parrent of Gruen at the New Urbanism Film Festival in LA. Gerod gave the film two thumbs up!
By Logan McLeod
Rebecca Sansom, NARP member and grassroots advocate for passenger rail, has crafted an insightful and motivating documentary that speaks to the benefits of having an efficient intermodal transportation system that includes high-speed rail.
Trainsforming America takes you on a journey through Europe and depicts what a balanced transportation system looks like. It shows the reason why most Americans come back from visiting countries like France, Germany and Spain and say "what happened here?" Well, it's simple really -- a balance of trains, planes, automobiles, and really any consideration of infrastructure just weren't important enough for decision-makers to prioritize during the 60's, 70's, 80's, 90's, and yes -- even now in the 21st century. Shame on us, right?
The good news is that people like Rebecca are out there educating the public on the benefits of rail and encouraging our leaders to rethink transportation policy and start investing in rail.
Trainsforming America has received commendations from U.S. Senators and House Representatives such as Congresswoman Loretta Sanchez (D-CA), Former Congressman Bob Clement (D-TN) and Congresswoman Nancy Pelosi (D-CA).
The film features commentary from NYU Polytechnic Professor Richard Wener, Amtrak's Petra Messick, and many more influential figures.
The documentary was shown in D.C. in front of Congresswoman Louise Slaughter (D-NY) and received praises from Congressman Blumenauer (D-OR). All Aboard Florida hosted a screening of the film, and most recently, it was featured at the New Urbanism Festival in Los Angeles.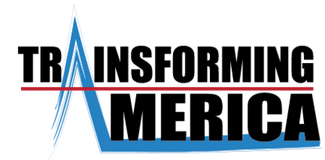 We praise Rebecca for her work and thank her for including NARP in the film and throughout her promotional efforts!
This is a must-see documentary and an effective advocacy tool that all members should utilize.
We encourage you to stream the film as soon as you can! Just go to the Trainsforming America website at: http://www.trainsformingamericafilm.com/
NARP and every American passenger thank Rebecca for educating and motivating the public to believe in the transformative power of rail!
"I'm so proud that we came together in bipartisan fashion in the Senate to keep the Southwest Chief chugging along, and I'm grateful for this recognition from the Rail Passengers Association. This victory is a testament to what we can accomplish when we reach across the aisle and work together to advance our common interests."
Senator Tom Udall (D-NM)
April 2, 2019, on receiving the Association's Golden Spike Award for his work to protect the Southwest Chief