Happening Now
"Train Wars" documentary project looks at high-speed rail in America
Written By Sean Jeans Gail
It's no secret that high-speed rail has become a hyper-partisan issue in the past few years. What's not always clear, however, is how this state of affairs came to be.
Roger Rudick and Luke Mines, two journalists living in California, are filming a documentary called Train Wars that tackles this very issue. Here're Rudick and Miles describing the motivation for their work:
2012 is a do-or-die year for bullet trains in the U.S. Either construction gets started this year onCalifornia's high speed rail project, or we may never see bullet train service in this country. We want to follow the story through this most critical phase, continuing to produce short pieces for PBS and ultimately creating a full-length documentary on high speed rail in America.
In 2008, California voters approved Prop. 1A, a $10 billion bond to fund a line fromLos Angeles to San Francisco. But the project has been on the brink of cancellation ever since. As the ground breaking approaches on an initial 120-mile segment in theCentral Valley, public support is waning. Backers try to justify the rising costs. Oil companies work behind the scenes to bolster and amplify the opposition. Meanwhile, HSR systems in Europe and Asia continue to expand while Amtrak bounces around on dilapidated tracks. Why is American rail in such a sorry state? Is this country just the wrong place for HSR? And why is there so much confusion about the technology? By developing and producing more segments and working towards a full-length documentary, Train Wars will attempt to answer these questions and shed light on the battle to decide America's transportation future.
a fundraising website that allows creative individuals to network with their audience—to underwrite their work. Every project creator sets their project's funding goal and deadline. If the project succeeds in reaching its funding goal all backers' credit cards are charged when time expires. If the project falls short no one is charged. Train Wars will only be funded if the page receives at least $10,000 by Monday, July 23.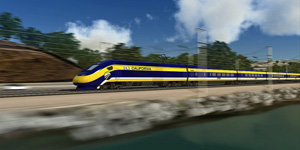 "On behalf of Amtrak's onboard service staff, I want to thank the Rail Passengers Association for honoring their hard work with this award. The past couple years have indeed been difficult for Amtrak onboard service staff – coping with furloughs and job insecurity, adapting to changing protocols and services, not to mention the unfortunate events such as a tragic derailment and a fatal shooting. Nevertheless, our dedicated members at Amtrak have handled these hurdles with the care, attention and diligence for which they're known. We thank Rail Passengers for their acknowledgement of our members' hard work and, as always, look forward to seeing you on the rails."
Arthur Maratea, TCU/IAM National President
December 21, 2021, on the Association awarding its 2021 Golden Spike Award to the Frontline Amtrak Employees.