Happening Now
Top Train Facts for Earth Day 2014
Written By Jenna Jablonski
Often what's good for people is good for the planet, too.
That's why we're celebrating trains today. Trains are a travel choice that's all around responsible. They ensure mobility for America's growing population while minimizing harmful impact on America's beautiful and vital natural resources.
Here are the top reasons why trains are worth celebrating on Earth Day:
1. Trains are 17% more efficient than planes and 34% more efficient than cars. They're the most fuel-efficient way to get around, other than biking or walking.
2. Trains promote responsible land use. They can carry as many passengers on two tracks in one hour as would require 16 lanes of highway (if each person was driving solo).
3. Trains allow us to experience the vast natural beauty of landscapes across the country. Anyone who's taken the Coast Starlight along the misty Pacific can confirm that!
4. Likewise, Amtrak trains connect us to 237 U.S. national parks, historic sites, and monuments.
5. The train routes weaving across America tend to follow natural landforms, like rivers. This minimizes how much they disturb the natural spaces around them. Abandoned railways also return easily to green space. Highways? Not so much.
6. In 2012, freight trains carried one ton of cargo for an average of 476 miles on just one gallon of fuel! You can find more mind-blowing freight facts here.
7. Trains are getting greener. For example, Amtrak announced today that it has replaced its switchers in Washington, DC with new ones that cut diesel fuel use by 50%. You may have also heard about Amtrak's new Cities Sprinter, an electric locomotive that uses regenerative braking technology to pump energy back into the grid as its slowing down.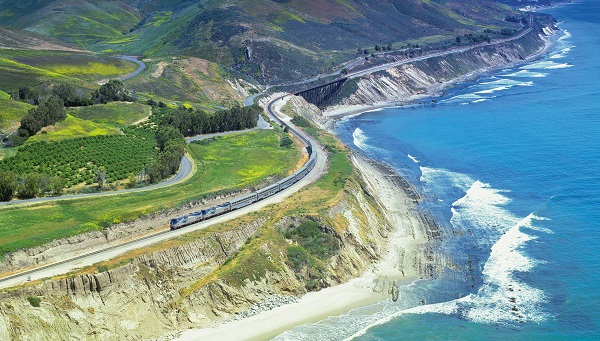 The Coast Starlight (photo from Amtrak)
"It is an honor to be recognized by the Rail Passengers Association for my efforts to strengthen and expand America's passenger rail. Golden spikes were once used by railroads to mark the completion of important rail projects, so I am truly grateful to receive the Golden Spike Award as a way to mark the end of a career that I've spent fighting to invest in our country's rail system. As Chair of the Transportation and Infrastructure Committee, it has been my priority to bolster funding for Amtrak, increase and expand routes, look to the future by supporting high-speed projects, and improve safety, culminating in $66 billion in new funding in the Bipartisan infrastructure Law."
Representative Peter DeFazio (OR-04)
March 30, 2022, on receiving the Association's Golden Spike Award for his years of dedication and commitment to passenger rail.