Happening Now
Station to Station: Coined by Bowie, Seized by a Generation
Written By Malcolm Kenton
The Summer of 2013 may mark a meaningful rediscovery of the cultural significance of Long Distance Train Travel
The late summer of 2013 may mark the beginning of a new era that could see American transcontinental journeys used as vehicles for encouraging expression, generating ideas, and making statements. And this can only be a good thing for our cause as it raises broader awareness about passenger trains, long-distance ones in particular, both as a smart way to travel and as vehicles of discovery that connect America's past with its future.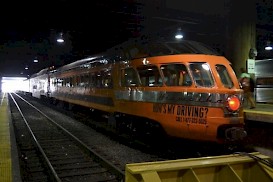 First came the Millennial Trains Project's mid-August crowd-funded journey from San Francisco to Washington, DC, about which I wrote here as a participant. The Project's goal is to turn these journeys, which give civic-minded young people a chance to pursue their passion for a positive change-making endeavor on a national scale, into a regular occurrence – the "road trip of our generation," as founder Patrick Dowd puts it. Closely on its heels comesStation to Station, which bills itself as a nationwide "art and music happening," taking the form of a private train going from New York to San Francisco via Washington, Chicago, Minneapolis and Los Angeles. With major corporate backing from jeans-maker Levi's, Station to Station overcomes simple nostalgia by creating a seamless experience that gives due deference to history in a boldly modern fashion. It offers continuity: modernity with context. This platform gives noted artists and musicians a notably unique and important way to share their works with people in various communities—from America's biggest cities to the smaller towns of Winslow, AZ and Barstow, CA. Their journey began Saturday evening in New York, and is now heading towards Chicago.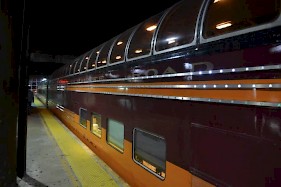 Trains are a truly unique medium with which to carry out this kind of activity. A group can go from place to place in one or more motorcoaches, or fly commercial or private aircraft, but these vehicles don't have the impact that a train does. Not only can you fit many more people on a train than on any one bus or plane, but the train can serve as a venue in and of itself—a feat much harder to accomplish with other modes. Plus, the train makes a rider feel like part of the landscape and, even if just for a moment, a part of whatever city, town or hamlet the train is passing through—instead of looking at it from several thousand feet above, or passing by it on a homogenized stretch of asphalt.
The Millennial Trains Project turned a dome car into a moving lecture hall, coffee shop and reflection space. Station to Station goes even farther, converting two café cars into music studios, and turning one into a hangout spot where old-fashioned technology is given a modern twist: a modified vintage brownie camera takes photos that are uploaded toInstagram; a 1890's-era typewriter is connected to Twitter; a 1930s-era radio houses an iPod; and an electric guitar is wired to broadcast its music instantly over the Web. This way, the train serves as a hotel, restaurant, lounge and studio all in one, allowing Station to Station to avoid the expense of procuring such venues in each city.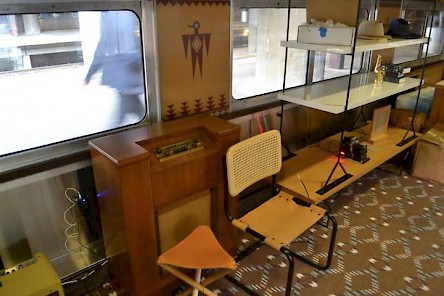 Vintage radio and camera (on bottom shelf at right).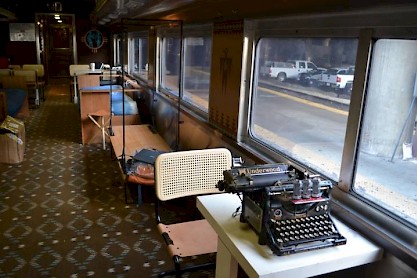 Twitter-linked 1890s typewriter in a 1950s ex-Santa Fe coach.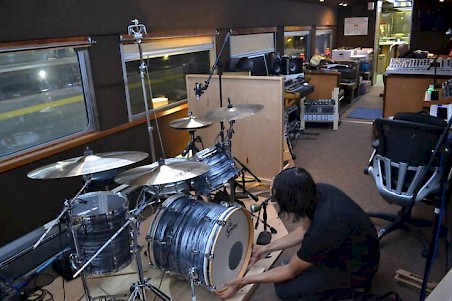 Drum set in a rolling music studio made from an ex-Milwaukee Road cafe car.
These enterprising rail odysseys should inspire others to look into using trains as a way to connect their ideas with the natural and human landscape of our continent by traversing it over ribbons of steel in "moving places." But you don't need to charter a private train to experience the unparalleled possibilities of a rail journey—individuals and groups can simply book tickets on Amtrak and connect with its 500-plus destinations. With this increased attention should then come greater awareness of the skeletal, undercapitalized state of America's passenger train network and a growing desire to see it improved and expanded. From this desire should then spring pressure on both government and private-sector leaders to work together to modernize and revitalize passenger train service. That is where NARP will continue our pursuit of a stronger, healthier, greener American future by facilitating and encouraging these connections, moving the needle from awareness to action for the world-class passenger train network our country needs and deserves.
NARP will remain a partner with the Millennial Trains Project to advance our mutually enhancing missions. And we extend our best wishes to the Station to Station team (which includes NARP members Adam Auxier and Lauren Elizabeth) in bringing attention to the creative output of its participants, as well as to the powerful vehicle that carries them now and will carry many more of their successors in the years to come.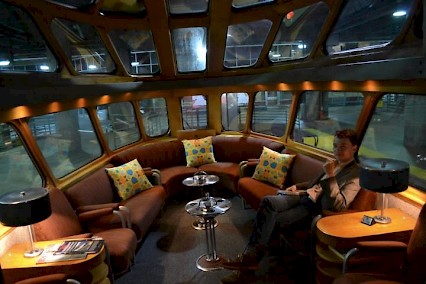 "I'm so proud that we came together in bipartisan fashion in the Senate to keep the Southwest Chief chugging along, and I'm grateful for this recognition from the Rail Passengers Association. This victory is a testament to what we can accomplish when we reach across the aisle and work together to advance our common interests."
Senator Tom Udall (D-NM)
April 2, 2019, on receiving the Association's Golden Spike Award for his work to protect the Southwest Chief