Happening Now
Spain welcomes Paris-Barcelona TGV, auctions off new "ghost airport"
Written By Ross Capon
Yet another important new high-speed rail service will begin Sunday, December 15. Twice-daily Paris-Barcelona through-trains will end a long history of changing trains at the international border. The running time will be six hours 25 minutes. The Financial Times reported that travelers starting from London St. Pancras will be able to leave at 9:31 AM and reach Barcelona within 10 hours 9 minutes.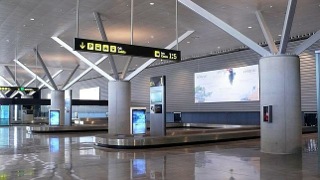 Meanwhile, Spain is auctioning off a new-but-disused airport at Ciudad Real. Here's the beginning of the Financial Times' report:
For sale: airport in provincial Spain, good as new, with 4km runway and passenger terminal built for 10m travellers a year; includes visitor centre, vast industrial park and 50m control tower. Good motorway access and ample parking. Asking price: €100m.
The report calls the "infamous ghost airport" one of the ultimate symbols of Spain's real estate bubble. This auction, viewed together with the TGV expansion, also arguably symbolizes a positive trend in Europe towards energy-efficient train travel.
Photo from deconcrete
"I wish to extend my appreciation to members of the Rail Passengers Association for their steadfast advocacy to protect not only the Southwest Chief, but all rail transportation which plays such an important role in our economy and local communities. I look forward to continuing this close partnership, both with America's rail passengers and our bipartisan group of senators, to ensure a bright future for the Southwest Chief route."
Senator Jerry Moran (R-KS)
April 2, 2019, on receiving the Association's Golden Spike Award for his work to protect the Southwest Chief