Happening Now
South Africa Takes Bold Step With Train Order
Written By Sean Jeans Gail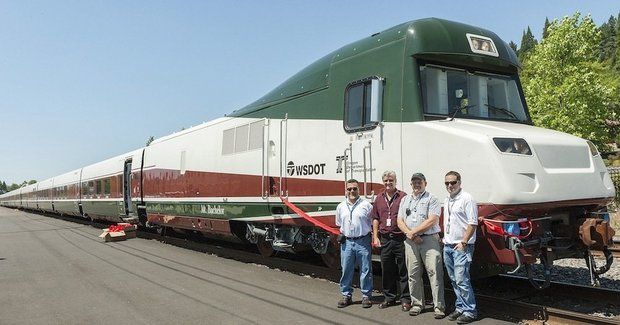 The Cascade's new train set arrives in Oregon.
With the average age of Amtrak equipment just topping 28 years, any regular passenger of the U.S. intercity rail network can tell you how desperately new rail cars are needed. Beyond simple comfort, aging equipment decreases reliability and on time performance, and increases the cost of maintaining Amtrak's fleet.
With that in mind, Trains' story on South Africa's record breaking equipment order is sure to inspire jealousy in many American passengers:
South Africa's national Passenger Rail Agency of South Africa has finalized contracts to buy 600 new commuter rail electric multiple-unit train sets, totalling 3,600 cars, to be built by Gibela, a new joint venture between Alstom and local South African firms. The cars will be built between 2015 and 2025.
The contract is the largest, by units ordered, ever signed by Alstom and is worth around $5 billion. It includes the construction of a local train manufacturing facility near Johannesburg. While it is being built, the first 20 trains will be delivered from an Alstom factory in Sao Paulo, Brazil. In addition to this contract, Gibela will provide technical support and supply spare parts to the rail agency for 18 years.
To put that in perspective, Amtrak's total fleet—including 3rd party units and locomotives—is just over 2,600 units. Amtrak's active fleet is less than 2,200 units.
That is why NARP is pushing a passenger rail reauthorization plan that would exponentially increase funding for passenger rail equipment. While Congress' recent history leaves little room for optimism, American passengers should take hear in South Africa's bold step. After all, look what they were able to do with only $5 billion—a drop in the bucket compared to what this country spends on roads and runways.
"When [NARP] comes to Washington, you help embolden us in our efforts to continue the progress for passenger rail. And not just on the Northeast Corridor. All over America! High-speed rail, passenger rail is coming to America, thanks to a lot of your efforts! We're partners in this. ... You are the ones that are going to make this happen. Do not be dissuaded by the naysayers. There are thousands of people all over America who are for passenger rail and you represent the best of what America is about!"
Secretary Ray LaHood, U.S. Department of Transportation
2012 NARP Spring Council Meeting