Happening Now
Salt Lake City Transit ignores partisanship to put transit to work for them
Written By Logan McLeod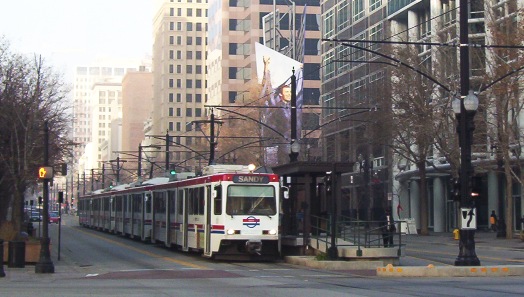 Recent statements by House GOP leadership underscore how transportation, once a bipartisan issue in the U.S. Congress, has become politicized at the national level. But as Angie Schmitt's story on DC Streetsblog proves, that partisan divide vanishes at the local level, where local leaders more interested in bolstering mobility and facilitating economic growth than political posturing.
In her story, Salt Lake City: How a Remote Red-State City Became a Transit Leader, Schmitt shows how a conservative community overcame its reservations about public transit to become a leader in rail transit and mobility:
It's a remarkable story that began in the 1990s, when an organization called Envision Utah facilitated a regional visioning process and created a plan that has been recognized as one of the most promising smart growth models in the nation.
There's a lesson here for other cities. In 1997, leaders in a 10-county region centered on Salt Lake County set out to see what people valued about where they lived. They designed a plan around those values, with a communications campaign to support it. At that time, the state was expected to grow by a million people by 2020. Rather than cede that growth to meandering sprawl, the region chose something more orderly and compact.
"At that point, to many Utahns, 'smart growth' was not a popular word," said Robert Grow, Envision Utah's president and CEO. "We made people some promises. We'd save a lot of time, money, lower emissions, improve air quality, develop more housing choices, and build a transportation system with greater efficiency."
The organization interviewed 150 key stakeholders — elected officials, activists, heads of major institutions. And they surveyed some 20,000 Utahns about their hopes and wishes. Leaders even engaged in an effort at "value mapping," to get a sense for local priorities and deeply held beliefs as they related to land use and transportation.
Project leaders discovered Utahns liked the idea of transit more than they expected. The Envision Utah effort began shortly after the first light rail track was laid in the city, which had been controversial. But polling showed 88 percent of residents favored expanding the system.
The results from this bolstered Salt Lake City's economy in ways that far exceeded expectations.
"A recent study found the Salt Lake City transit system offering better job access than that of any other city in the country," Schmitt reports. "Regional leaders also point to studies that show local economic growth has been more equitable than elsewhere in the U.S., with gains across many income levels. The region even exceeded federal air quality standards."
The people spoke and the elected officials acted accordingly. There were no conflicts of ideals or views because it solved a number of problems and provided results, and was well worth the investment.
Today 71% of funding for the UTA (Utah Transit Authority) is provided by a local option sales tax that has to be voted on by residents within the county. This "optional" tax proves that people are willing to pay an additional 1% in sales tax in order to fund the light rail system. They believe that the progression and expansion of a passenger rail system will benefit them as individuals and as a community in the long term. Long term is what we need to focus on as a nation when it comes to providing better means of transportation through the construction and maintenance of passenger rail system. Federal funding only provides 13.1% of the total funding. This is the factor that must change. It pays off, not always immediately—but few worthwhile things do.
Today, with a service area of more than 1,400 square miles, UTA is one of the largest geographic public transportation agencies in the country. Covering 75 cities in six counties, UTA provides public transportation services to 80 percent of Utah residents. It also provides an additional 2,000 jobs.
We as supporters of passenger rail travel need to take heed of success stories such as these, and work to implement similar public outreach initiatives in our own communities.
Congress, take notice: build it where they say the want it, and they will come.
"When [NARP] comes to Washington, you help embolden us in our efforts to continue the progress for passenger rail. And not just on the Northeast Corridor. All over America! High-speed rail, passenger rail is coming to America, thanks to a lot of your efforts! We're partners in this. ... You are the ones that are going to make this happen. Do not be dissuaded by the naysayers. There are thousands of people all over America who are for passenger rail and you represent the best of what America is about!"
Secretary Ray LaHood, U.S. Department of Transportation
2012 NARP Spring Council Meeting