Happening Now
Robust, interconnected train networks underpin prosperous cities & regions
Written By Malcolm Kenton
In the first post of a series for the blog Urbanophile, Robert Munson explores what aspects make train stations true "centerpieces of sustainable transit in major North American cities" and what factors may be keeping some stations from reaching their full potential in this regard. This speaks to one of NARP's three core tenets for how our transportation system must evolve to meet the 21st century's needs: connectivity. Intercity passenger rail and local transit are symbiotic and mutually enhancing: if you have one without the other, the one won't be used to its full potential. Modern intercity passenger train networks put many more potential customers within reach of businesses along the line, as witnessed within the past decade withChina's high-speed rail boom.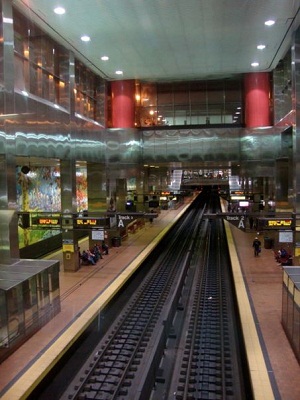 Aside from serving as inviting gateways and facilitating transfers between modes of public transportation, another important role of stations is as a manifestation of a community's civic will. Munson points out that nearly all of America's great train stations were built prior to the Great Depression, in an era when governments collaborated with railroads to create monuments of public utility that symbolized their cities' stature. But after the Depression, passenger trains were left out of the deal that government and corporations made with the citizenry, fostering a car-dependent economy. Munson suggests that in order for trains and transit to regain prominence—as they must if we are to address congestion, pollution, public health, and the other costs that automobile overdependence imposes on society—we need "a deal that allow[s] stations and transit to serve as tools to promote economic growth for households and communities."
Munson points to Philadelphia's three Center City Regional Rail stations as one of the best examples of achieving connectivity which allows Philly's downtown to thrive by making it easy to get in and out of it. The commuter services emanating north and east out of Reading Terminal (now Market East Station) were historically entirely separate from those emanating south and westward from the Pennsylvania Railroad's Suburban Station, requiring a connection between the two stations to be made on foot or by subway (similar to New York's Penn Station and Grand Central Terminal). But the Southeast Pennsylvania Transportation Authority (SEPTA), after acquiring both systems from Conrail in 1983, made a forward-thinking investment in connecting the two via a tunnel, allowing trains to run through from points on the Pennsylvania system to points on the Reading lines and vice versa. In addition, the Center City stations are linked together with SEPTA's subway and trolley lines, the PATCO heavy rail line to New Jersey, and (at 30th Street Station) with Amtrak and New Jersey Transit services.
Munson argues that this supreme example of interconnectivity allows Philadelphia to reap the economic advantages of compactness and, if managed well, permits SEPTA to achieve fiscal sustainability. Chicago's commuter rail system, on the other hand, is still divided between four downtown terminals, two of which (Union Station and Ogilvie Transportation Center) could conceivably be connected by a through tunnel. And of course there's the glaring lack of a rail link between Boston's North and South Stations, which would allow the Massachusetts Bay Transportation Authority's commuter network to achieve similar efficiencies to SEPTA, and would also be a boon to Amtrak, allowing the isolated Downeaster corridor to share facilities with other Amtrak trains.
To replicate Philly's success in other cities, Munson urges historic preservationists to collaborate with a broader civic movement to protect existing public investments in transit and press for their expansion. He is convinced that proper capitalization, combined with a mechanism allowing transportation providers to reap the benefits of economic development around stations, could put more public transportation systems on a path to fiscal sustainability. While some services will always require a subsidy, presumably this means that over time, taxpayers will begin to get a lot more bang for each buck they put into a transportation system that is balanced and efficient.
The first step in this effort to lay the tracks towards a transportation policy framework that will allow railroads to do for the 21st century what they did for the 19th, and what highways and airways did for the 20th, is to continue educate the public and decision-makers about just what rail connectivity does for cities as big as New York and Philadelphia down to smaller places like Meridian, Mississippi and Normal, Illinoisand to show how rail investment is positively transforming regions and nations elsewhere. Your support of NARP makes this pioneering undertaking possible.
View from the atrium of SEPTA's Market East station. Photo by Malcolm Kenton.
"Saving the Pennsylvanian (New York-Pittsburgh train) was a local effort but it was tremendously useful to have a national organization [NARP] to call upon for information and support. It was the combination of the local and national groups that made this happen."
Michael Alexander, NARP Council Member
April 6, 2013, at the Harrisburg PA membership meeting of NARP