Happening Now
Ridin' the Rails -- in Japan
My family and I just returned from a wonderful 10-day trip to Tokyo. I was excited about this trip for many reasons, but one of the biggest was the chance to try out the city's extensive rail transit network.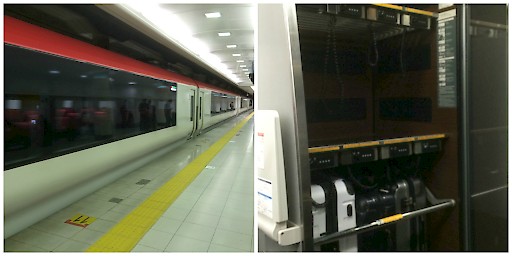 The Narita Express train, left; the luggage rack on the Express train, right.
My first chance to ride the rails was getting from Narita Airport to downtown Tokyo. We bought round trip tickets on the Narita Express ( N'Ex), operated by JR East. There was plenty of space for luggage (including free luggage locks), and comfortable seats on a very modern and fast train. Cleaners came onboard at the each end of the line. It took only 53 minutes to make the trip into Tokyo.
Once we arrived at Tokyo Station, we did decide to take a cab, but only because we were carrying luggage and it was rush hour on the city's extensive subway system, which can be intimidating at first blush.
The next day, we took the subway to Tokyo's Asakusa neighborhood on the Ginza line for shopping, lunch and a kimono photo shoot of my daughter at the Sakura Photo Studio. I'll be honest - I was worried about navigating the subway system, but there were signs in English and riders were always ready to help.
One big adventure was taking the JR Keiyo Line to Tokyo Disneyland, a 35-minute ride from Tokyo Station. We weren't worried about where to get off because there were so many people on the train who were obviously going to the amusement park. Both ways it was a pleasant trip on a clean, modern train.
The biggest trip we took was to Mount Fuji. We rode the Shinkansen bullet train from Tokyo to Odawara, a 50-mile trip covered in 35 minutes. Again, the train was immaculate and we had a row of three seats with a large picture window. The seats also reclined and had a fold-down food tray.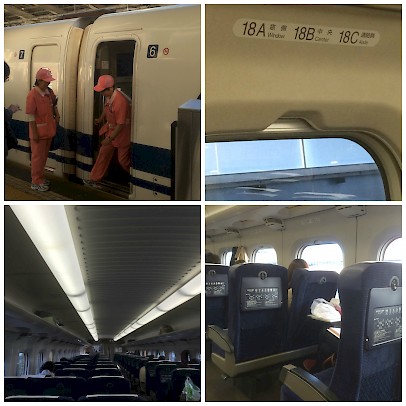 From top left, clockwise: cleaners on the bullet train; seat markings; the train car; and rows of seats.
We could have paid extra to sit in the Green Car, the train's business class section, but we were quite comfortable where we were. Our trip was short, so we did not get to try out the train's food, but I heard rave reviews about what was offered, especially the bento box. Newer trains have power outlets and Wi-Fi.
At Odawara, we transferred to the Hakone Tozan Railway, Japan's mountain cable car. It was a picturesque ride to Hakone-Yumato, which is on the outskirts of Mount Fuji. We also had the option of taking the Odakyu Electric Railway, nicknamed the Romancecar. Depending on which version train (MSE 60000, VSE 50000, EXE 30000 and LSE 7000) is available, they all feature high-end seating with full meal service and is all reserved.

Left: Japan's Romancecar. Center: sign at Hakone-Yumato station. Right: a bullet train.
For the rest of the vacation, we used the subway and trains everywhere we went. Every train car was clean and on time to the second. Some lines even had women-only cars. Japan's railways are operated mainly by seven formerly state-owned companies, along with other private rail companies and regional governments. The system covers nearly 17,000 miles of rail across the island nation.
Coming back home will be a bit of a hard landing! In our document, "The United States of Underinvestment," NARP calculated an existing pipeline of rail projects totaling $208.57 billion. Of that amount, $5.4 billion is needed for Amtrak to acquire new equipment and repair and refurbish its existing aging fleet just to match the modern fleet in Japan. The workhorses of Amtrak's short- and long-distance fleets now are the first Amfleet and Superliner cars which began entering service in 1974 and 1981, respectively, and so are about 35 years old.
The document also called for $5.2 billion to pay for replacement high-speed replacement Acela trainsets in the Northeast Corridor. And NARP has supported high-speed rail projects in California and Texas, along with a privately funded Orlando-Miami rail project in Florida as a way to expand needed service. Here's hoping that with the combined efforts of NARP and its members, we can all get the improved rail service our country so richly deserves.
"We would not be in the position we're in if it weren't for the advocacy of so many of you, over a long period of time, who have believed in passenger rail, and believe that passenger rail should really be a part of America's intermodal transportation system."
Secretary Ray LaHood, U.S. Department of Transportation
2011 Spring Council Meeting