Happening Now
Regional Flight Cuts Damage Mobility and Economic Development
Written By Henry Scherck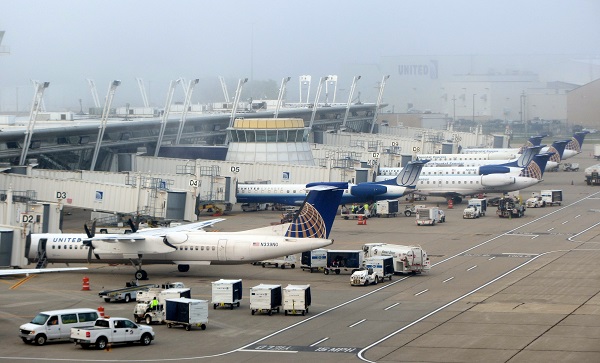 Regional jets are becoming a rare sight at Cleveland Hopkins International Airport. (Photo courtesy of Airchive.com)
Entry edited at 2:20pm on 5/29/14
"Every hub needs to earn its value every day." Such were the words of Jeff Smisek, president of the newly merged United and Continental Airlines. The statement reflects a growing push for "capacity discipline," the concept that every flight must be as close to capacity as possible. This concept has driven airlines to cut service to mid-sized markets, even certain hubs. "Our hub in Cleveland hasn't been profitable for over a decade," Smisek continued, speaking of Hopkins International Airport, "and has generated tens of millions of dollars of annual losses in recent years." As a result, United has cut its flights to the regional hub by 60%, reducing the number of flights, from around 200 to 75.
The ongoing push for profitability by rapidly-merging US airline companies has led them to cut regional service in favor of long distance flights—consistent and reliable sources of revenue for domestic carriers. Yet, this push for profitability, as the Cleveland hub cut has exemplified, has come at the expense of local and regional flight frequency and service. "The nation's small- and medium-sized airports have been disproportionately affected by these reductions in service," says a recent report from MIT's International Center for Air Transportation. As airlines make fewer stops in regional markets like Cleveland, residents in the vicinity suffer a major loss of transportation options. According to the MIT study, in addition to fewer flights, smaller markets have seen a rise in fare cost to an average of $374 for domestic air travel, a 4-percent rise from 2007. The study concludes that, "at the end of the day, the airlines' individual route profitability will continue to decide which airports are served and which are not."
Yet, this push for transportation profitability has come at the expense of regional economic viability. Founded in 1925, Cleveland Hopkins International Airport was the first municipally-owned airport in the United States, and generations of Cleveland taxpayers have contributed to continue air service at the state's largest airport. With United's departure, this investment in regional mobility becomes null. These investments are now failing to bring returns for taxpayers, and the flight frequency cuts have already begun to hurt the city's business climate. Ellen van der Horst, President and CEO of Chiquita International Brands, cited the departure of airlines such as United and Delta as one of the main factors of the decision of the company to leave the city for North Carolina in 2012. With the loss of over 430 jobs for airport operations alone, the Greater Cleveland Partnership has estimated that the total economic losses to the region amount to over $4 billion.
Taxpayers deserve a return on their investment which will guarantee them both positive economic benefits and enhanced mobility. Yet, the elimination of regional air services leaves an ever-larger number of people without viable mass transit options. At the same time, some leaders are seeking to cut funding to Amtrak or remove regional routes completely. Nonetheless, a recent study by the Brookings Institution cites Amtrak's regional trains which travel under 400 miles as the most lucrative in the system, and are currently working at a positive operating balance. In addition, regional rail routes have the capacity of not only connecting regional cities to major ones, as do airlines, but also connect multiple pairs of regional and small markets to one another. For example, Amtrak's Adirondack service, which connects New York City to regional markets such as Albany, Saratoga Springs and Plattsburg, serves a total of 19 individual locations, while also connecting 171 different city pairs. This means that one single passenger train functions effectively as 171 individual regional flights, including between markets as small as Fort Edward and Rhinecliff, NY. In a day when airlines are cutting service to cities as large as Cleveland, direct air service to even a fraction of the locations served by the Adirondack is unthinkable.
This drive for profitability in the airline industry leaves an increasingly greater share of the transportation market open for passenger rail, and the demand is there. Amtrak has consistently set ridership records for the nine of the past ten years. Even Cleveland's Lakeside Station, served by only two Amtrak trains, both of which arrive incredibly inconveniently between 1 and 6 AM, is the state's second busiest station, and was recently listed on a report of Amtrak's busiest markets. As airlines depart for more profitable long distance markets,further development of passenger rail service is becoming all the more necessary to many significant regions in need of transportation options. Now, more than ever Americans need passenger rail for a foundation of regional mobility and economic growth.
"The support from the Rail Passengers Association, and from all of you individually, has been incredibly important to Amtrak throughout our history and especially so during the last trying year."
Bill Flynn, Amtrak CEO
April 19, 2021, speaking to attendees at the Rail Passengers Virtual Spring Advocacy Conference