Happening Now
Rally to Restore the Sunset Limited!
Written By Sean Jeans Gail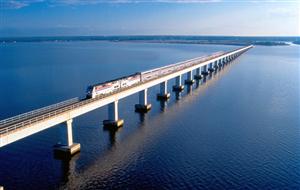 Rally to Restore the Sunset Limited!
Local train advocates are holding a rally to help restore the Sunset Limited at 11am on Saturday, June 23rd.
The event will be held at the historical Tallahassee Train Station, and will feature speakers, live Music, food and refreshments. The rally will move over to the Railroad Square Art Park for a free concert by JB's Zydezo Zoo.
There will be a special evening concert featuring Dwayne Dopsie and the Zydeco Hellraisers held at The Moon (tickets $10 advance; To purchase tickets for Dwayne Dopsie & the Zydeco Hellraisers visit www.222moon.com).
[Any interested attendees with questions should contact bbibler[at]comcast.net]
The event was spearheaded by local elected officials, groups such as the Florida Coalition of Rail Passengers, and grassroots advocates for train travel. One of the driving forces behind the swelling movement to bring back the Sunset Limited has been local advocate Bart Bibler, who recently explained why he's been so impassioned by the dire lack of intercity rail in the region: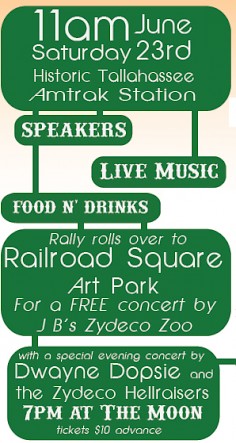 The Amtrak Sunset Limited, according to Wikipedia, was the only truly Transcontinental Passenger Route in American History. Hurricane Katrina damaged the train tracks in 2005, and though the tracks were repaired and freight service restored within a year, Amtrak didn't restore passenger service. There are now 13 Stranded Stations from New Orleans to Jacksonville Florida. Though it's part of Amtrak's National Route System, they have categorized it as "Suspended" since then, essentially saving money due to this natural disaster. Now to get from Jacksonville to New Orleans, you must first go to North Carolina. This is a National Disgrace.
The genesis of this issue for me was the 2003 New Orleans Jazz Fest. My wife and I took the Sunset Limited and enjoyed not having to hassle with a car, and a relaxing view of the Gulf Coast region playing cards and sipping beverages. When we went there this year, we had to drive, since we now have no passenger train service in Tallahassee.
I decided that the best way to get this service restored was to request that the Tallahassee City Commission pass a resolution, and commit to a campaign to get other local governments to do the same, lobby our Governor's Office, and lobby key Congressional Legislators to get the service restored.
The City unanimously agreed, and provided the Mayor John Marks' staff and City Commissioner Nancy Miller's aide for getting emails and letters out to local governments along the route (first in Florida), and continuing these efforts all the way to New Orleans. The National Association of Rail Passengers (NARP) and the Florida Coalition of Rail Passengers (FCRP) have been tremendously helpful, including participation in the February Press Conference held at Tallahassee's Historic Rail Station. The FCRP quickly created a Sunset Limited Facebook Page, and the NARP established an Action E-mail campaign and updated Gulf Coast Sunset Limited web pages.
Amazingly, a new passenger route has been proposed from Jacksonville to Miami, which would include eight new stations. It makes little sense to bring South Floridians to Jacksonville, but if they want to travel west, must first go up to North Carolina.
Fortunately, there is an immediate opportunity to straighten this out. A federal Transportation bill is currently under consideration by Congress. And, use of the BP Spill settlement funds as part of the RESTORE Act are being negotiated by a Congressional conference committee as part of the Transportation bill. Sen. Bill Nelson and Congressman Steve Southerland (both from Florida) have been named to this conference committee. Other Gulf Coast members include Sen. Richard Shelby from Alabama and Sen. David Vitter of Louisiana. There has been ongoing economic harm to the Gulf Region since Hurricane Katrina in 2005 damaged the tracks, and the RESTORE Act funds may be used to address economic development. Numerous local governments along the route have passed resolutions urging that this service be restored. Here in Tallahassee, the City has spent millions of dollars to redevelop the area around our Historic Train Station, yet we are one of the 13 "Stranded Stations" along this route without passenger rail service.
The Florida Coalition of Rail Passengers will hold a Rally for Restoration of the Amtrak Sunset Limited Service on Saturday, June 23, at the Historic Tallahassee Amtrak Station and at a large field area within nearby Railroad Square. This will be a joint Rally with the National Association of Rail Passengers, in partnership with the City of Tallahassee, Leon County, and its Tourist Development Council. It will begin about 11:00 AM at the station, where we will have numerous speakers, including Congressional members, local government officials, and good turnout of FSU and FAMU students. We will then move to the Railroad Square Art Park field, and enjoy an afternoon of Tallahassee Zydeco music by JB's Zydeco Zoo. This event will include great Cajun food, assorted beer and wine. In the evening, we will be entertained by Dwayne Dopsie and the Zydeco Hellraisers, the finest Zydeco band in New Orleans, starting at 7:00 PM at The Moon (tickets only $10 in advance, thanks to sponsorship by Scott Carswell, www.222moon.com).
I hope that you will help support these efforts to restore passenger rail service to the Gulf Region, and end this National Disgrace. Please come to the Rally, lobby your elected officials, and enjoy the music and the day! If you care, please be there.
-Bart Bibler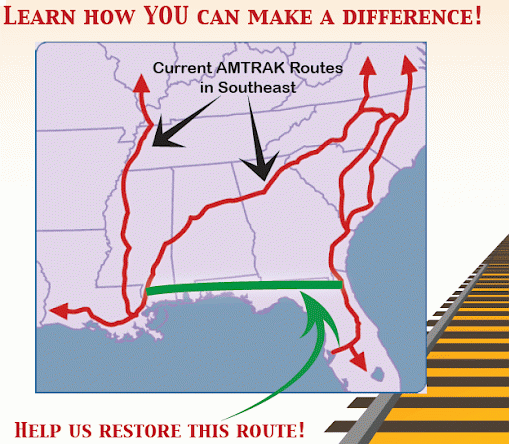 "The National Association of Railroad Passengers has done yeoman work over the years and in fact if it weren't for NARP, I'd be surprised if Amtrak were still in possession of as a large a network as they have. So they've done good work, they're very good on the factual case."
Robert Gallamore, Director of Transportation Center at Northwestern University and former Federal Railroad Administration official, Director of Transportation Center at Northwestern University
November 17, 2005, on The Leonard Lopate Show (with guest host Chris Bannon), WNYC New York.