Happening Now
Pueblo Rally shows strong support for Southwest Chief
Written By Jenna Jablonski
Saturday marked another step in the fight to save Amtrak's Southwest Chief. A crowd of 100 Pueblo residents, politicians, and regional supporters showed up to a press conference in Pueblo Colorado to hear State Representative LeRoy Garcia's solution for the train which is threatened to be rerouted outside of Colorado or discontinued altogether.
Standing on a historic locomotive behind the Union Depot, Rep. Garcia explained his newly introduced bill that would not only save the route but would add Pueblo as a stop. First, to address funding concerns, he called for the formation of a finance committee to pursue funding for the Colorado portion of the track. Further, he proposed adding Pueblo to the route which he claims would increase ridership.
The bill has been cosponsored by 28 legislators, including State Senator Larry Crowder (R-Alamosa), who was present on Saturday. Pueblo County Commissioner Sal Pace also expressed his support for the bill at the rally, adding that the local steel mill could produce the rails for the 200 miles of tracks to be repaired.
Overall, Saturday's rally showed the determination of legislators and Coloradoans to keep the Southwest Chief serving their community. However, the movement still needs more support. Pace specifically urged event attendees to call Colorado Governor John Hickenlooper, a key player who has yet to back Garcia's bill.
To show your support for Garcia's bill to save the Southwest Chief:
1. Call Governor Hickenlooper at (303) 866-2471
2. Tweet at Governor Hickenlooper @hickforco
3. Stay tuned to NARP's blog and social media for more updates!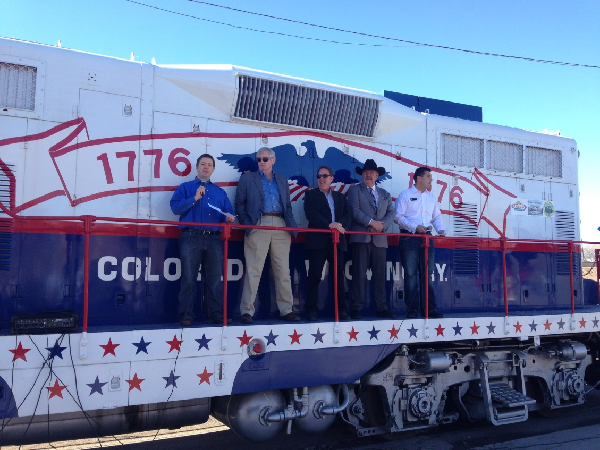 Pueblo County Commissioner Sal Pace; James Souby, Colorado Rail Passengers Association and National Association of Railroad Passengers; Charlie Skidmore, SMART Union; State Senator Larry Crowder; and State Representative Leroy Garcia (L-R). Photo by Rick Manzanares, Execuitve Director, Canyons & Plains of SE CO
"It is an honor to be recognized by the Rail Passengers Association for my efforts to strengthen and expand America's passenger rail. Golden spikes were once used by railroads to mark the completion of important rail projects, so I am truly grateful to receive the Golden Spike Award as a way to mark the end of a career that I've spent fighting to invest in our country's rail system. As Chair of the Transportation and Infrastructure Committee, it has been my priority to bolster funding for Amtrak, increase and expand routes, look to the future by supporting high-speed projects, and improve safety, culminating in $66 billion in new funding in the Bipartisan infrastructure Law."
Representative Peter DeFazio (OR-04)
March 30, 2022, on receiving the Association's Golden Spike Award for his years of dedication and commitment to passenger rail.