Happening Now
Protect America's Passengers From Amtrak-Killing Cuts
Written By Sean Jeans Gail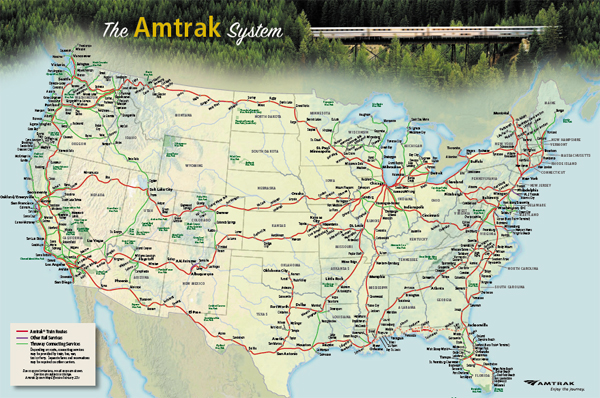 Representative Paul Ryan's plan to eliminate all funding for Amtrak operations earlier this week (part of a larger budget proposal) is, sadly, part of an all too predictable trend: a leading House Republican argues to eliminate funding to Amtrak because it doesn't make money—all while failing to apply that same standard to roads and highways. It's certain that by starving Amtrak of funds, the Wisconsin Congressman's plan would kill the railroad, denying a critical transportation link to tens of millions of Americans.
But there are other Republican visions for trains that would strengthen the national network, and these plans need your support.
Tell Congress to say "NO" to this Amtrak-killing proposal!
Amtrak enjoys support from across the political spectrum, including powerful Republicans such as Rep. Tom Latham (R-IA), who has long supported Amtrak's national network; Senator Susan Collins (R-ME), who received the NARP Golden Spike for the integral role she played in initiating the Downeaster service; and many more who are willing to work in a bipartisan fashion to modernize and expand America's passenger rail network.
However, there is no more prominent Republican booster for Amtrak than the railroad's President & CEO, Joseph Boardman. Before his time at Amtrak, Boardman served as Transportation Commissioner for the Republican Governor of New York, George Pataki. He went on to head the Federal Railroad Administration under President George W. Bush. Boardman is proof of the strong vein of support in the Republican party. He reiterated this support in a meeting this week with local mayors in Alabama, where he passionately defended the long distance trains as the "backbone" of America's national network:
"They are vital to the communities and people they serve, and increasingly important as airlines and bus companies abandon significant regions of America… We see the characteristics of our population are changing… people are coming back to the centers of cities. But they need to get between the metropolitan areas. That's what intercity rail is about, that's what Amtrak's about. We connect the country border to border, coast to coast."
Boardman was clear in his warnings warned that the current anemic levels of government funding have eroded quality of Amtrak equipment and infrastructure; that recent disruptions to service would escalate, driving passengers away; and that the status quo is simply unsustainable.
"That [we set ten annual ridership records in 11 years] in spite of serious obstacles says a lot about the demand—but the losses we did see are just the first of the challenges we can expect to face if we do not act now to stop the decay of the Amtrak system," he told the assembled mayors.
Tell Congress to support America's passenger trains!
"When [NARP] comes to Washington, you help embolden us in our efforts to continue the progress for passenger rail. And not just on the Northeast Corridor. All over America! High-speed rail, passenger rail is coming to America, thanks to a lot of your efforts! We're partners in this. ... You are the ones that are going to make this happen. Do not be dissuaded by the naysayers. There are thousands of people all over America who are for passenger rail and you represent the best of what America is about!"
Secretary Ray LaHood, U.S. Department of Transportation
2012 NARP Spring Council Meeting