Happening Now
Proposed cuts will strand rural Canadians
Written By Colin Leach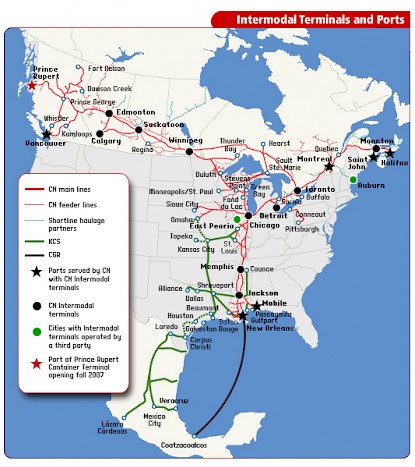 CN Railway Network
While NARP traditionally focuses on issues of relevance to U.S. passenger rail, we are also firm supporters of passenger train service in our neighbor to the north. Last week, we sent a letter to Canadian Ambassador Gary Doer protesting the proposed discontinuation of passenger train service between Sault Ste. Marie and Hearst, Ontario. In the same letter, we also warned the Ambassador of the possible discontinuation of service between Montréal, Quebec and Halifax, Nova Scotia. In today's blog, we'll explain why these services are so critical to rural Canadians and why the debates over these mirror similar debates in the United States.
In discussing the Sault Ste. Marie-Hearst service, we should point out that this route is not, like most passenger trains in the country, run by VIA Rail Canada. It is instead operated by the Canadian National Railway, who took over the route when it acquired the Algoma Central Railroad in 1995. For decades, this service has played a crucial role in linking rural Canadians with major metropolitan areas. Passengers traveling from small communities such as Hearst, Albany Branch, Hawk Junction, and others can connect in Sault Ste. Marie to intercity bus and airline travel to destinations such as Toronto, Thunder Bay, and Sudbury. Without this link, area residents would become increasingly dependent on private automobile usage. That's by no means desirable, given frequently treacherous driving conditions on rural roads.
Furthermore, the service plays a key part in the local economy. Hunters and sportsmen flock to the area in summer and fall and often use the train to reach lodges and campsites. Ian McMillian, director of Tourism Sault Ste. Marie, expressed fears that discontinuing the service would "have significant economic impact on the tourism industry". Total ridership on the line is estimated at 10,000 per year, indicating significant patronage.
Why has the service been canceled? The immediate cause was Transport Canada's finding that the line did not qualify for government subsidies to rural passenger rail services. In the ministry's view, residents of communities along the route have "year round-access to the national transportation system through other means, such as highways, meaning the route isn't necessary. In this sense, the ministry's argument mirrors the same tired argument U.S. rail advocates have heard for years: passenger trains serving rural areas aren't necessary, because residents can use highways instead.
But this argument rests on the specious assumption that rural residents neither need nor deserve transportation choices. As we've consistently argued, transportation choice is key to greater economic mobility and growth. Continued reliance on highways denies citizens the economic good and greater flexibility offered by a balanced transportation network. This is undoubtedly true in the case of the Sault Ste. Marie-Hearst train. By discontinuing support for the train, the Canadian government jeopardizes a proven economic engine. And what's more, the subsidy for the train is only a small fraction of what the government is spending on area roads. One local lodge manager lamented that the government was prepared to spend more than $300 million on an all-weather road to the Arctic Ocean, but "doesn't have $2 million to keep a remote rail service going." The Canadian government's decision to cancel funding reflects the same cognitive bias against balanced transportation that has also long characterized U.S. transportation policy.
The same bias can be seen in Ottawa's attitude towards VIA Rail service between Montreal and Halifax. Recently, Canadian National announced that it intended to abandon its line between Bathurst and Miramichi, which is only used by VIA's train. VIA has ruled out acquiring the line, stating that "it does not have the financial resources" to do so. No aid has been forthcoming from the federal government, either. Transport Canada has maintained that the line's fate is a "private matter, not one for the federal government", rendering the possibility of federal intervention unlikely.
Here, U.S. advocates might find parallels in the ongoing debate over the Southwest Chief. As we've reported to you, Burlington Northern Santa Fe has announced that declining demand for freight capacity on a portion of a mainline in Kansas, Colorado, and New Mexico means they will no longer maintain that segment to the level required for passenger trains, which run at higher speeds than freight trains. Community leaders and state legislators have expressed concern at the fate of the Chief, arguing that the train represents an important transportation option for towns such as Hutchinson, La Junta, and Lamy. So far, their efforts have raised the issue's profile and attracted federal interest in the problem. Rail advocates in New Brunswick and Nova Scotia can make the same claims as defenders of the Chief: consistent, frequent rail service can cost-effectively serve rural communities.
In the face of further economic integration between the United States and Canada, it is clear that both countries will require a balanced transportation network. Passenger rail is a key part of that balance, ensuring that American and Canadian communities of all sizes are connected. And that's why NARP can be counted on to fight for service in Canada as much as we do for service in the United States. Without comprehensive service, we cannot build the transportation network of tomorrow.
"I wish to extend my appreciation to members of the Rail Passengers Association for their steadfast advocacy to protect not only the Southwest Chief, but all rail transportation which plays such an important role in our economy and local communities. I look forward to continuing this close partnership, both with America's rail passengers and our bipartisan group of senators, to ensure a bright future for the Southwest Chief route."
Senator Jerry Moran (R-KS)
April 2, 2019, on receiving the Association's Golden Spike Award for his work to protect the Southwest Chief