Happening Now
Passenger FAQ on Navigating Public Transportation During Pope Francis's Visit
The good news: you got tickets to see Pope Francis during his visit first visit to the United States, with stops in Washington, D.C., New York City and Philadelphia. The bad news is that heightened security and huge crowds will make navigating these three cities a bit more challenging.
The National Association of Railroad Passengers (NARP) is here to help with tips that will help you use public transportation—whether you're attending the event, or just live in one of the affected cities and are trying to go about your day—to get you where you need to go. The most important tip: buy ALL of your transportation tickets in advance.
WASHINGTON, D.C.
The pope with be in the nation's capital from Tuesday, Sept. 22 through Thursday, Sept. 24, 2015. The city's Metrorail system will operate regular hours on all days of the Papal visit, with stations opening at 5:00 a.m. and closing at midnight. While all stations will be open, some entrances may be closed temporarily for security needs.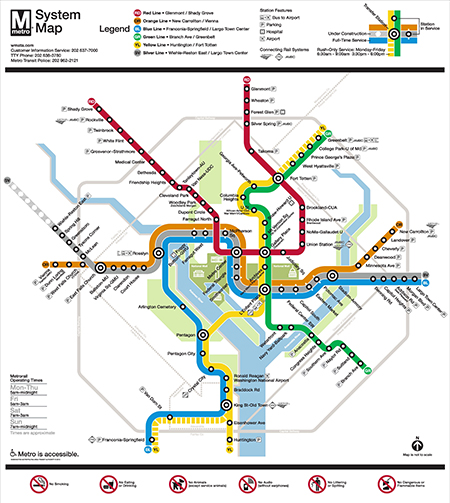 Washington's Metro will add train service during non-peak hours on Sept. 23-24 during the pope's visit. But riders should expect significant crowding aboard trains and at rail stations near papal events. You may need to wait hours to catch a train, so allow extra travel time.
For those traveling in and out of the Brookland Station—the one closest to the mass being held at Catholic University's Basilica on Sept. 23—may be designated "exit only" prior to the event and "entry only" following the event. Riders may want to consider using two adjacent stations: Rhode Island Avenue and Fort Totten. Rhode Island Avenue is about a 20-minute walk to Brookland; Fort Totten is about 35 minutes away.
While the city's Metrobus service will operate on a regular weekday schedule during the Papal visit, many routes will be adjusted, detoured or shortened. Click here for the latest updated information on what those changes will look like. Riders are strongly encouraged to allow extra travel time and sign up for Metro Alerts email and text messages to be notified of any late changes or real-time updates.
NEW YORK CITY
Pope Francis arrives in New York City on Friday, Sept. 25. His visit also coincides with the 70th anniversary of the United Nations General Assembly, so the New York Police Department warns that it will be extremely difficult to get around. It notes there will be many street closures and massive gridlock, and strongly suggest that visitors take mass transportation.
The Metropolitan Transit Authority's (MTA) has increased the number of trains and buses to support travelers during Pope Francis' visit. MTA's Long Island Rail Road will operate eight extra westbound trains into Penn Station on Sept. 25.
Penn Station will remain open during the Papal Mass at Madison Square Garden, but some staircases may be closed at times for security reasons or to manage crowds. Extra eastbound trains will be on standby at Penn Station to carry people back to Long Island after the mass ends.
On Friday, Sept. 25, MTA's Metro-North railroad will operate three additional inbound trains, leaving:
Poughkeepsie on the Hudson Line at 10:37 AM;

Southeast on the Harlem Line at 10:08 AM; and

Fairfield Metro on the New Haven Line at 11 AM.
There will also be extra trains and crews stationed in Grand Central Terminal and outlying locations to be dispatched as needed to provide additional capacity. Some trains will be combined and canceled to provide crews and equipment for additional trains, so click here for the latest changes.
Visitors are being encouraged to sign up here for all MTA text and email alerts for the latest on transit and traffic conditions.
The Port Authority of New York and New Jersey's PATH will offer extra service on the Journal Square to 33rd Street and Hoboken to 33rd Street lines on Friday, Sept. 25.
The Port Authority is working closely with NJ Transit and other bus carriers to accommodate increased bus demand and will be prepared to handle extra buses at the Port Authority Bus Terminal or George Washington Bridge Bus Station.
PATH, the Bus Terminal and the Port Authority's Hudson River crossings - the George Washington Bridge and Lincoln and Holland tunnels - will have a full complement of toll collectors, customer assistance staff and police personnel on duty. Travelers are urged to sign up for Port Authority alerts to keep up with the latest traffic and service information.
New Jersey Transit is warning travelers about large crowds, enhanced security measures and delays during the papal visit. It said riders should prepare for long wait times on the evening of September 25.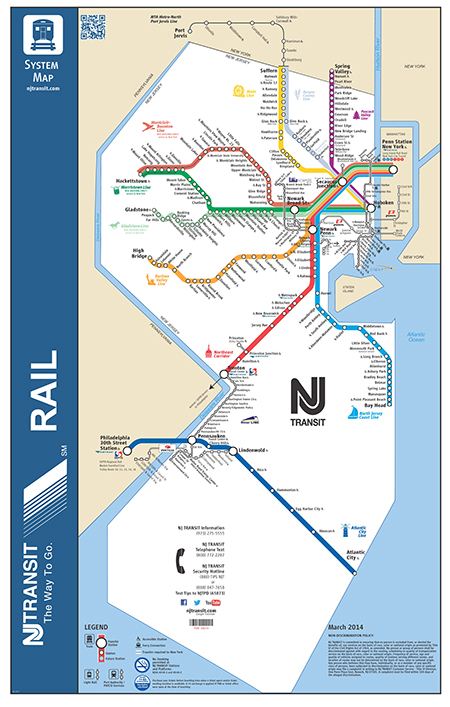 NJ Transit will operate extra rail service during off-peak times into New York's Penn Station and enhanced bus service into the Port Authority Bus Terminal (PABT) throughout the day. It will also offer signage and posters at all major rail stations and bus terminals on travel options and dispatch transit ambassadors to help. Special queuing in Penn Station New York will be in place to handle crowds.
NJ Transit is also working closely with other partners in the region to provide alternate transit options throughout the visit. For example, customers can transfer to PATH service at Newark Penn Station or at Hoboken, where they can also travel via NY Waterway. NY Waterway will operate its regular service for Thursday and Friday but will have boats on standby if needed. NY Waterway also has additional commuter ferry capacity from a number of locations to accommodate New Jersey residents coming to New York City during the papal visit.
Amtrak will provide direct rail service to 30th Street Station in Philadelphia, with some trains making stops in New Jersey including Newark, Metropark, Princeton Junction, Hamilton and Trenton. Travelers are encouraged to visit NJ Transit's special web page to keep up with any transportation changes during the pope's visit.

PHILADELPHIA
Pope Francis will be in the City of Brotherly Love from Saturday, Sept. 26 through Sunday evening, Sept. 27. A special $10, three-day SEPTA transit pass (valid from Sept. 26 through Sept. 28) will be sold for travel on subways, buses and trolleys in Philadelphia, along with one-day special event passes available from Regional Rail for Saturday and Sunday for $10 each in advance. No passes will be sold on the dates of the papal visit.
Travelers riding on Amtrak will need to have a special pass for that weekend in order to board the train. It plans to add extra coaches and trains as necessary to accommodate visitors. Travelers will need to have reservations, and they won't be allowed to buy tickets on board trains. For the latest Amtrak news on the papal visit, click here.
SEPTA will close 251 of its 282 rail stations — subway, regional rail and trolley — to convert its network to express service. Trains will be loaded at one of 31 stops and travel directly into Center City Philadelphia. Click here for an interactive version of the map below for details of available service at each stop.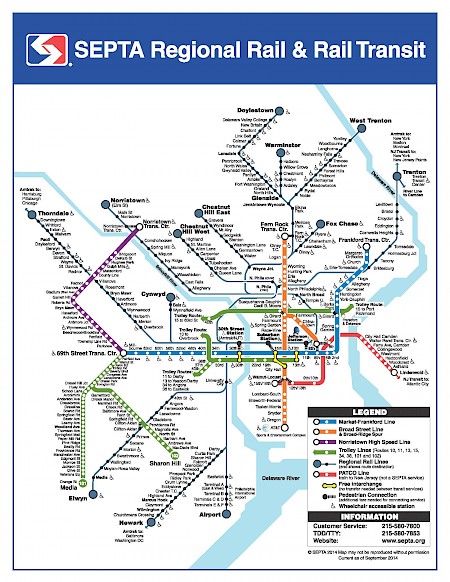 SEPTA Regional Rail trains will operate express-type, pick-up only service to the the city from these 18 outlying stations, with service in reverse after the events end. Check SEPTA's website for service information and updates.
"It is an honor to be recognized by the Rail Passengers Association for my efforts to strengthen and expand America's passenger rail. Golden spikes were once used by railroads to mark the completion of important rail projects, so I am truly grateful to receive the Golden Spike Award as a way to mark the end of a career that I've spent fighting to invest in our country's rail system. As Chair of the Transportation and Infrastructure Committee, it has been my priority to bolster funding for Amtrak, increase and expand routes, look to the future by supporting high-speed projects, and improve safety, culminating in $66 billion in new funding in the Bipartisan infrastructure Law."
Representative Peter DeFazio (OR-04)
March 30, 2022, on receiving the Association's Golden Spike Award for his years of dedication and commitment to passenger rail.