Happening Now
Parochial Politics Shouldn't Stop Statewide Progess
Written By Colin Leach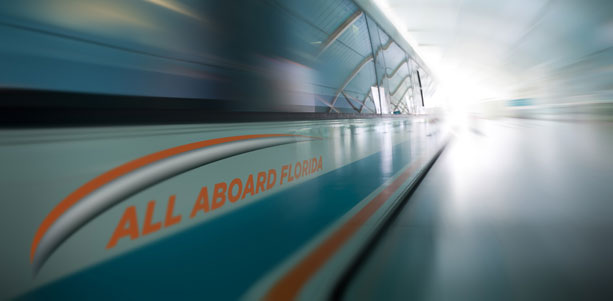 One of the more exciting ventures in American passenger rail today is All Aboard Florida's proposal to offer passenger rail service between Orlando and Miami. The service, which will complement Amtrak's existing long-distance trains in the same corridor, will offer Floridians an excellent alternative to Interstate 95 and promises to jumpstart economic growth in Orlando, West Palm Beach, Fort Lauderdale, and Miami. However, like many other proposed passenger rail services across the country, including California's ambitious Los Angeles to San Francisco high speed train, All Aboard Florida has become the target of local criticism concerning the service's impact on individual communities.
These concerns were recently voiced by Representatives Patrick Murphy and Lois Frankel. In their letter to U.S. Department of Transportation (DOT) Secretary Anthony Foxx, Murphy and Frankel urged federal policymakers to "appropriately assess" All Aboard Florida's promised profits with the "safety, economy, and livability" of the communities along the route. Among other things, the Representatives stated that DOT should require All Aboard Florida and its parent Florida East Coast to contribute to the cost of improved grade crossings, structure its schedule in such a way as to not cause undue interference to automobile traffic at crossings, and also account for lift bridges and delays in maritime traffic.
We at NARP would not disagree that safety should be a priority, and we also would not disagree that passenger rail projects should minimize inconvenience to existing modes. But we question whether it is appropriate, as Murphy and Frankel suggest, to require the railroad to contribute an undue share of the cost of infrastructure improvement. The federal government directs tens of billions of dollars every year to highways, and, as we we reported to you last summer, programs such as TIGER and HSIPR exist to fund all kinds of infrastructure improvements. Considering that All Aboard Florida has committed a great deal of private capital to this necessary transportation project, it is unreasonable for policymakers to impose further costs on the railroad. Bipartisan support for public-private partnerships in transportation is widespread; and with good reason, as these partnerships typically produce large cost savings and slash project completion time. Representatives Murphy and Frankel, however, appear not to agree with this consensus, and strangely believe that there is no role for public support of a private transportation initiative.
Parochial interests aside, there are no substantive reasons to oppose the All Aboard Florida project; on the contrary, there are many more supporting its completion. Within the current political climate, All Aboard Florida represents the best chance Floridians have at having frequent, useful passenger train service to reduce congestion on Interstate 95. Regular train service along the corridor would remove as many as three million carsfrom regional highways each year, reducing both commuter stress and road fatalities. With 300 drivers killed in road accidents between 2004 and 2008, Interstate 95 has been ranked as the deadliest highway in the United States. A passenger rail alternative will thus save lives.
We also shouldn't forget that the service will prompt substantial economic development along the length of the line. Nearly one million Floridians live fewer than five miles from the route's four proposed stations, and travellers take more than 50 million trips a year in the Miami-Orlando corridor. The market for passenger rail service exists and can be expected to consistently grow in the future. And these projections of economic growth don't even include the tens of thousands of construction jobs created by the line or the 500 permanent positions needed to operate the service. As we have argued in the past, building passenger rail means building good jobs, giving Floridians another reason to rally behind All Aboard Florida.
Railroads have always provided the foundation for Florida's development. More than a century ago, Florida East Coast opened Florida's Atlantic coast to travelers, tourists, and investors, and laid the foundation for the state's present economic strength. Today, Florida East Coast will once again harness the power of the railroad to bolster Florida's economic growth. But that won't happen unless advocates make a stand for balanced transportation and counter short-sighted local opposition.
"It is an honor to be recognized by the Rail Passengers Association for my efforts to strengthen and expand America's passenger rail. Golden spikes were once used by railroads to mark the completion of important rail projects, so I am truly grateful to receive the Golden Spike Award as a way to mark the end of a career that I've spent fighting to invest in our country's rail system. As Chair of the Transportation and Infrastructure Committee, it has been my priority to bolster funding for Amtrak, increase and expand routes, look to the future by supporting high-speed projects, and improve safety, culminating in $66 billion in new funding in the Bipartisan infrastructure Law."
Representative Peter DeFazio (OR-04)
March 30, 2022, on receiving the Association's Golden Spike Award for his years of dedication and commitment to passenger rail.