Happening Now
On The Passing of Joe Boardman
March 21, 2019
A good friend and a great rail supporter!
By Bruce Becker – Vice-President Operations
I was fortunate to have attended Joe Boardman's funeral in Rome, NY on Friday, March 15, representing the Association and also there to honor a long-time friend. Joe's very untimely passing was a shock to his large extended family, to his many friends and to the entire rail community. Over 300 celebrated Joe's life and legacy of public service with many representatives from the New York State Department of Transportation, the Federal Railroad Administration and Amtrak in the congregation.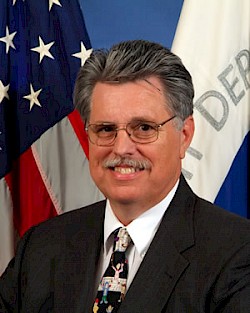 I grew up in Utica, NY, only a few miles from Joe's family farm home in Taberg, NY (located north of Rome). I first met Joe back early in his public transportation career when he was the head of Utica (NY) Transit Authority. I graduated from Utica Free Academy (UFA was one of Utica's then 3 public high schools) in 1976. Joe had proudly attended Rome Free Academy (being a smaller city, RFA was Rome's only public high school), having graduated ten years earlier in 1966. RFA had a long traditional of trouncing UFA in football and I remember Joe highlighting this fact to me at that first encounter in the early 1980's. And for more than thirty years, every time I was with Joe his inevitable first words would be 'so Bruce, how's that UFA football team doing!' During the funeral service, he was eulogized for his great ability to always find connections with the people he met and for Joe & I that connection was RFA/UFA football!
| | |
| --- | --- |
| | |
| Rome Free Academy | Utica Free Academy |
Fast forward to the early 2000's when I was living in Albany, NY and had become the President of the Empire State Passengers Association. Joe was Commissioner of Transportation for New York State at the time and NYSDOT was entangled in the ill-conceived (and highly politically-motivated) Rohr Turboliner rebuilding project. The program had started in 1998, but as delays continued to mount over four years later (with no train sets yet in service), the entire effort was shrouded in great state secrecy. I recall a meeting with Joe where (after talking football of course) he vehemently blamed Amtrak for the delays. The first ill-fated train set finally entered service in April 2003, only to be withdrawn by Amtrak after only a few months of use. In the summer of 2004 Amtrak moved the three completed sets to their Wilmington, DE shops, which prompted Joe to publicly exclaim "Somebody stole my trains, and I want them back". Little did Joe know at the time that he would indeed get them back in 2008 when he became Amtrak President.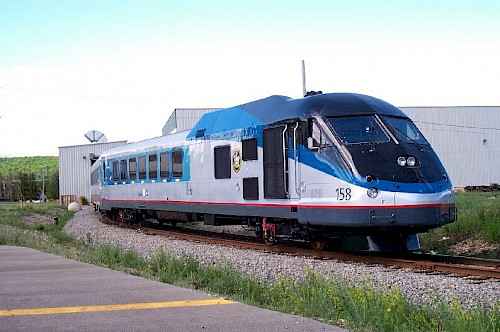 The first NYS rebuilt Turboliner in 2001 - It finally briefly entered service two years later!
At the service, Joe's brother David, asked the congregants to shout out a word that embodied Joe's life. 'Honest, trustworthy, humble, sincere and dedicated' were offered time after time by those there that knew him well, but mere words couldn't capture Joe's real character. Amtrak had requested a nationwide moment of silence at 11:00am, the time of the service. to be followed by the sounding of locomotive horns. Matt Donnelly, a current Amtrak Marketing Department employee, arranged for a former F40 horn set to be blown outside the church at 11:01am, at that same moment. Trains Magazine correspondent Bob Johnston captured it in this short video -
I was standing with Congressman Paul Tonko and Amtrak's Brian Gallagher at the moment the horn blew and I can assure you that we, as did most in the congregation, did not have dry eyes! It was in that moment that we all felt the true spirit of Joe Boardman! Rest in peace my friend.
Top Banner Photo - Rome, NY Amtrak Station
"When [NARP] comes to Washington, you help embolden us in our efforts to continue the progress for passenger rail. And not just on the Northeast Corridor. All over America! High-speed rail, passenger rail is coming to America, thanks to a lot of your efforts! We're partners in this. ... You are the ones that are going to make this happen. Do not be dissuaded by the naysayers. There are thousands of people all over America who are for passenger rail and you represent the best of what America is about!"
Secretary Ray LaHood, U.S. Department of Transportation
2012 NARP Spring Council Meeting