Happening Now
On the local level, there's a solid consensus for greater investment in mobility
Written By Malcolm Kenton
An editorial in this past Saturday's Santa Fe New Mexican lays out all the assets that northern New Mexico would no longer enjoy if Amtrak's Southwest Chief is unable to continue to operate on its current route between Newton, KS and Albuquerque. This segment of the route has little to no freight traffic, so BNSF is demanding that Amtrak and the affected states pay most of the cost of maintaining the segment to safely accommodate passenger trains at top speeds of 79 mph.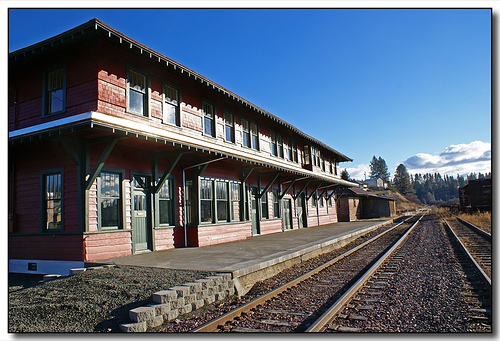 The state would lose a $29 million annual positive economic impact without the train, the editors argue, but keeping the train running and the tracks properly maintained would only cost the state $4 million over 10 years ($400,000 per year). That's a 73 to 1 benefit-cost ratio! Among the losses that the affected New Mexico communities would suffer are tax revenues from BNSF (which would be free to abandon the segment if no agreement is reached with Amtrak to continue the Chief past Jan. 31, 2015), the consumer spending of visitors who arrive by train and residents who depend on the connectivity the train offers (who may move elsewhere if the train goes), and the "stories of tourists and artists arriving in Lamy to experience the West firsthand, many returning to make homes here," as the editorial puts it.
Even if there are still many on Capitol Hill and in statehouses who don't realize the tremendous bang for the buck that we citizens and taxpayers get from Amtrak service, it is abundantly clear that people at the grass roots—the county, city and town level—have first-hand experience with its benefits. Another state where that's the case is Kentucky, where solid majorities of residents of this mostly rural state with very limited Amtrak service (only four stations in the state, with three of those served only three days a week) who were polled expressed support for more train service.
Seven out of ten Kentuckians contacted by DFM Research in October said they'd like to have the option of convenient Amtrak service to cities like Chicago and New York. 60 percent of respondents viewed Amtrak favorably, with only 10 percent giving the railroad an unfavorable rating. Amtrak ridership in the Bluegrass State rose 17 percent from fiscal 2012 to fiscal 2013.
The consensus of local-level luminaries of differing political persuasions around the need for greater federal investment in transportation infrastructure that gives travelers more choices was also on display at a forum held this morning at Washington, DC Union Station by the Transportation for America Coalition (of which NARP is a charter member) to launch a new alliance of local business and elected and civic leaders. When it comes to local officials' need for a stronger federal partner, the mayors of Cincinnati (outgoing) and Franklin, TN, were on the same page as representatives of Chambers of Commerce, labor unions, social justice advocates, and economic development authorities.
Realizing how indispensable a functioning, efficient transportation system is to both employers and employees and recognizing that such a system cannot be maintained without robust financing and funding from the federal government is the basis for broad agreement across the political spectrum. This system includes both Interstate highways and city streets, just as it includes subway and light rail systems along with Amtrak's national network trains. The challenge is carrying this momentum from the local level up to the national level to finally break the shortsightedness that keeps trains and other travel alternatives playing second fiddle to highways.
Recently restored depot in Potlatch, Idaho.
"I'm so proud that we came together in bipartisan fashion in the Senate to keep the Southwest Chief chugging along, and I'm grateful for this recognition from the Rail Passengers Association. This victory is a testament to what we can accomplish when we reach across the aisle and work together to advance our common interests."
Senator Tom Udall (D-NM)
April 2, 2019, on receiving the Association's Golden Spike Award for his work to protect the Southwest Chief