Happening Now
New Jersey Transit: A Remarkable Statewide Mobility Network
Written By Malcolm Kenton
There is one state in the Union where one can board a bus at a streetcorner in nearly every and town and, within 2-3 hours, be in a large or medium-sized city within steps of intercity and regional train and rail transit connections. That state is New Jersey, and the connectivity that New Jersey Transit's (NJT) train and bus network provides to all corners of the Garden State is enviable to those who live in places with little real alternative to automobile dependence.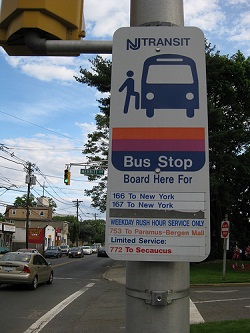 This past weekend, a friend and I made a trip to the town of Millville, located in south-central New Jersey about halfway between Philadelphia and Cape May, for a Sunday evening music concert. We drove there from Washington, enjoying a ride on the Cape May-Lewes Ferry and a few hours walking around the charming seaside town of Cape May along the way. Since my friend did not have to be back at work early Monday morning, but I did, I did not want him to have to get up at 5 AM to drive me back to DC. Luckily, I had another option.
I awoke at 5 AM Monday, walked a few steps from my hotel on the main drag just north of downtown Millville, and picked up an NJT bus to the transportation center in nearby Vineland, where I made a 10-minute connection to an express bus to downtown Philadelphia. A very civilized five and a half hours after I left the hotel in Millville, I was back at my desk on Capitol Hill after connecting to Amtrak in Philadelphia, with the help of SEPTA Regional Rail, for a total cost of about $56.00 (factoring in NARP members' 10% discount off the base Amtrak rail fare).
Had the concert instead been at a small town in southern Virginia or the eastern shore of Maryland that lacked train or Greyhound bus service, I would not have had that option. Towns like Millville all over the country had passenger train connections in the early part of the 20thcentury. Those that weren't on a railroad's main line were generally served by a branch line or a streetcar or interurban rail connection. When these links started disappearing as private passenger train operators couldn't compete with government-funded roads and cheap gasoline, they generally were not replaced by another public transportation service.
Except in New Jersey, where a public policy decision was made in the late 1970s to have a state-funded agency keep nearly all the state's communities linked to the public transportation network, either by maintaining the regional train services once provided by the private railroads, or by offering connecting bus service. The presence of each mode helps make the other more viable, along with feeding into the intercity train, bus and air networks, and they all work together to enhance freedom of mobility for both residents and visitors.
But, as our partners at the New Jersey Association of Railroad Passengers (NJ-ARP) will surely tell you, the Garden State still has a ways to go before its public transportation network provides the kind of reliable, attractive service its citizens should expect. Of course, the region's biggest rail bottleneck, the segment between New York City and Newark, NJ—needs to be expanded and modernized, a program that is in the works and that NARP and NJ-ARP are actively supporting. But the rail network in the southern part of the state could also use improvement, including NJ Transit'sPhiladelphia-Atlantic City line, which could use more frequent service and double-tracking.
While Millville and Vineland may have to wait longer to see passenger train service return (branch-line railroads through the area still host freight trains), Cape May is a significant tourist destination where demand for a passenger-train connection to Philadelphia is evident from a visit to the town's former train station, which still serves as the visitors' center. Such a connection existed until the mid-1980s, and NJT still owns the line that connects Cape May to the Atlantic City Line, having contracted with Cape May Seashore Lines (CMSL) to operate tourist trains. But CMSL has suffered numerous setbacks, and NJT has let the line deteriorate. Nevertheless, each time CMSL offers even a 2-mile speeder excursion from the Cape May station, according to the representative I spoke to there, demand is so great that all the nearby parking lots fill up.
New Jerseyites should be grateful for the foresight of those who helped bring about the expansive NJT system, but as with most public assets, it is up to the people to defend it and work to make it better. And on that front, much work remains to be done.
"When [NARP] comes to Washington, you help embolden us in our efforts to continue the progress for passenger rail. And not just on the Northeast Corridor. All over America! High-speed rail, passenger rail is coming to America, thanks to a lot of your efforts! We're partners in this. ... You are the ones that are going to make this happen. Do not be dissuaded by the naysayers. There are thousands of people all over America who are for passenger rail and you represent the best of what America is about!"
Secretary Ray LaHood, U.S. Department of Transportation
2012 NARP Spring Council Meeting