Happening Now
New Apps turn transit options into transit system
Written By Abe Zumwalt
Redundancy in transportation infrastructures is an attractive and efficient thing, as long as you're aware of the alternative option's existence. I realized this for the umpteenth time aboard a New Jersey Transit commuter train bound for Philadelphia 30th Street Station. We were stopped at Pennsauken, NJ when a bridge over the Delaware River directly in front of us opened for a ship… and did not close. Forty minutes passed waiting on word from the bridge operator. Finally, the conductor of our train notified those on board that he was arranging for bus transportation on to Philadelphia. Having been stranded for hours awaiting 'bustitution' many times before, and with a connecting train back to Washington D.C. to catch, I was wary of this plan.
Luckily, Pennsauken happens to be a connecting stop for another New Jersey Transit rail service: the extraordinarily scenic 'River LINE,' which I could then take to the PATCO subway service in Camden on to Philadelphia in presumably far less time. I had to wonder why our NJT conductor didn't so much as mention this serendipitous connection. The overwhelming majority of the other passengers aboard the stopped commuter train were not aware of the far faster option three flights of stairs below, as evidenced by the fact that the only people from our train who boarded at the River Line were the people wehad notified of the option. Even within the same transit system, passengers were not aware of the options mere steps away! It begs the question: what if that information was at everyone's fingertips?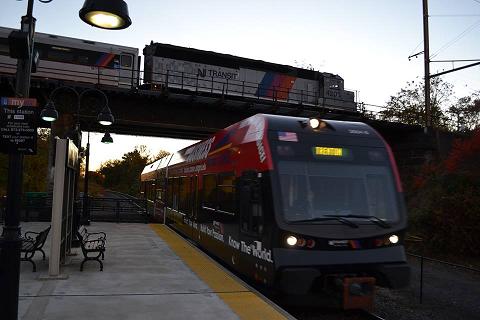 NJ Transit River Line meets our dead train, showcasing the potential of a transfer point. Photo: Malcolm Kenton
Google Maps is advertising its continued efforts to diversify and expand the ever-growing inclusivity of travel options. Others are zeroing in as well—I'll be attending the celebration in two weeks time for the debut of RideScout, an app which promises to be even more comprehensive. In moving around a city like Washington DC, one is awash with transit options: the massive bus and metro system, bikeshare program, Car2Go, and the relatively new multitude of app-based taxi systems (which Google currently has no provision for). Given all of this to choose from, it still all too common to find that pesky and very American phenomenon of categorizing transportation options into silos—as seen aboard that ill fated New Jersey Transit commuter train. Many rail-specific services have only just begun to be mapped together, albeit through a Kickstarter campaign rather than through agency collaboration. To make split decisions between modes now requires use of several different agencies, making for an irksome experience even if you're using a smart phone.
However, this is not to remain the case. When, and not if, our transportation options appear seamless to the users, we in the United States will finally have more of a transportation system than we have ever previously enjoyed. The progress over the next decade should be staggering.
Of course, this is only foreseeable in the parts of the country that have the options in the first place. At the very least, in aggregating what we have now, there is much low hanging fruit to be harvested.
"When [NARP] comes to Washington, you help embolden us in our efforts to continue the progress for passenger rail. And not just on the Northeast Corridor. All over America! High-speed rail, passenger rail is coming to America, thanks to a lot of your efforts! We're partners in this. ... You are the ones that are going to make this happen. Do not be dissuaded by the naysayers. There are thousands of people all over America who are for passenger rail and you represent the best of what America is about!"
Secretary Ray LaHood, U.S. Department of Transportation
2012 NARP Spring Council Meeting