Happening Now
NARP's Thanksgiving Train Travel Tips
Written By Malcolm Kenton
America's busiest travel days of the year – the Tuesday and Wednesday before and the Sunday and Monday after Thanksgiving – are also Amtrak's busiest. Thus, Amtrak is adding extra trains on several routes – more this year than in past years. Click the links below to access the special Thanksgiving schedule for each route, which is only in effect Nov. 20-26:
Northeast Corridor (Virginia-Washington-New York-Boston, including New Haven-Springfield)
Keystone Service (New York-Philadelphia-Harrisburg)
Empire Service (New York-Albany-Buffalo-Niagara Falls)
Wolverines (Chicago-Kalamazoo-Ann Arbor-Detroit-Pontiac) – one additional Chicago-Kalamazoo and one additional Chicago-Ann Arbor round-trip on Nov. 21 and Nov. 25
Chicago-Galesburg-Quincy, IL – one additional round-trip on Sunday, Nov. 25
Cascades (Seattle-Portland-Eugene, OR) – 11 total round-trips each day through the holiday period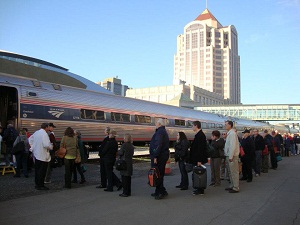 On Nov. 20-22, long-distance train passengers systemwide will also be treated to a special meal option in the dining car of a turkey dinner with all the trimmings, and pumpkin pie will be offered as a dessert option.
If you have not already booked your Thanksgiving travel, you should do so as soon as possible. Unfortunately, many trains are already sold out.
Some of the extra trains on the Northeast Corridor between New York and Washington on Sunday, Nov. 25 (ones marked "Holiday Extra" in the timetable) will use commuter train equipment borrowed from New Jersey Transit or SEPTA and will not have on-board food service, WiFi or at-seat power outlets. Some cars may not have restrooms. Please plan accordingly and bring food with you.
Amtrak also offers these tips for travelers:
Avoid the Rush: The busiest Amtrak travel days are the Wednesday before and Sunday after Thanksgiving. Purchase tickets early using Amtrak.com and print an eTicket or use your smartphone, use the Amtrak iPhone app or the Amtrak Android app, QuikTraksm ticket vending machines or ticket windows at staffed stations or call 800-USA-RAIL
Arrive at the Station Early: Allow plenty of time at stations prior to departure – at least 45 minutes before if tickets need to be picked up. Arrange for pre-boarding if you need extra time or assistance and use Red Cap agents to help you with your baggage. In addition, suburban Amtrak stops can be less crowded than downtown locations and can enable you to get a jump on your trip if the station is in your direction of travel.
Know the Limits: Note the limit of two carry-on bags per person (excluding laptops, purses, briefcases), and be sure all luggage is tagged with your name and address.
Carry photo ID: Passengers are required to show valid photo identification when purchasing tickets. Make sure to carry valid photo ID at all times, as it can be requested aboard trains.
Be Safe: Be aware of your surroundings, stand back from the edge of the platform, do not leave your bags unattended, and watch your step when boarding and leaving the train or when walking between cars while the train is in motion.
Security Matters: If you see something suspicious or unusual, say something. Call Amtrak Police at 800.331.0008 or 911. Passengers might notice additional police presence at stations and on board our trains as part of our planned increased security efforts which also include random baggage screening at various stations.
NARP volunteers and staff also offer the following tips for less seasoned train riders:
Tickets: If you forgot to book early, check Amtrak.com regularly to see if space becomes available on a "sold out" train, or if a sleeper becomes open.
Crowds: When trains are very crowded, it takes longer to load and unload passengers at each station, which can cause delays. But don't be dismayed at the length of lines at terminals like Washington Union Station; trains hold many passengers. Since Amtrak went to reserved trains some years ago, you will likely have no problem obtaining a seat, but if you are traveling alone in coach, you will almost certainly have someone sitting next to you and you may not get a window seat. If you want to sit with someone you are traveling with, you may have to ask others to move or seek assistance from the onboard staff. Do not place your belongings on the seat next to you as it will likely be needed down the line.
Luggage: Minimize the amount of luggage you carry on. Because of crowded conditions, luggage bins and overhead racks will be full. Having les luggage speeds boarding and detraining at stations with low-level platforms. If you plan to check baggage, check to make sure your train and both your origin and destination stations accept checked baggage (many Amtrak stations do not). Checked baggage is now limited to four pieces per passenger within certain size and weight limits – two free and two for $20 each. Baggage must be checked at least 45 minutes prior to departure in order to be guaranteed of making it onto the right train. If your trip involves a connection at a large station, your checked baggage will be transferred from one train to the next, so you can check it through to your final destination.
On Board: Bring a pillow and blanket for overnight coach (only a small pillow is provided to coach passengers on overnight trains). It might be wise to bring a snack, as on-board food service will be jammed.
Finally, if you will be traveling through Washington Union Station on Wednesday, stop by NARP's kiosk next to Gate G in the Amtrak boarding area and say hi to one of our volunteers.
"The National Association of Railroad Passengers has done yeoman work over the years and in fact if it weren't for NARP, I'd be surprised if Amtrak were still in possession of as a large a network as they have. So they've done good work, they're very good on the factual case."
Robert Gallamore, Director of Transportation Center at Northwestern University and former Federal Railroad Administration official, Director of Transportation Center at Northwestern University
November 17, 2005, on The Leonard Lopate Show (with guest host Chris Bannon), WNYC New York.