Happening Now
NARP Welcomes New Policy Intern Henry Scherck
Written By Sean Jeans Gail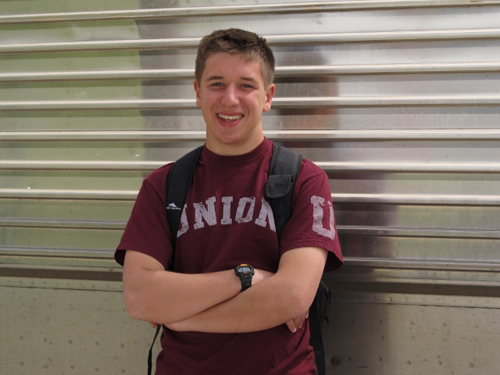 NARP is pleased to welcome Union College student Henry Scherck onboard as a policy intern. Henry is a lifelong passenger train advocate, and will be helping us carry out our mission to build a modern U.S. passenger train network this spring and summer.
Hello! My name is Henry Scherck and I am going to be a policy intern here at NARP this spring! I have long been interested in passenger rail, and I am really excited to be working here at NARP. I come from Slingerlands, NY, a small suburb of Albany, and I have been a resident of New York's Capital Region for the past 15 years. I am a sophomore at Union College, a small college in Schenectady, NY, a city steeped in railroad history and the former home of the American Locomotive Company. At Union, I major in Political Science with a focus on American Politics. During my studies, I have become intrigued by local government, city politics, and, of course, transportation policy.
In my spare time, I enjoy riding my bike, reading, and photographing trains, and I can often be found observing operations on the Amtrak, CSX and Canadian Pacific routes in the area. Back at home, I contribute to and help moderate a railroad-themed newsgroup, which covers railroad operations in upstate New York, often including Amtrak operations on the Empire Corridor and former Delaware and Hudson routes. I also occasionally write photojournalism contributions for Railpace, a northeast railroad newsmagazine, highlighting news stories in the capitol region.
I've come to Washington, D.C. with 15 fellow Union students, and we will be spending the spring trimester (10 weeks) living, studying and commuting together and working in the city. From the time that I began the internship search for my term in Washington, I knew that I wanted to work at NARP. I was first introduced to NARP by a good friend of mine from my church who is a lifelong railroader and a NARP member, and I was really excited to be offered an internship at NARP. I am very thankful for this opportunity to work on issues that pertain to both my interests in public policy and passenger rail. During my time here, I look forward to diving deeper into transportation and passenger rail policy issues in a first-hand way, and I hope that I will be able to help in forwarding NARP's mission of expanding and improving passenger rail in the US. I've studied Political Science since I started college, so I'm very excited for the opportunity to be working right here on Capitol Hill. I look forward to a couple great months at NARP!
"It is an honor to be recognized by the Rail Passengers Association for my efforts to strengthen and expand America's passenger rail. Golden spikes were once used by railroads to mark the completion of important rail projects, so I am truly grateful to receive the Golden Spike Award as a way to mark the end of a career that I've spent fighting to invest in our country's rail system. As Chair of the Transportation and Infrastructure Committee, it has been my priority to bolster funding for Amtrak, increase and expand routes, look to the future by supporting high-speed projects, and improve safety, culminating in $66 billion in new funding in the Bipartisan infrastructure Law."
Representative Peter DeFazio (OR-04)
March 30, 2022, on receiving the Association's Golden Spike Award for his years of dedication and commitment to passenger rail.