Happening Now
NARP To Raffle New England Train Tour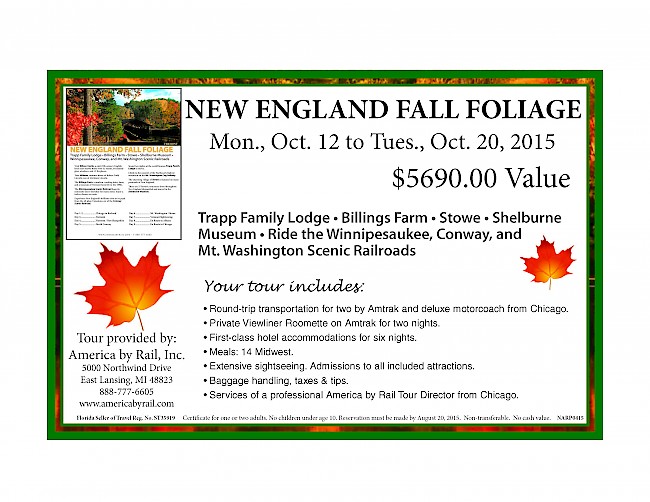 July 6, 2015
America by Rail, the leader in rail tours and train vacations, has generously donated a New England Fall Foliage tour for NARP to raffle off as a fundraiser. Members have asking questions about how this effort will work.
The trip, valued at $5690, is an eight-day tour of top spots in New England, including visits to the Trapp Family Lodge and the Billings Farm in Vermont and a ride on three scenic railroads in New Hampshire. Raffle tickets are $150 and will benefit NARP's legislative efforts on Capitol Hill. The purchase of raffle tickets are tax-deductible to the fullest extent of the law.
All tickets must be purchased by noon Eastern Daylight Time on Monday, August 10, 2015, the day of the drawing. The trip must be taken on Oct. 12-20, 2015.
To enter the raffle, please contact our Director of Resource Development, Logan McLeod at (202) 408-8362 ext. 3202 and provide him with your credit card information. The winner will be chosen at random through an electronic software program called RandomPicker. The winner will be posted on the NARP website on Tuesday, September 8, 2015.
NARP relies on contributions from its members in its ongoing efforts to keep its finger on the pulse of transportation legislation in Washington D.C., and across the country. Recent efforts include:
We thank you for your ongoing and dedicated support, and we ask that you continue to help NARP by purchasing a raffle ticket. Best of luck to all those who decide to participate, and we thank America By Rail for all its generous support and this in-kind donation.

"I wish to extend my appreciation to members of the Rail Passengers Association for their steadfast advocacy to protect not only the Southwest Chief, but all rail transportation which plays such an important role in our economy and local communities. I look forward to continuing this close partnership, both with America's rail passengers and our bipartisan group of senators, to ensure a bright future for the Southwest Chief route."
Senator Jerry Moran (R-KS)
April 2, 2019, on receiving the Association's Golden Spike Award for his work to protect the Southwest Chief