Happening Now
NARP responds to attack on Midwest trains in Chicago Tribune
Written By Sean Jeans Gail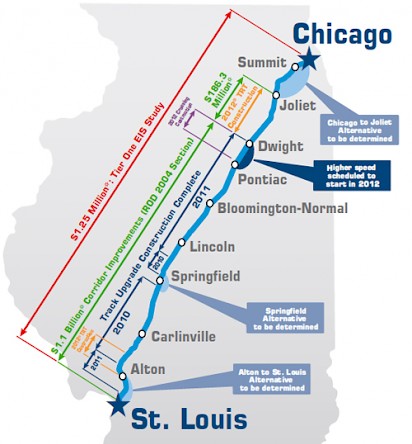 On September 28, the Chicago Tribune published an editorial attacking the Midwest high performance passenger rail program as "a ridiculously expensive dream." The editorial ("Higher and higher; You thought high-speed rail already was a boondoggle? Listen to this") based much of its attack on a mistaken analysis of the difference between the 110 mph top speed that will result from the work currently being done between Chicago and St. Louis, and the 125 mph standard specifications established by the Next Generation Corridor Equipment Pool Committee. NARP President Ross Capon corrected this error in a letter published by theTribune yesterday (free with subscription):
We support the steady work of federal, state and local governments to improve passenger train service on the Chicago-St. Louis line. Your editorial attack on the case for new locomotives that can go 125 mph locomotives is off base.
The locomotives are to be acquired as part of a joint procurement by several states. Such procurements offer significant economies of scale. Michigan is testing a grade-crossing barrier that will allow 125 mph. California is getting ready to build 125-mph track. And the new diesels will be able to provide 125-mph service linking points off the electrified Northeast Corridor with points on the corridor.
But the real issue is not top speed. It is taking advantage of passenger-design developments that have not been offered in the 110-mph version rather than reusing a design based on freight locomotives. The proposed locomotives are more fuel-efficient than the older design. They will be 15-plus tons lighter than Amtrak's current standard diesel locomotive. They will emit 76 percent less particulate matter and 70 percent less nitrogen oxides, fulfilling the U.S. Environmental Protection Agency's tough new Tier IV emissions limits. They will run faster schedules even where top speed limits are relatively low.
The envisioned locomotive that complies with U.S. safety regulations ultimately benefits Metra, other commuter railroads and Amtrak's long-distance trains. That's because it will facilitate development of related, modern designs useful even for services limited to a top speed of 79 mph.
Clearly, the public wants more trains. Growth of Amtrak ridership over several years proves that. Airlines increasingly find short-distance business uneconomical. Failure to develop the Chicago-St. Louis corridor would be a disservice to our grandchildren, as well as to the on-line cities like Bloomington-Normal, Springfield and St. Louis, which are investing in creating more attractive stations with good local transit connections and pedestrian-friendly development.
Howard Learner, executive director at the Environmental Law & Policy Center of Chicago, also had a response published by theTribune that called into question the metric used by the editorial board to determine what makes a project "too expensive":
The proposed O'Hare International Airport expansion is estimated to cost $15 billion. The 17-mile Elgin-O'Hare Expressway is projected to cost $3.4 billion. The 22-mile proposed Route 53/120 toll-road extension in Lake County is estimated to cost $2.4 billion. For about $3 billion, we're getting about 600 miles of Chicago-St. Louis and Chicago-Detroit high-speed rail.
This modern transportation infrastructure investment makes sense.
It means good jobs at Illinois manufacturers. Nippon Sharyo USA in Rochelle, Ill., won the bid to build 130 next-generation passenger rail cars, and that should mean new work for regional supply-chain businesses too.
Credit to the Tribune for posting these responses in full.
"It is an honor to be recognized by the Rail Passengers Association for my efforts to strengthen and expand America's passenger rail. Golden spikes were once used by railroads to mark the completion of important rail projects, so I am truly grateful to receive the Golden Spike Award as a way to mark the end of a career that I've spent fighting to invest in our country's rail system. As Chair of the Transportation and Infrastructure Committee, it has been my priority to bolster funding for Amtrak, increase and expand routes, look to the future by supporting high-speed projects, and improve safety, culminating in $66 billion in new funding in the Bipartisan infrastructure Law."
Representative Peter DeFazio (OR-04)
March 30, 2022, on receiving the Association's Golden Spike Award for his years of dedication and commitment to passenger rail.