Happening Now
NARP Helps Hoosiers Fight for the Hoosier State
Written By Colin Leach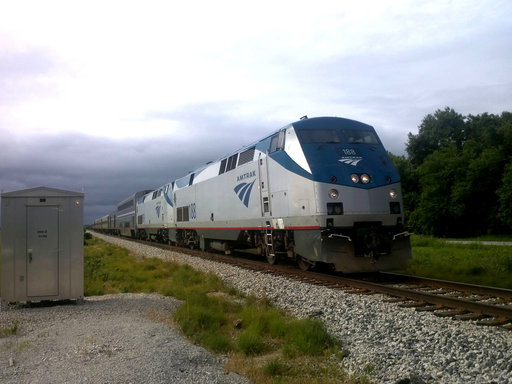 Under the terms of the Passenger Rail Investment and Improvement Act of 2008, Indiana has until October 1st to sign a contract covering its share of the costs of operating the Hoosier State. Indiana has the unfortunate distinction of being the only state to have not committed to reaching a service agreement with Amtrak. Should the state fail to reach an agreement with Amtrak before then, the train will be discontinued. As a result, the only service would be the tri-weekly Cardinal from Washington, leaving passengers unable to travel on days when the Cardinal does not run.
At this time, it is uncertain whether or not the state Department of Transportation will fund the train as authorized by the legislature. As Curt Ailes of the Urban Indy blog reports, the legislature made funding conditional on a study evaluating the Hoosier State's future, and will propose one of three options: elimination, continuation at existing levels, or funding with increased investment aimed at faster operation and higher levels of on-time performance. The study will be released in the early fall, and will inform INDOT's decision on whether or not the continue the service.
But many Hoosiers refuse to see their train discontinued without a fight. State legislators across both sides of the aisle have spoken in favor of the train, noting its contribution to the local economy. In her defense of the Hoosier State, State Representative Christina Hale (D-Indianapolis) correctly observed that the train provides a "needed transportation option" for "those who are unable or can't afford to drive." Hale also suggested that the investment required to maintain the train is minimal compared to the results. For only $3 million per year (roughly 1.5% of the state highway budget for the coming fiscal year) , Indiana can maintain a service whose ridership has grown 77% over the past decade. If the state is to keep its "eyes on the future", then it must make "this most prudent investment in improved passenger rail service."
Joining Hale's effort, State Representative Randy Truitt (R-West Lafayette) and State Senator Brandt Hershman (R-Buck Creek) are participating in an "Amtrak Summit" to be held on August 21st in Lafayette. Backed by the Greater Lafayette Chamber of Commerce, the summit will bring together mayors, regional rail directors, transportation advocates, and other parties interested in the train's continuation.
Many local NARP members have already announced their intentions to attend. If you live in Indiana and wish to attend, you canregister here or by calling (765) 742-4044. We heartily encourage our Indiana members to attend- every voice counts!
NARP wrote to Governor Mike Pence affirming our support for the Hoosier State's continuation. In our letter, we voiced our concern that discontinuing the train would leave the smaller communities of Crawfordsville, Rensselaer, and Dyer without access to intercity public transportation, a problem exacerbated by "increasingly limited" transportation choices in the larger Chicago-Indianapolis corridor.
We also suggested that the Governor should consider passenger rail as much of a priority as highway funding:
"Furthermore, we believe that supporting the Hoosier State would complement your already stated commitment to developing Indiana's transportation network. Your most recent budget has allocated $210 million more per year to roads, as well as $200 million more for a fund for long-term highway expansion. Yet younger Americans are looking for alternatives to driving; polls have shown time and again that 18-29 year olds want options such as trains. As the operating subsidy would likely be no more than two percent of the budget allocated for current highway maintenance, we believe that this small investment in the Hoosier State would achieve a much greater proportional return and effectively respond to changing attitudes towards transportation..."
But one letter won't change the Governor's mind. Now is the time to write Governor Pence and let him know that you want to see the Hoosier State stay on the rails. Here's how you can contact him:
Email: Click here to write the governor. Select "Questions or comments unrelated to the above", and fill out the form.
Phone: 317-232-4567.
Mail: Office of the Governor, Statehouse, Indianapolis, Indiana, 46204-2797
When writing or calling, here's some talking points you can use:
-Chicago-Indianapolis corridor has few options for public transportation.
-Southwest Airlines recently ended service between Chicago and Indianapolis, leaving only American and United (who are vulnerable to rising fuel costs)
-Revenue has consistently risen since Fiscal Year 2010.
-In the first half of FY 2013, ridership has already increased by 5.8% compared to the first half of FY 2012.
-The train has broad-based support. Republican and Democratic legislators have spoken in favor of it, and business and community groups are united in its defense.
Please consider taking a moment to write or call the Governor and registering your support for more transportation choices. With your efforts, we can make sure the Hoosier State keeps rolling.
"When [NARP] comes to Washington, you help embolden us in our efforts to continue the progress for passenger rail. And not just on the Northeast Corridor. All over America! High-speed rail, passenger rail is coming to America, thanks to a lot of your efforts! We're partners in this. ... You are the ones that are going to make this happen. Do not be dissuaded by the naysayers. There are thousands of people all over America who are for passenger rail and you represent the best of what America is about!"
Secretary Ray LaHood, U.S. Department of Transportation
2012 NARP Spring Council Meeting