Happening Now
Megabus Expanding; But Most Towns Left Out
Written By Sean Jeans Gail
With ticket sales on Megabus and its intercity passenger bus lines booming, the company is setting its sights on expansion. But if you live outside a major city or college campus, don't expect to see any benefits
Yesterday's Financial Times describes how the company is looking to take advantage of trends drawing young people away from cars—the same trends that have led to unprecedented growth on passengers trains. Stagecoach, the bus line's parent corporation, is looking to increase the current 38 million annual miles traveled by as much as 20 percent.
But the company is upfront that not every region of the country will benefit from this growth:
Megabus only accounts for about 5 per cent of Stagecoach's business across the US and UK, but it is the fastest-growing part of the group. Revenues rose more than 23 per cent in the five months to the end of September and a significant uptick in operating profit is expected.
…
[However], the company said that it does not expect to overtake rival coach group Greyhound, which has the biggest market share in the US, and rather than linking every city and town it aims to connect clusters of conurbations as it does around Chicago, New York and Washington.
This is an unambiguous rebuttal of the argument that the private sector can and should be relied upon to provide a national transportation network. The private sector can certainly play a part—but they will focus on cities and suburbs, and leave smaller communities behind. FedEx may be a viable alternative to the United States Postal Service in Chicago, but they won't open stores in every small town in Illinois. Without these essential services—transportation, for passengers and freight, being chief among them—these small town economies will wither and die.
The question is: are we the United States, or a loose collection of city-states? Do all Americans deserve access to essential services? If the answer is "yes," then we must commit to sustainable levels of funding for intercity transport systems.
Compare the following two maps. One shows the states that would lose all intercity passenger rail service without Amtrak's long distance trains. The other is NARP's vision for a national network. I know which country I want to live in.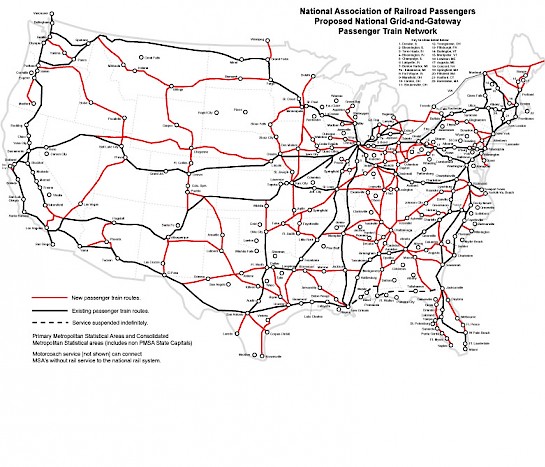 "Thank you to Jim Mathews and the Rail Passengers Association for presenting me with this prestigious award. I am always looking at ways to work with the railroads and rail advocates to improve the passenger experience."
Congressman Dan Lipinski (IL-3)
February 14, 2020, on receiving the Association's Golden Spike Award