Happening Now
Maryland Commuter Train, MARC, Experiences Continuous Increase in Ridership
Written By Maxime Devilliers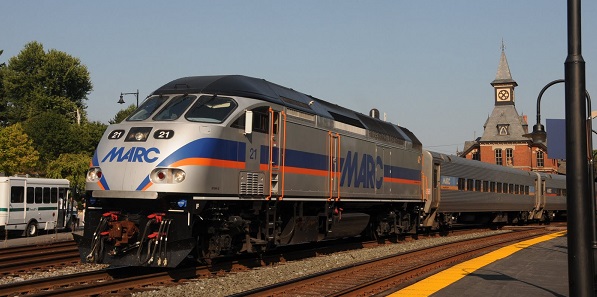 A MARC train on its way to Washington, DC from Point of Rocks, MD (Photo by Bob Kaplan)
The number of passengers riding the new MARC weekend service has more than tripled since its inception five months ago. The Maryland Transit Administration, or MTA, began offering weekend MARC service on its 75-mile Penn Line between Washington, D.C. and Baltimore on December 7th of last year.
In its first weekend of operations, a total of 4,085 passengers rode the 15 three-car trains (a three-car MARC train is able to accommodate 389 passengers). During the weekend of March 1st, 4,981 passengers rode MARC, and that number jumped to 6,530 the following weekend.
Starting on March 15th, the MTA began running four- and five-car trains on weekends instead to accommodate the increasing demand for seats. The decision to run five-car trains, which can each accommodate 653 passengers, served the region especially well during the weekend of April 12th. A total of 13,338 passengers rode MARC trains that weekend—that's nearly 32 Boeing 747s!
In broader terms, over 18,000 passengers used MARC's weekend service in December. This number increased to over 20,000 in January and topped 23,000 in February. The numbers for March and April are still unavailable at this time.
Baltimore's tourism board, Visit Baltimore, believes the addition of cars will keep up with growing demand for weekend service as the weather gets warmer and the Baltimore Orioles continue their 2014 season. A large influx of visitors will be a boon for Baltimore and Washington businesses alike. Thanks to Maryland Governor Martin O'Malley's investment in new equipment and the MTA's commitment to improve performance, MARC trains ran on-schedule 95% of the time in April. Weekend expansion will help to meet Maryland's goals of doubling transit ridership and reducing Maryland's greenhouse gas emissions by 25% by 2020.
These improvements are paramount in working towards a better connected regional transit system which would certainly pay for itself in the long run. And after years of cost being cited as an obstacle to the expansion of MARC service, the continuous increase in weekend ridership will certainly justify the $46 million put toward the state transportation's six-year budget.
We here at NARP look forward to increased ridership and expansion of weekend service, which will improve the quality of life for millions of residents in the region and mitigate the negative environmental effects of transportation. Passengers can spend less time getting frustrated in traffic and more time socializing with others and getting to know their neighbors on their days off.
What's the point of going to watch the baseball game if you're going to spend hours in traffic and getting angry trying to find parking? Passengers also emit less carbon dioxide and other pollutants into the atmosphere by riding en masse and cruising along railroad tracks instead of highways which are far more carbon-intensive to build, widen, and maintain.
"On behalf of Amtrak's onboard service staff, I want to thank the Rail Passengers Association for honoring their hard work with this award. The past couple years have indeed been difficult for Amtrak onboard service staff – coping with furloughs and job insecurity, adapting to changing protocols and services, not to mention the unfortunate events such as a tragic derailment and a fatal shooting. Nevertheless, our dedicated members at Amtrak have handled these hurdles with the care, attention and diligence for which they're known. We thank Rail Passengers for their acknowledgement of our members' hard work and, as always, look forward to seeing you on the rails."
Arthur Maratea, TCU/IAM National President
December 21, 2021, on the Association awarding its 2021 Golden Spike Award to the Frontline Amtrak Employees.