Happening Now
Making the Case for Intermodal Transportation in the Gulf Coast Region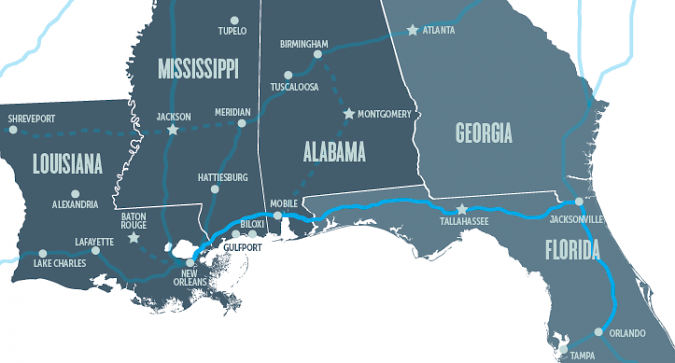 The challenge of seeing that passenger rail is restored to the Gulf Coast has been taken up by the Southern Rail Commission, a group whose members were appoint­ed by the governors of Alabama, Louisiana and Mississippi. The commission has developed an alliance of local elected officials, business leaders, and civic leaders across the Gulf states that are working together for this expressed purpose.
Tonight at 7:00 p.m. at the Ohr O'Keefe museum in Biloxi, Mississippi, the commission is holding a public forum -- Y'All Aboard -- on how the region can work together to boost passenger rail in the region. An intermodal transportation system for the Gulf Coast creates a truly resilient region, enhancing the fabric, character and economies of southern coastal cities and towns, and restoring passenger rail there should be a priority.
The importance of passenger rail service to a community is illustrated by what happened in Hattiesburg, Mississippi. Since a 2007 renovation of its historic train station, Mayor Johnny DuPree said his city has seen an estimated $80 million in new commercial development in the surrounding area. Meanwhile, ridership there has increased more than 60 percent, to 11,500 passengers in 2014.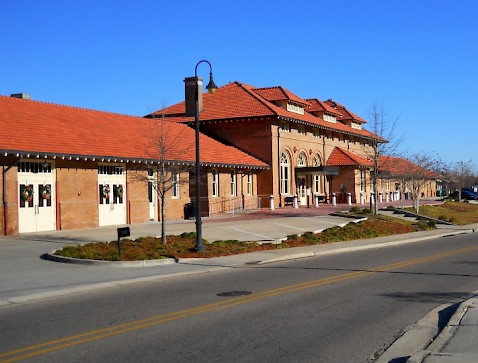 The Hattiesburg, Mississippi, Train Depot. Photo courtesy of Woodlot/Wikipedia
Between 1993 and 2005, Amtrak operated the nation's only coast-to-coast passenger train. Running more than 2,700 miles between Orlando and Los Angeles, the Sunset Limited connected larger cities including Orlando, New Orleans, Tucson, Arizona, and Los Angeles, with 29 smaller communities.
Passenger rail service linking the Mississippi Gulf Coast to the rest of the nation needed a rehab even before Hurricane Katrina hit in 2005. But after the hurricane caused significant damage to the railroad line along the Gulf Coast, Amtrak was forced to suspend service east of New Orleans.
Although the line has since been repaired, Amtrak has yet to restore the service. "Since 2005, NARP has consistently called for restoration of service between New Orleans and Orlando. Our members have made the case for its renewal to their state and local governments, and we have made the case here in Washington," said Mathews.
An evaluation of service in the region done by Amtrak in 2009 cited poor prior ridership in the years just before Katrina, but failed to mention the principal cause: CSX track maintenance in those years forced as many as one out of every three scheduled trips to be canceled. With the maintenance largely complete and track segments rebuilt, performance should improve and ridership will follow, as it has in every other instance in which on-time performance has been addressed.
NARP knows that the demand for the Gulf Coast service is there. "We've long argued that long-distance trains are an integral part of our nation's public transit network," said Mathews. "By connecting smaller communities with larger cities, these trains offer Americans an alternative to car travel that they might not otherwise have."
Seven of the 12 communities between New Orleans and Jacksonville, Florida, whose service was suspended post-Katrina, have no air service, and four have no intercity bus service, leaving those four areas without any public transportation option. "Reconnecting these areas to the rest of the economy should produce a net benefit beyond direct investment in rail service by easing the Gulf Coast's isolation from access to other markets for travel and tourism revenue," said Mathews.
NARP believes people should consider intermodal and rail as they would any other transportation investment. "The payoff to a municipality, state or region to invest is not just in farebox recovery, but in whether the transportation fulfills a local or regional need in bringing jobs and the preconditions for a healthy economy and jobs to that area," said Mathews.
"The National Association of Railroad Passengers has done yeoman work over the years and in fact if it weren't for NARP, I'd be surprised if Amtrak were still in possession of as a large a network as they have. So they've done good work, they're very good on the factual case."
Robert Gallamore, Director of Transportation Center at Northwestern University and former Federal Railroad Administration official, Director of Transportation Center at Northwestern University
November 17, 2005, on The Leonard Lopate Show (with guest host Chris Bannon), WNYC New York.