Happening Now
Representative Louise Slaughter - A True Rail Supporter
May 3, 2019
New Rochester, NY Amtrak Station Named In Her Honor
By Bruce Becker - Vice-President of Operations
Dorothy Louise McIntosh Slaughter was born in 1929 in Lynch, Kentucky, a rural Appalachian community about as far removed from the bustling city of Rochester, NY (home to Eastman Kodak and later to Xerox and Bausch & Lomb, among many others) as you could imagine. But, perhaps even more amazing was that Slaughter went on to represent Rochester and the western New York region in Congress from 1987 until her death in 2018, after having served two terms in the New York State Assembly.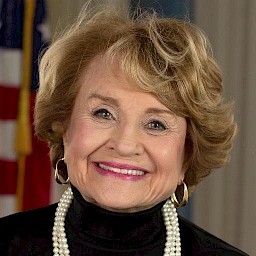 twitter.com/louiseslaughter
I had the privilege of knowing Louise for many years (if she knew you, you had to call her Louise; I was reprimanded many times for addressing her as 'Congresswoman') as we both worked to advance passenger rail in New York State. There was never any doubt that Louise was from Kentucky; she retained her distinctive accent her whole lived. Louise was a life-long Democrat and a strong progressive by most measures. But, when it came to transportation policy, and rail issues in particular, she was a bi-partisan champion of improved mobility for all.
In 2011, she founded the 'Congressional Bicameral High-Speed & Intercity Passenger Rail Caucus' which sought to advance passenger rail initiatives across the country. She received NARP's Golden Spike Award that year in recognition of her efforts and leadership.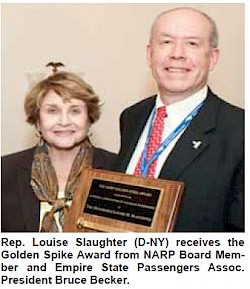 But the poor conditions of the Amtrak station in Rochester had long captured her attention. Built by Amtrak in 1978 to replace the ramshackle remains of the former 1914 historic New York Central station on the same site, Amtrak's version was considered 'state of the art' at the time, but it quickly became inadequate and almost as run-down. Louise wouldn't have this for her Rochester!
Rochester's NYC Station c. 1970

Photo - John Stewart

Amtrak's 1978 Station

Photo - TrainWeb.org
For more than ten years she used her shear determination (and indeed her political influence) to make a new station a reality. In 2010 she obtained the first federal funding for the preliminary engineering, which was followed two-years later by a TIGER Grant for a large portion of the project. I wrote many letters on behalf of the Empire State Passengers Association in support of these grant applications and I also attended many press events with Louise, including one where she brought USDOT Secretary Ray LaHood to see he for himself the need for a new station.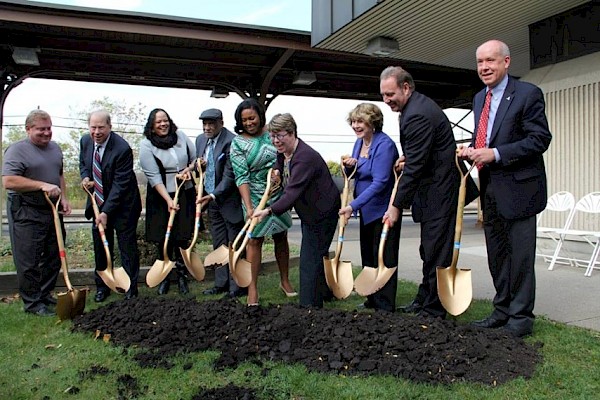 Louise Slaughter - 3rd From right - Bruce Becker - Far Right
Photo - Rocherster Democrat & Chronicle
On October 28, 2014 ground was broken, and Louise made sure that the tight construction timeline for the complicated project, which included a new high-level platform, passenger access tunnel and extensive track & signal reconfiguration remained on schedule.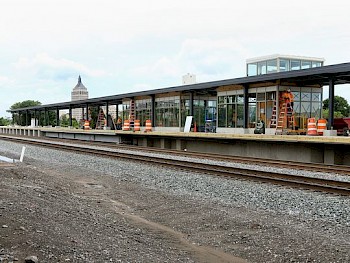 Photo - Rocherster Democrat & Chronicle
Less than two years later on October 6, 2017, the grand new facility opened for its first passengers. Louise was like a rightfully, proud parent at the ceremony. Her city finally had what it deserved!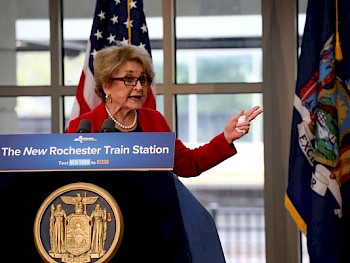 Photo - Rocherster Democrat & Chronicle
Photo - Bruce Becker
Sadly, Louise suffered a fall at her Washington residence in March 2018 and passed within days due to serious complications. More than 2,000 turned out for her funeral service at Rochester's venerable Eastman Theater.
Almost immediately following her death, there were calls to name Louise's 'New Station' in her honor. Amtrak wholeheartedly agreed and on March 24, 2019, the naming ceremony occurred.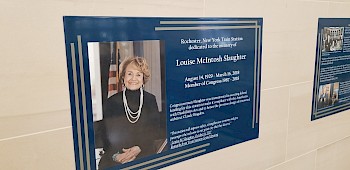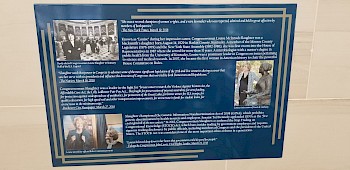 The station will now serve as a living memorial to Louise's passion & vision for rail and also for her commitment to the traveling public. There could be no more fitting tribute!
"When [NARP] comes to Washington, you help embolden us in our efforts to continue the progress for passenger rail. And not just on the Northeast Corridor. All over America! High-speed rail, passenger rail is coming to America, thanks to a lot of your efforts! We're partners in this. ... You are the ones that are going to make this happen. Do not be dissuaded by the naysayers. There are thousands of people all over America who are for passenger rail and you represent the best of what America is about!"
Secretary Ray LaHood, U.S. Department of Transportation
2012 NARP Spring Council Meeting