Happening Now
Less convenience=lower ridership
Written By Malcolm Kenton
On Wednesday, we warned rail transit advocates not to fall into the trap of always accepting the mantra of "build it and they will come." Successful transit services require careful planning to make sure they are serving a broad market and will make using them as convenient as possible. But there is plenty of evidence to show that, when planned right, increased transit service does tend to attract higher patronage. And, as we've seen in the case of the "Princeton Dinky," the opposite is also often true.
New Jersey Transit's (NJT) 2.9-mile Princeton Branch of its commuter rail network, known as the Dinky, on August 23 saw its Princeton station relocated 1,200 feet farther from the center of town to accommodate Princeton University's "Arts and Transit" project. The branch connects Princeton with NJT's Northeast Corridor line and some Amtrak trains at Princeton Junction, offering an hour and 25-minute ride to New York City. NARP strongly opposed moving the station after it was first proposed, joining with the New Jersey Association of Railroad Passengers (NJ-ARP) in urging the Surface Transportation Board [102-page PDF] to stop the cutback. In the two months since the relocation, the Dinky's ridership has gone down 13 percent compared to the same two months last year.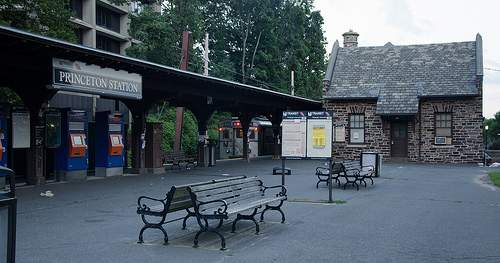 A Dinky train arrives at the now-defunct Princeton Station on July 7, 2013, about two months before its closure.
While NJT officials warned against drawing conclusions based on a limited amount of data and said other reasons could explain the patronage drop in September and October, rail advocates had warned that the relocation would make the Dinky far less convenient. NARP and NJ-ARP noted that the move would be especially hard on seniors and those with disabilities, particularly with icy conditions in winter, and would make for a less safe place to await a train at night. "It's much less user-friendly for people who are dropping off passengers and for pedestrians," Princeton Town Councilwoman Jenny Crumillertold the Princeton Packet.
Much to the dismay of train advocates, Princeton University rejected suggestionst o incorporate rail service of any kind within the arts complex. It would make great sense to put the clean electric train beneath the arts center, keeping the previous location while having the arts center built on top of it. Some questionNJT's long-term interest in operating the branch while there are proposals to replace it with either a light rail line or a dedicatedbusway. And Princeton University leadership seems openly hostile to the Dinky: former University President Shirley Tilghman declared "there will be no railroad on my campus." This is in sharp contrast with the University of Maryland in College Park, whose leadershipbecame supportive of having the planned Purple Line (light rail) on campus.
A few more months' worth of ridership data will paint a clearer picture of the relocation's impact. But a society that placed a greater value on making getting around easier, less expensive and more accessible to everyone would not have even considered such a move as NJT and Princeton University made, especially since it would have been eminently possible to keep the station where it was. Keeping and improving on an investment that was made 148 years ago and has been serving its riders reliably ever since is a much more rational course of action than spending a great deal of capital on a replacement that would bring questionable additional value.
Photo by Flickr.com user geronimo819.
embed video plugin powered by Union Development
"I'm so proud that we came together in bipartisan fashion in the Senate to keep the Southwest Chief chugging along, and I'm grateful for this recognition from the Rail Passengers Association. This victory is a testament to what we can accomplish when we reach across the aisle and work together to advance our common interests."
Senator Tom Udall (D-NM)
April 2, 2019, on receiving the Association's Golden Spike Award for his work to protect the Southwest Chief