Happening Now
Lay the tracks, and they will come
Written By Colin Leach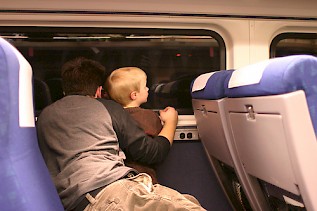 A curious specter has haunted America for the past decade: the specter of old public transportation made new again. Reversing a decades-long trend of flocking to their cars, Americans are using public transportation more frequently than they ever have. Appropriately, much of this new demand stems from increased rail transportation options across the country.
But rather than presenting a litany of statistics and figures, we can point to an innovative map created by Schema Design. Using recent data from the National Transit Database, their map tracks the evolution of transit demand over the past ten years, reaching an unprecedented 10 billion trips in 2012. Rail in particular has steadily increased over the same period, growing by more than 150% in New York and by significant percentages elsewhere. Light rail has also seen heavy growth, much of which may be accounted for by the expansion of systems in Salt Lake City, Seattle, and Denver. Overall, the map points to a definite shift in American attitudes towards public transportation. Far from being a political curiosity, rail is playing an increasing part in solutions to America's transportation woes.
Proof of that can be found in the popularity of Amtrak's services in the Chicago-St. Louis-Kansas City Corridor. As KTVI reported in a recent story, more and more Missourians are looking to the train as an alternative to Interstates 55 and 70. With fares as low as $26 between Chicago and St. Louis and consistently improving on-time performance between St. Louis and Kansas City, it is hardly surprising that travelers are abandoning their cars for the train.
Not to mention, of course, that the train allows for a view of the country that cannot be found on the Interstate. Madelynn Kennebeck said as much to KTVI's reporter, explaining that she liked to show her grandchildren "what the country looks like on an intimate basis." Perhaps this explains best America's rekindled love for rail transportation. Rather than being limited to what can be seen from the driver's seat, the view from the train shows America for what it really is: a series of communities, big and small. That idea of community, although long obscured by our dependence on highways, is making a great comeback.
And it's coming down the tracks.
"I'm so proud that we came together in bipartisan fashion in the Senate to keep the Southwest Chief chugging along, and I'm grateful for this recognition from the Rail Passengers Association. This victory is a testament to what we can accomplish when we reach across the aisle and work together to advance our common interests."
Senator Tom Udall (D-NM)
April 2, 2019, on receiving the Association's Golden Spike Award for his work to protect the Southwest Chief