Happening Now
Judge's Ruling a Setback for California High Speed Trains
Written By Sean Jeans Gail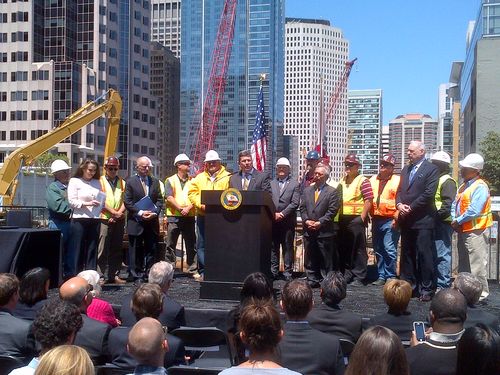 A Sacramento judge ruled today that the California high speed rail project, as currently constituted, cannot tap state bonds approved by voters in 2008. The decision, based on the judge's interpretation, could cause further delays for the project, which is scheduled to break ground on construction this year.
The Los Angeles Times called the ruling a "major blow" to the proposed service, which would connect Northern and Southern California via 220 mph trains:
Superior Court Judge Michael Kenny issued two decisions Monday, both of them based on findings that the state made key errors and failed to comply with voter-approved requirements as they moved the project toward a long-awaited groundbreaking.
The decisions do not immediately stop the project, but they could sharply curtail the state's ability to pay for the high-speed rail system in the future.
The California High Speed Rail Authority may still be able to utilize federal high performance rail grants. Eventually, however, state matching funds will be needed.
"We are reviewing both decisions to chart our next steps, but it is important to stress that the court again declined the opposition's request to stop the high-speed rail project from moving forward," said CAHSRA Chairman Dan Richard in response to the ruling. "Like all transformative projects, we understand that there will be many challenges that will be addressed as we go forward in building the nation's first high-speed rail system."
"On behalf of Amtrak's onboard service staff, I want to thank the Rail Passengers Association for honoring their hard work with this award. The past couple years have indeed been difficult for Amtrak onboard service staff – coping with furloughs and job insecurity, adapting to changing protocols and services, not to mention the unfortunate events such as a tragic derailment and a fatal shooting. Nevertheless, our dedicated members at Amtrak have handled these hurdles with the care, attention and diligence for which they're known. We thank Rail Passengers for their acknowledgement of our members' hard work and, as always, look forward to seeing you on the rails."
Arthur Maratea, TCU/IAM National President
December 21, 2021, on the Association awarding its 2021 Golden Spike Award to the Frontline Amtrak Employees.