Happening Now
Join Rising Appalachia on New Year's Eve at the Jefferson Theatre in Charlottesville, Virginia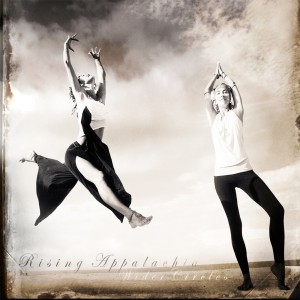 Back in the spring, the National Association of Railroad Passengers (NARP) partnered with the Asheville, N.C.-based band Rising Appalachia to rally young Americans in support of a 21st Century passenger rail system. The band, working with NARP and Amtrak, did its 'Wider Circles' tour by rail, the first in an effort to explore alternative methods of transportation for touring as a part of their Slow Music Movement initiative. The band used its tour as a platform to inform concert attendees on how they can make train travel a more viable transit option. NARP set up a special section on its website, here, to encourage concert attendees to join the association.
It will be young Americans who benefit from a modern passenger train network -- or bear the costs of our shortsighted infrastructure policy. That's why Rising Appalachia supports NARP's mission for an expanded national network of passenger trains, putting 80 percent of Americans within 25 miles of a train station served by frequent, fast, and reliable trains. Whether you live in a major metropolitan area served by high-speed rail, or small rural town served by a long-distance train, you have a voice in building a more connected America.
So as the year comes to a close, Rising Appalachia is once again showing their support of rail travel and NARP by prompting their fans to use the nation's railways as they travel to Charlottesville, for the band's first-ever New Year's Eve Gala. The event will feature special guest performances from Birds of Chicago, Elby Brass and spoken-word poet Theresa Davis.
Tickets to Rising Appalachia's New Year's Eve Gala at The Jefferson Theater are $37 in advance and $40 on the day of show. VIP tickets are also available for $65 and include:

- Pre-show reception at The Southern from 6:00-8:00 p.m, with heavy hors d'oeuvres;
- A meet-and-greet, an intimate Lagniappe set and autograph signing;
- A commemorative poster, exclusive laminate and gift bag;
- A complimentary champagne toast at midnight; and
- Early entry into the Jefferson Theater.

Tickets are on sale now at 1-800-594-TIXX, the Downtown Transit Station and at the Jefferson Theater box office. Click here for more Rising Appalachia event details and ticket links.

GETTING TO THE CONCERT BY RAIL
Charlottesville, Virginia, is accessible from broad corridors; it is a one-seat ride from cities at both ends of the country.
From South of Charlottesville: New Orleans, Birmingham, Atlanta, Charlotte and intermediate points are woven together by 'The Crescent,' which runs every day. Find the schedule here.
From North of Charlottesville: Boston, New York, Philadelphia, Baltimore, Washington, Richmond, and intermediate points are linked by the vast network of regional trains, of particular interest for New Years Eve would be Train 171, which arrives in Charlottesville at an ideal time for evening festivities. Find the schedule here.
From West of Charlottesville: Chicago, Indianapolis, Cincinnati, and many rural midpoints are connected by The Cardinal-- which you'll need to catch on Wednesday, as it only runs three days a week (one of the many signs that make evident how badly we need to invest in our intercity passenger trains). It's a beautiful ride, which traverses the fabulously beautiful New River Gorge, also known as the "Grand Canyon of the East," offering entirely unique views. Find the schedule here.
Book your tickets at the Amtrak webite. Don't forget that your NARP membership will save you an additional 10 percent off of the price of your tickets! Join NARP here.
"When [NARP] comes to Washington, you help embolden us in our efforts to continue the progress for passenger rail. And not just on the Northeast Corridor. All over America! High-speed rail, passenger rail is coming to America, thanks to a lot of your efforts! We're partners in this. ... You are the ones that are going to make this happen. Do not be dissuaded by the naysayers. There are thousands of people all over America who are for passenger rail and you represent the best of what America is about!"
Secretary Ray LaHood, U.S. Department of Transportation
2012 NARP Spring Council Meeting